---
Motoring / Yachts
Review: Aventure Superyacht
With teak decks and airy cabins, this superyacht is built for adventure.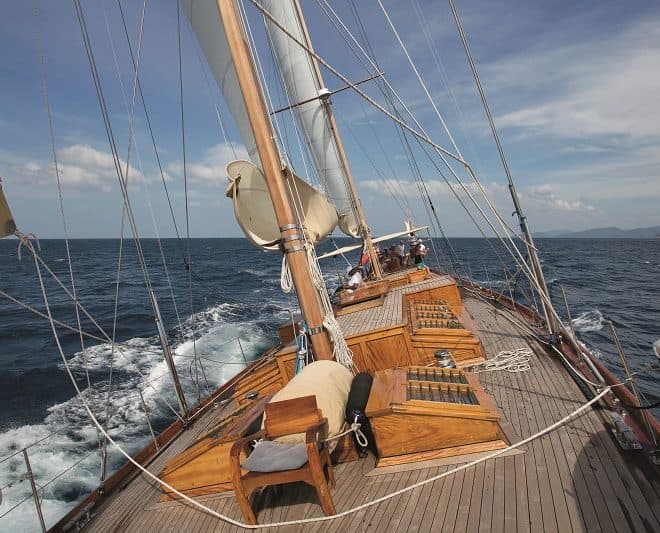 Aventure is a 29m ketch built in 2011, designed by Patrick Balta and produced in Indonesia at the H J Baso shipyard along fine and proper lines. Finishing and interior fit out was completed in Thailand. The boat is a true testament to an owner's desire to create a 'modern classic': the hull is all mahogany, she carries wooden spars, and the general ventilation is so efficient that there's no air conditioning built into the boat. Superyachting au naturel. "Magnifique," as Capt Michele Zircon would say. "This is a boat that is built to be beautiful, and built to bring beautiful adventures to the right people. She is truly l'Aventure." This is not a marina boat afraid of some salt spray across the bow. This is a boat conceived for circumnavigation, and steeped in soul.
On deck, Aventure sports an elegant and powerful ketch rig to drive her along in the lightest of breezes, an aft helm station, and the coach roof of the main saloon. There's ample space for open air dining, socialising, and just sheer lazing about. There can be few better ways of enjoying a sea voyage than from a comfortable chair on the foredeck of Aventure, with a book to hand – Treasure Island, perhaps? All of the sailing systems – sheets, halyards, and a myriad of other lines – are manually-powered, and her captain is delighted for his guests to be involved with the operation of the vessel.
Below deck, Aventure has space for six guests. She features a large master cabin and two guest staterooms, each with queen-sized beds. All cabins are equipped with closet, mirror, en-suite washrooms and showers. The master cabin additionally features a small desk and working area and has its own entrance from the deck, aft. The other two guest cabins are accessible from the saloon. All cabins and common social areas are brightly lit through skylights, which add to the beautiful classic touch of the yacht.
Centrally located in the middle of the yacht is the spacious lounge area with a small library and a dining table that very comfortably seats all six guests. The interior has a bright, classic, yet contemporary vibe with light-colored furniture that beautifully contrasts with her deep mahogany and teak woods. The saloon also incorporates the central navigation station, from where the captain controls all major instruments and indicators. Get involved! You'll be welcome! It's a chic and relaxed atmosphere, perfect for sailing the stunning waters of South East Asia.
Aventure is equipped with all the latest gadgets, instruments and facilities you can expect to find on a yacht of her size and style, and she is ready and waiting to take you away for an adventure. Tomorrow.
Story Credits
Text by Guy Nowell and Suzy Rayment
This article was originally published in Yacht Style 34
---