---
Motoring / Cars and Bikes
North America's First McLaren Senna Is An Emerald "Fux Green"
Deemed as one of the most buzzworthy new cars of the year, North America's first Senna is owned by entrepreneur and car collector Michael Fux in NYC.
North America received its first McLaren Senna, owned by entrepreneur and car collector Michael Fux in New York City. Proven to be one of the most buzzworthy new cars of the year, the Senna was named for iconic Formula 1 driver Ayrton Senna who won three championships with McLaren, and has a slew of impressive specifications to boot. With a carbon fiber Monocage III chassis surrounded by carbon fiber body panels, the car is stiff, strong, and relatively light – qualities expected of its US $1 million price tag.

McLaren Senna: The Ultimate Supercar



It is difficult to conceal the Senna's natural flashiness. According to McLaren, the car's emerald hue is a custom colour called "Fux Green". Fux never fails to make a statement, with his fuschia McLaren 720S turning heads during its debut at Monterey Car Week last year. For his Senna, the interior is fitted with matching green-tinted carbon fiber, white leather upholstery with green stitching, and a black Alcantara headliner. In addition, the door struts and rear view mirror were also painted green.
The supercar Senna powers on a 4.0-liter twin-turbocharged V8 capable of 789 horsepower and 590 pound-feet of torque. On the road, the car sprints from 0 to 60 mph in 2.7 seconds and hitting a top speed of 211 mph. The body generates a whopping 1,763.7 pounds of downforce, making it perfect for those looking to kill it on the track.




Similar to all current McLarens, the Senna features a carbon fiber "tub" chassis seen on race cars, and is largely based off of the 720S, using a modified version of its carbon fibre monocoque and engine. To top it off, some 67 distinct body components make up the Senna, which, according to McLaren, requires approximately 1,000 hours to produce altogether. At US $1 million, the limited 500-unit production run has already been fully sold, with about a third of the units ordered by North American customers.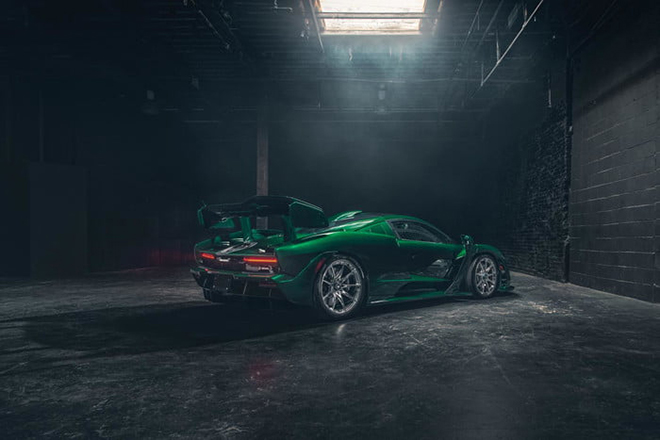 At Monterey Car Week held at The Quail on August 24, Fux's "Fux Green" McLaren Senna will be exhibiting amongst other coveted vessels.
---