---
Lifestyle / Gastronomy
Titanic First Class Menu Recreated in Belfast
A special menu has been created in concert with the Made in Belfast Festival, an annual event that celebrates the making of the Titanic in Belfast 100 years ago. Conor McClelland, chef and owner of the Rayanne House in Ireland, has decided to modernize the 13-course 'last supper' of April 14, 1912. According to Slashfood, […]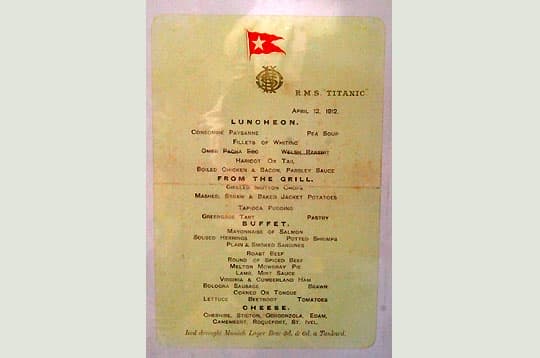 A special menu has been created in concert with the Made in Belfast Festival, an annual event that celebrates the making of the Titanic in Belfast 100 years ago.
Conor McClelland, chef and owner of the Rayanne House in Ireland, has decided to modernize the 13-course 'last supper' of April 14, 1912.
According to Slashfood, a food news blog, McClelland and his wife "spent months researching" the menu that originally "included items such as asparagus and watercress salad and spiced peaches with jelly and ice cream."
Apparently their interest in the Titanic was piqued because the same man who painted their Rayanne House also painted the Titanic.

McClelland decided to only serve nine of the 13 courses; he told Slashfood, "they had nowhere to go on the ship, so they spent hours over dinner, and in those days prosperity was measured in girth." Perhaps that is why he eliminated foie gras as a precursor to dessert.
McClelland added, "…it was quite easy to adapt the menu for a modern cuisine. I was surprised at how advanced" the food was in 1912, "but then again, it was called the floating Ritz."
Here is McClelland's Titanic Menu
First Course – hors d'oeuvres
Canapés a`L'Amiral
Second Course – Soup
Cream of Barley finished with Bushmills Whiskey and Cream
Third Course – Salad
Asparagus and Watercress Salad with Champagne – Saffron Vinaigrette served with Roast Squab
Forth Course – Fish
Poached Salmon with Mousseline Sauce garnished with Cucumber and Fresh Dill
Fifth Course – Sorbet
Rose Water and Mint Sorbet
Sixth Course РEntr̩e
Pan-Seared Filet Mignon topped with Foie Gras and Truffle drizzled with a Cognac, Madeira and Red Wine Reduction served with Potatoes Anna, Creamed Carrots and Zucchini Farci
Seventh Course – Sweet
Spiced Peaches in Chartreuse Jelly and French Vanilla Ice Cream
Eighth Course – Dessert
Cheese and Fruit
Ninth Course
Coffee and Petit Fours
Source: AFPrelaxnews, 2010
---