---
Lifestyle / Gadgets
Gaga unveils her Polaroid line at CES
One year after being named Polaroid's creative director, Lady Gaga unveiled three new products on the first day of the Consumer Electronics Show in Las Vegas. The three new products include a set of sunglasses that doubles as a digital camera, a portable wireless printer for Bluetooth mobile phones and the new updated Polaroid instant […]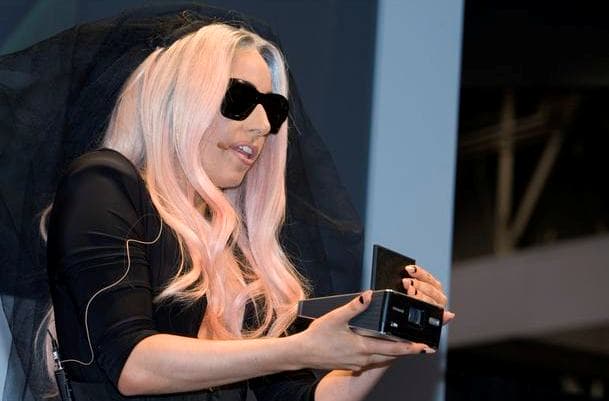 One year after being named Polaroid's creative director, Lady Gaga unveiled three new products on the first day of the Consumer Electronics Show in Las Vegas.
The three new products include a set of sunglasses that doubles as a digital camera, a portable wireless printer for Bluetooth mobile phones and the new updated Polaroid instant camera.
The stylish GL20 Camera Glasses sport a camera and 1.5-inch OLED screens that capture and display images and video, also allowing wearers to show them on the outer screen/lenses.


The shades include a USB key in the earpiece to transfer images onto a computer for uploading to the internet.
The wireless ink-free printer, the GL10 Instant Mobile Printer, sends photos taken with mobile phones with Bluetooth.
A 15-ounce device can produce up to 40 Polaroid prints in less than a minute colorizing crystals and link to PCs via a USB port. It will be available in May for $149.99, according to Polaroid.
Also, a new version of the GL30 Instant Digital Camera, a printer-enabled device that evokes Polaroid's instant camera glory days.
The 12-megapixel shooter can hold 10 3×4-inch prints and features a swiveling LCD screen for viewing pics before printing.Polaroid instant camera lets users save photos digitally as well as an inkless printout called Zinc.
Lady Gaga demonstrated the three prototypes, expected to be available for sale in 2011, some later in the year for the holiday season.
The performer, who is a Creative Director for Polaroid, was brought into the company as it rebranded itself for a digital age with a new line of inventions.
Source: AFPrelaxnews
---