---
Cars
Top 10 Largest Yachts Around The Globe
It could always be a little bigger, and a little better right?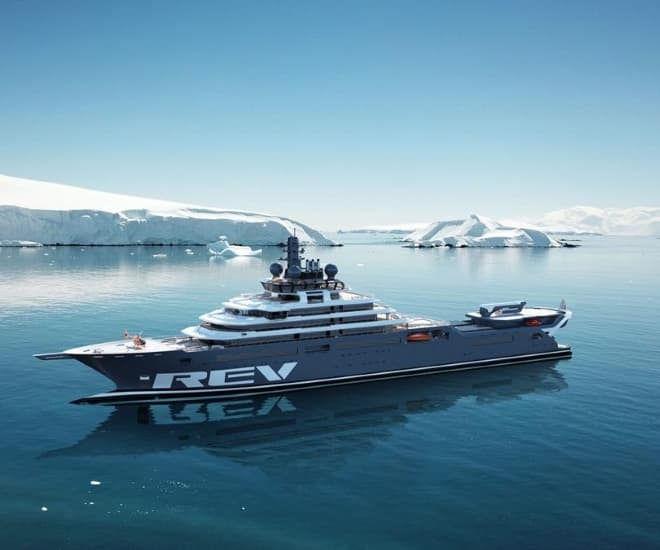 In a world where constant evolution and innovation are key to staying ahead of the curve, staying stagnant is not an option. In a bid to get an edge over their competitors, shipyards around the globe are pushing the envelope, striving to produce the ultimate superyacht, each bigger and greater than the last. However, these monstrous feats of engineering are more than just hulking vessels. Each of the entries on this list are truly marvellous examples of design and technical innovations, possessing a slew of features above and below deck. Each and every of them is a piece of art and no wonder you can buy a research paper with detailed description on particular vessel and its design. Without further ado, here are the world's largest yachts.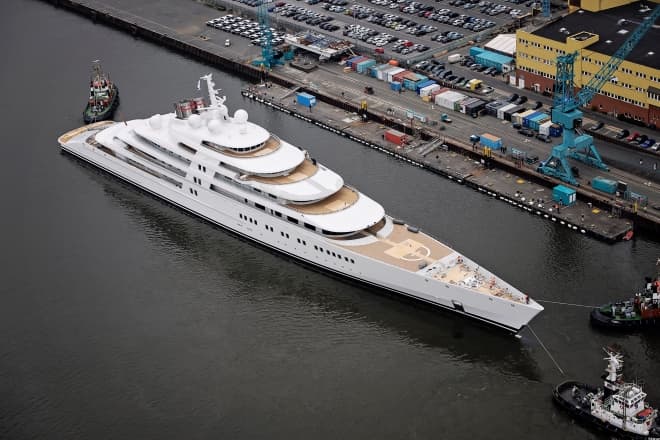 Azzam (180.61 metres)
German shipyard Lürssen is famous for their near monopoly in the construction of gigantic superyachts. Unveiled in October of 2013, Azzam has held onto its title of largest privately owned superyacht for almost 8 years. The interior design was done by Christophe Leoni who opted for French Empire stylings. Exteriors were done up by Nauta Yacht design while engineering was overseen by Mubarak Saad al Ahbabi. With a top speed of over 31.5 knots, courtesy of her ingenious water-jet propulsion, the behemoth that is Azzam defies the notion that large yachts must be slow.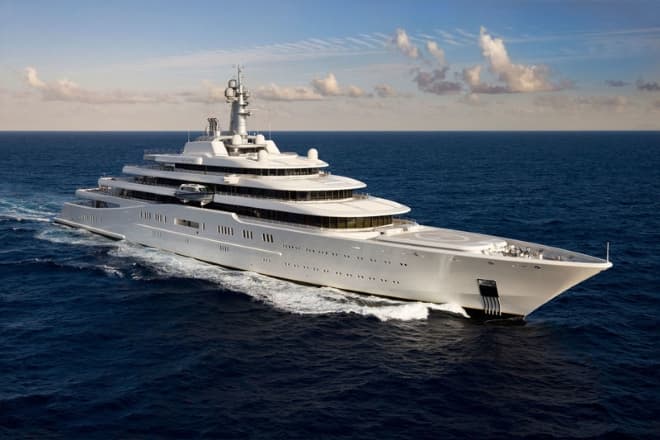 2. Eclipse (162.5 metres)
Eclipse previously held the title of largest superyacht for three years since leaving the shipyard of Blohm+Voss in 2010, Azzam's delivery. Eclipse features custom interior finishing specially developed by Terence Disdale Design, who was in charge of everything regarding interior design, deck layout, and superstructure design and construction. Eclipse boasts a wide range of features, incuding a 16 metre swimming pool, which can be turned into a dance floor, and the ability to hold three helicopters. She has won a number of awards including Motor Yacht of the Decade at the 2015 World Superyacht Awards.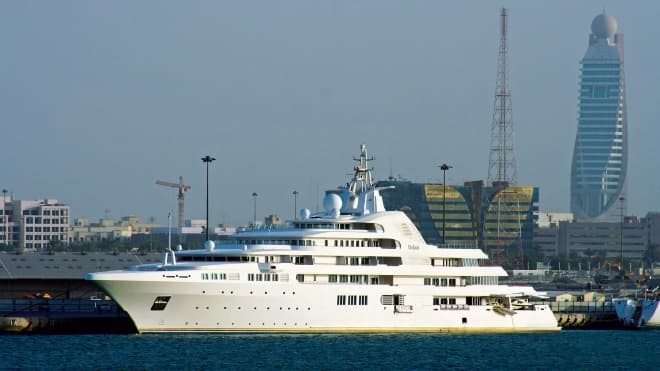 3. Dubai (162 metres)
This superyacht is fittingly named for it is the royal yacht of Sheik Mohammed bin Rashid al Maktoum of Dubai. She was originally commissioned by Prince Jefri of Brunei in collaboration with Blohm+Voss and Andrew Winch. However, her superstructure was only partially done when the project was suspended. Dubai's government then bought over the project and entrusted its construction to Kostis Antonopoulos of Platinum Yachts. The royal yacht has a wide range of facilities befitting its owner's status. Dubai's five VIP suites and six guest suites all feature open balconies and were specially designed by Nakheel Interiors. She also features a submarine garage and a landing platform for a Sikorsky UH-60 Black Hawk helicopter. Perhaps, if you are looking to experience a luxurious cruising experience on one of these yachts, you can opt for a yacht charter in Dubai.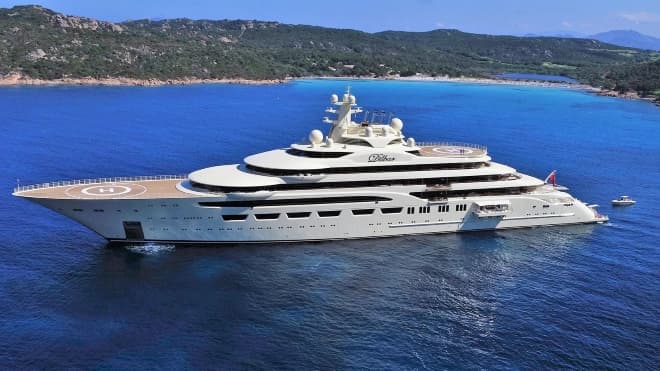 4. Dilbar (156 metres)
While Azzam is deemed world's largest yacht when looking at length, Dilbar, 30 metres shorter than Azzam, dominates in terms of interior volume at 15,917 GT. The Espen Øino-designed superyacht belongs to Uzbekistani billionaire Alisher Usmanov. Dilbar possesses some truly ground-breaking features which include a 180 cubic-metre pool and a 30,000 kilowatt electric diesel power plant. Despite her large volume, she accommodates only 24 guests within her 3,800 square metres of living space, but boasts an astounding 100 strong crew, ensuring that visitors receive the undivided care and attention.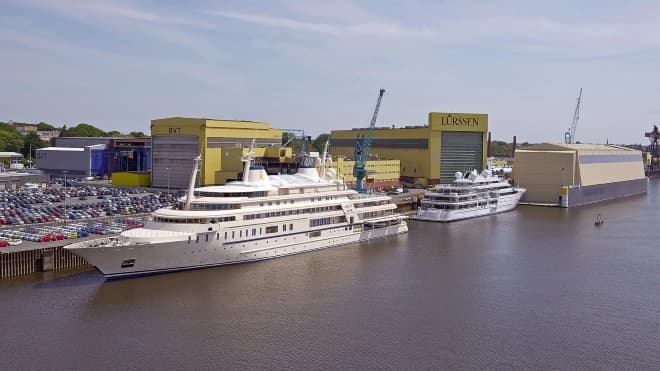 5. Al Said (155 metres)
The principle vessel of Oman's Royal Yacht Squadron, Al Said was named after her owner, Sultan Qaboos bin Said Al Said of Oman. The 155 metre yacht was also designed by Espen Øino and constructed at Lürssen's Vegesack shipyard under the moniker "Project Sunflower". Al Said ups the ante with an even greater crew of 150 members and accommodation for 65 guests. She boasts large spaces for entertaining guests with her show piece being the on-board concert hall, with room for an orchestra of 50 musicians.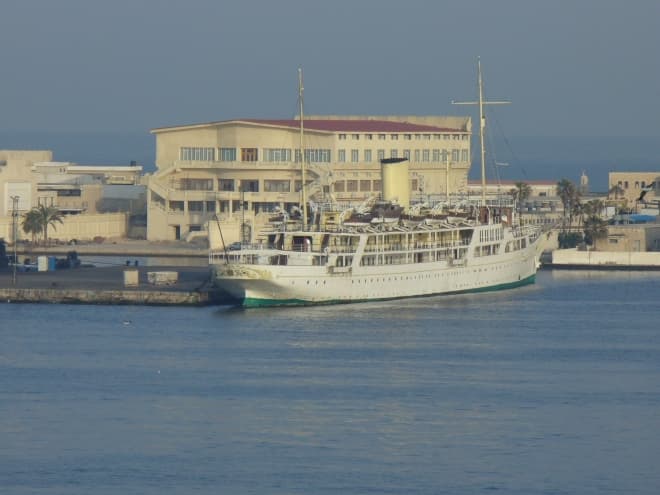 6. El Mahrousa (150.57 metres)
Delivered in 1865 by the Samuda Brothers shipyard, El Mahrousa is the oldest vessl on this list. She is a classic example of superyacht design, holding onto the title of largest yacht in the world for well over a century until Prince Abdulaziz came along in 1984. El Mahrousa was originally built for Khedive Ismail, the Ottoman governor of Egypt and was used to receive dignitaries during the historic opening of the Suez Canal in 1869. Over the years she has been rebuilt several times, first in 1872, where she was lengthened by 12.1 metres and had her paddle wheels removed, then in 1905, and 1950. After falling into disrepair, she was restored for the Christopher Columbus Fleet Review. El Mahrousa now serves as the Egyptian Presidential Yacht and is maintained by the Egyptian Navy.
7. A+ (147.25 metres)
Delivered by Lürssen in 2012, this Tim Heywood-designed vessel is one yacht that is shrouded in mystery. She used to be called Topaz but was renamed A+ in 2019, and flies under a Cayman flag. Her owner is rumoured to be Sheikh Mansour bin Zayed al-Nahyan, one the United Arab Emirates' (UAE) elites, who owns Manchester City football club. A+'s interior design was done by Terence Disdale Design and features, like many others on this list, a helipad. She was known to have been chartered twice by Leonardo DiCaprio but apart from that, little else is known about her.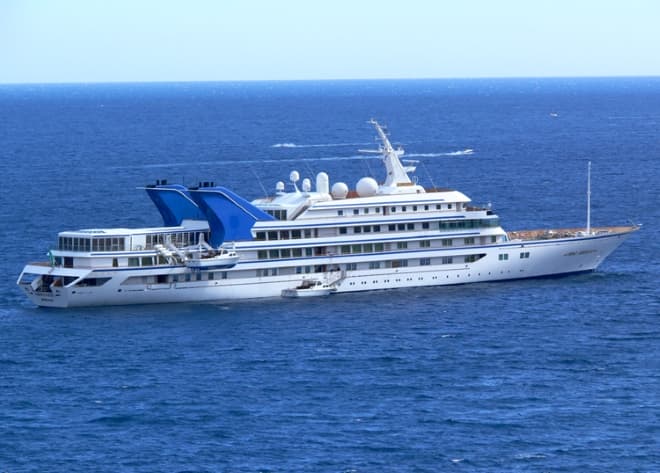 8. Prince Abdulaziz (147.01 metres)
Berthed beside the Saudi King's palace in Jeddah, Prince Abdulaziz serves the Saudi royal family as their royal yacht. She was built in 1984 by Helsingor Vaerft, a Denmark-based shipyard, to Maierform's design, for King Fahd of Saudi Arabia. She replaced El Mahrousa as the world's largest yacht at the time. Prince Abdulaziz reportedly cost US$184 million to build and features tasteful interior designs by the late David Hicks, who fused modern and classic aesthetics. Her large lobby is even said to have been based off the Titanic's. As befits the yacht of the Saudi royal family, she features a mosque, cinema, and, if speculations are to be believed, surface-to-air missiles and underwater surveillance systems.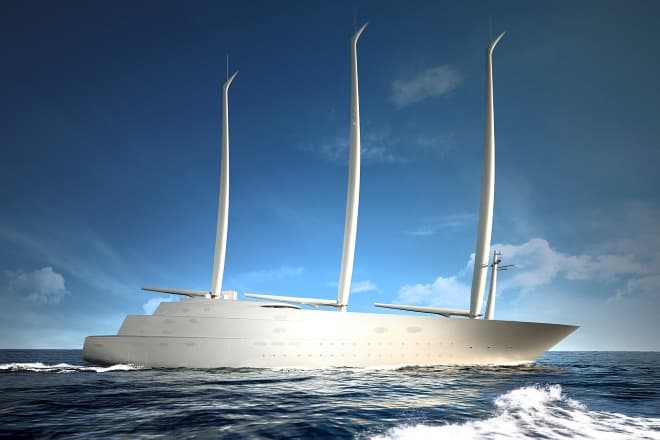 9. Sailing Yacht A (142.81 metres)
Sailing Yacht A is the second superyacht, after Motor Yacht A, to be commissioned by Russian Industrialist and billionaire, Andrey Melnichenko. She was designed by Philippe Starck and built by German shipyard Nobiskrug in 2017. Unlike the others on this list, Sailing Yacht A, as its name suggests, is sail-assisted. She can set 3,747 square metres of sail, which work alongside her computer-controlled diesel-electric power plant. With her eight decks, she comfortably accommodates a crew of 54 members. Sailing Yacht A sports a myriad of innovative features like an underwater viewing pod, balconies enclosed by pieces of curved glass of record-breaking sizes, and the world's tallest carbon masts at 100 metres above sea level.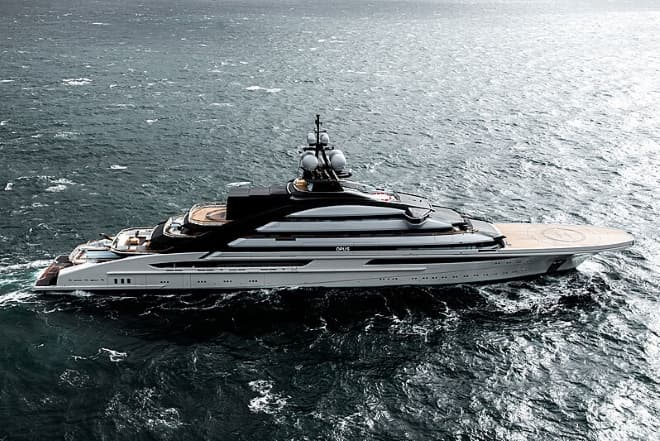 10. Nord (142 metres)
Delivered in 2021, Nord is the latest offering on our list. She has gone by many names, first as Project Redwood during her construction, then Opus, before finally becoming Nord. She is a fantastic example of design innovation in the world of superyachts. Designed by Nuvolari Lenard, she boasts a plethora of facilities on board. These include a beach club, a water sport and dive centre, two helipads, and a tender garage with "space to store a plethora of toys including 16 tenders, a submarine and an ROV", according to build manager Rob Moran. On her mast, an array of four satellite domes can be seen. Nord has 20 suites which can house up to 36 guests in unabashed luxury.
---