---
Culture / Events
Lagerfeld feels a volcanic autumn chill at Chanel
Karl Lagerfeld sent a volcanic chill of autumn swirling through the Grand Palais on Tuesday as he presented a tomboyish Chanel fall-winter collection. In a deliberate contrast from the Parisian garden theme that framed the spring-summer show, Lagerfeld sent darker, looser looks down a wooden boardwalk the length of a venue carpeted with volcanic dust […]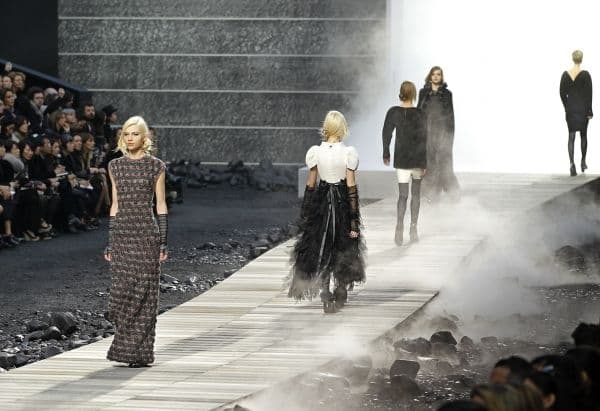 Karl Lagerfeld sent a volcanic chill of autumn swirling through the Grand Palais on Tuesday as he presented a tomboyish Chanel fall-winter collection.
In a deliberate contrast from the Parisian garden theme that framed the spring-summer show, Lagerfeld sent darker, looser looks down a wooden boardwalk the length of a venue carpeted with volcanic dust that crunched underfoot.
The soundtrack – "A Forest" by The Cure, about a man who goes looking for a woman in, well, a forest – set the tone, even if there wasn't a tree in sight.

The daytime looks had a 1980s sort of quality, too, as the show opened with a glittering black cape over a red Chanel cardigan, followed by silhouettes built around skinny distressed jeans or loose trousers with checkered cuffs.
In lieu of stilettos were no-nonsense boots a la Doc Martens or kitten heels.
More feminine was the evening wear, such as a panelled grey dress with puffed shoulders and a delicate 1930s-ish pantsuit with embroidered lace top.
The Chanel show is the biggest of the nine-day Paris pret-a-porter season — overshadowed this year by the sudden downfall of John Galliano at Christian Dior — which concludes on Wednesday.
---