---
Cars / F1
What Went Down At The 2022 Miami Grand Prix
Meeting Tom Brady, statement T-shirts, incident-filled practice sessions, an exciting drive and Tiffany trophies. Here's what happened at the Miami GP.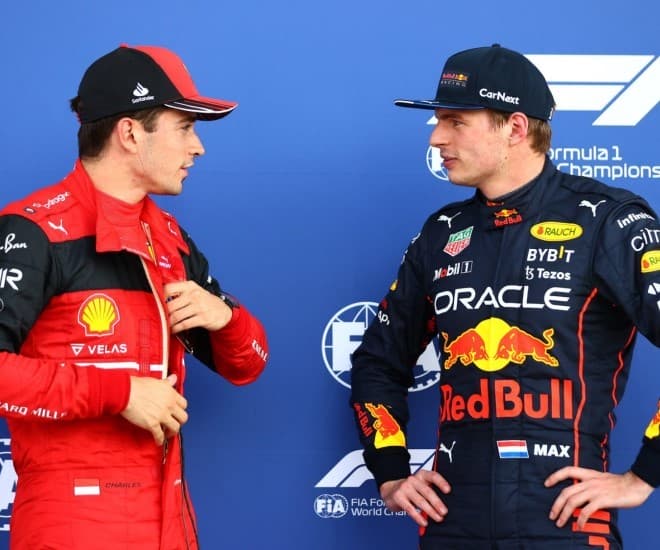 One of the biggest fights this season is between reigning champion Red Bull Racing and Scuderia Ferrari, both with extremely dedicated and talented drivers that have been soaring through the 2022 Formula 1 season.
Both Charles Leclerc and Max Verstappen have been dancing with each other since the very start of the season, each taking turns to win races. And for the inaugural Crypto.com Miami Grand Prix on 9 May, Red Bull's Verstappen adds another incredible drive under his belt and wins after missing out on pole position for qualifying. With Verstappen's third win of the season, the gap between him and Leclerc for the driver's championship title went down from 27 to 19 points.
Meanwhile, Ferrari finished with a 2-3 after a relentless drive from Leclerc and Carlos Sainz. The cherry on top? All three drivers will be bringing home an exclusive, pristine Tiffany & Co. trophy each.
Following the top three are Verstappen's teammate, Sergio Pérez, in fourth place with both Mercedes cars behind. George Russel, who topped the second practice with the upgraded Mercedes car, at fifth and seven-time world champion Lewis Hamilton at sixth.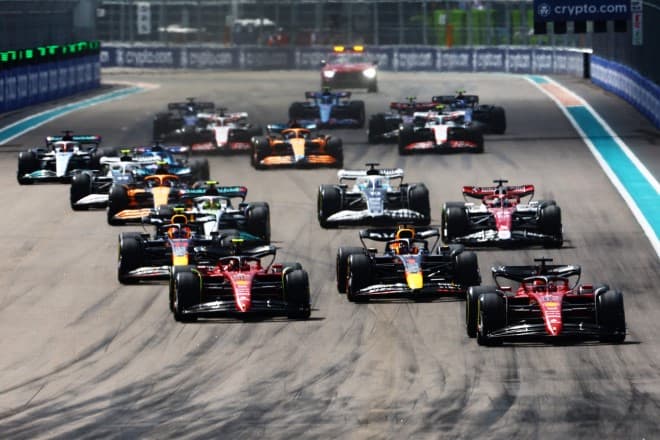 Verstappen noted that "it was an incredible Grand Prix" and added his review: "Very physical but I think we kept it exciting until the end".
Prior to the race and during the incident-filled practice rounds, F1 drivers had a tough time manoeuvring on the new track. Going into uncharted territory, the Fédération Internationale de l'Automobile (FIA) was forced to relook the Miami track and do more for drivers' safety when both Sainz and Alpine's Esteban Ocon crashed at Turn 14 on different days.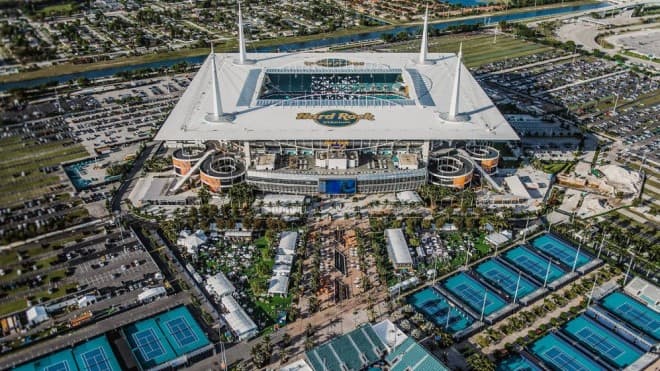 The Crypto.com Miami Grand Prix was certainly an exciting and grand one, the first time a GP has been held in Florida since 1959. The event was sold out with 82,500 enthusiastic spectators roaring every so now and then as the race unfolded.
Off The Tracks
Although the tension between teams is unmistakable, which pushes for a great deal of drama and speculation, fans know there is nothing unhealthy amongst these professionals. Instead, social media is filled with hilarious memes or videos of the drivers bantering and having fun together off the tracks.
Before the trying weekend began, the teams touched down in Miami and were seen circling about the Sunshine State, enjoying the finest thrills and meeting legendary sportsmen. George Russel sat courtside at Game 1 between Miami Heat and the Philadelphia 76ers in the Eastern Semifinals. Scuderia AlphaTauri's Pierre Gasly dined with Michael Jordan while his teammate Yuki Tsunoda joined Verstappen in the everglades for a Swamp Buggy Race. And Hamilton played a round of golf with Tampa Bay Buccaneers superstar Tom Brady.
Captured in front of the cameras, F1 teams have also been at the top of their game with the marketing and content produced — rolling out consistent social media posts and interesting YouTube videos, most probably appealing more to younger audiences. It is clear that fans of the motorsport are increasingly growing worldwide, especially after Netflix's gripping 'Drive to Survive' docufiction. The four-season series launched in 2018 and its latest season achieved the Netflix top ten status in 56 different countries. On 5 May, it was announced that the popular series has been renewed for a fifth and sixth season.
🎙️ "I find it alarming that we go to a place that's not going to be here in 50 years time."

Sebastian Vettel explains the t-shirt he was spotted in, which read: "Miami 2060 – 1st Grand Prix Underwater – Act Now or Swim Later." pic.twitter.com/IBXEt4izy0

— Sky Sports F1 (@SkySportsF1) May 6, 2022
F1 drivers have also proven the sport to act as a platform for advocating great causes. In a lighthearted yet satirical tone, Aston Martin's Sebastian Vettel, and four-time world champion, rocked up to the Miami Grand Prix's opening party with a message on his shirt. The words "MIAMI 2060, 1ST GRAND PRIX UNDERWATER" are plastered across his chest, conveying that beneath all the glitz and glamour of Miami, more needs to be done to battle climate change.
For more F1 reads, click here.
---