---
Properties / Homes
Top Buildings In Sunny Isles, Surfside, Millionaire's Row & Bal Harbour Miami
Featuring palatial structures like Regalia and 57 Ocean, these Miami buildings have it all from pristine views and excellent designs to smart homes.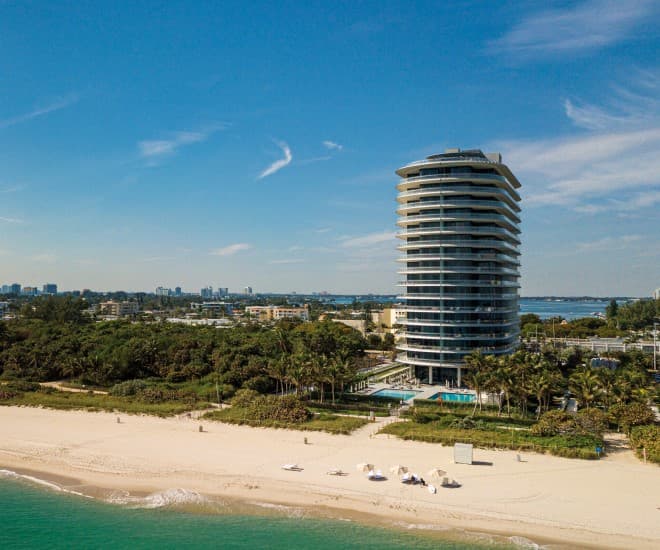 Dubbed 'The Magic City' in the sunshine state of Florida, Miami is one of the most scenic places and coveted living spaces in the world. Other than glistening beaches, massive malls and revered restaurants, what brings the bar immensely high are the palatial and resort-like residences around the area.
These beautiful buildings make up to be impeccable condos with its location, landscaping, designs and features. Of course, other than pictorial, 360-degree views to soak in, it is not lost on developers that residents can wake up to unparalleled technology in smart homes that will give the most convenient and glamorous lifestyle that one could ever dream of.
If you are searching for the perfect holiday home for the forthcoming summer, there is no better time than now to take a look at some of the grandest and most luxurious buildings in Sunny Isles, Surfside, Millionaire's Row and Bal Harbour.
Regalia Sunny Isles Beach
Situated along a private, one-acre stretch on Sunny Isles Beach, Regalia Miami is the perfect depiction of limited-edition living.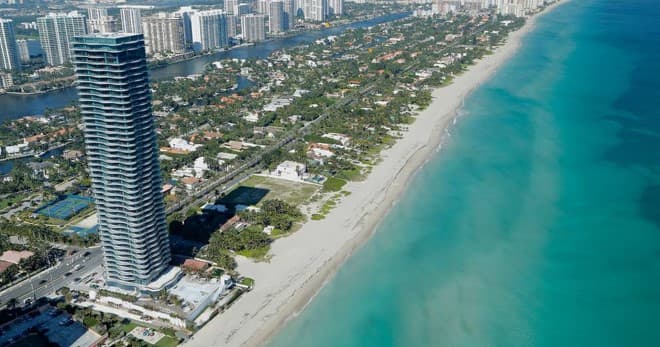 Built in 2014, the ultra-luxury condo complex has 46 floors with 39 residences. Of that, 37 are units of lavish privacy each — with 5,515 square feet of indoor space and 2,100 square feet of terrace space. The other two are a two-level Beach House and a three-level penthouse.
Other than top-notch kitchen equipment and a high-security system, residents can enjoy ten-foot ceilings throughout and 360-degree views of the beautiful ocean. To top that off, interiors have finishes with the finest stone, wood, glass and wall coverings, exclusively imported for Regalia from all over the world.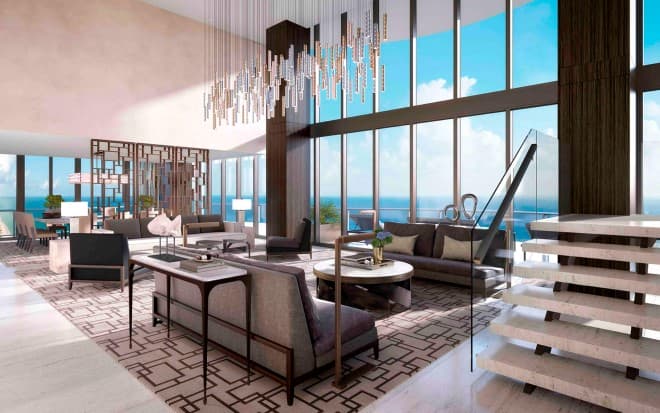 With never-before-seen characteristics in previous Miami skyscrapers, this contemporary oceanfront structure has been awarded Best Residential High-Rise Development in the US by the International Property Awards in London.
Its deluxe amenities include private beach access with poolside service, an infinity-edge swimming pool amid lush gardens, an exclusive spa with aromatherapy and chromotherapy, a multi-purpose children's activity room, as well as a cosy cinema room. And for oenophiles or cigar lovers, there is also an elegant billiard room.
Muse Residences Sunny Isles Beach
Also located in Sunny Isles, the world-class waterfront destination in South Florida, is the sophisticated Muse Residences that was built in 2018. Nearby, the area gives the quintessential beachside experience with designer brands like Chanel and top-rated restaurants like Makoto and Emerald Lounge.
The high-end luxury boutique building has 50 levels in total and 68 residences with two per floor. Each residence starts at 2,360 square feet and offers 12-inch ceilings, Italian marble or wood flooring and stunning terraces with summer kitchens fit for top chefs.
With interiors designed by Antrobus + Ramirez, the residences also feature 8-inch Italian entry doors, custom Italian cabinetry and personalised art from Helidon Xhixha. Additionally, the units come complete with advanced Smart Tech 2.0 state-of-the-art technologies that make savouring a slice of paradise effortless.
Some of the indulgent amenities are pool cabanas, a serene infinity pool and spa, a sky garden penthouse and a breakfast room perfect for leisure brunches.
As the Muse building is set between coastal waterways and the Atlantic Ocean, residents can definitely expect incredible panoramic ocean and Intracoastal views. In between relaxing beach days and vibrant nightlife, the exclusive Muse emphasises a rare union of artistic inspiration and provides a life concealed from rushes, lines and crowds.
Muse Residences is developed by Property Markets Group and S2 Development, LLC, with the architectural design created by Carlos Ott and Sieger Suarez.
57 Ocean Miami
A structure in constant dialogue with the sea, 57 Ocean Miami is also a modern sanctuary to experience the future of luxury in Millionaire's Row.

This brand-new condo built in late 2021 is located on Collins Avenue, allowing residents quick access to all the excitement and charm that South Beach, Downtown, The Design District, and Brickell provide. But being close to the city isn't the only perk. This 18-story luxury boutique tower places over 220 linear feet of exquisite beachfront location, so the ocean is never more than a few steps away.
Developed by Multiplan Real Estate Asset — founded by the acclaimed José Isaac Peres — and delivering remarkable interiors from Anastassiadis Arquitetos, 57 Ocean manages to capture the essence of the Brazilian way of life.
More than just taking inspiration from nature, each unit design blurs the line between outdoor and indoor living. With open floor plans, floor-to-ceiling windows, and up to 12-feet-deep terraces, these residences are ready for entertaining guests or simply relishing the relaxing Atlantic Ocean views.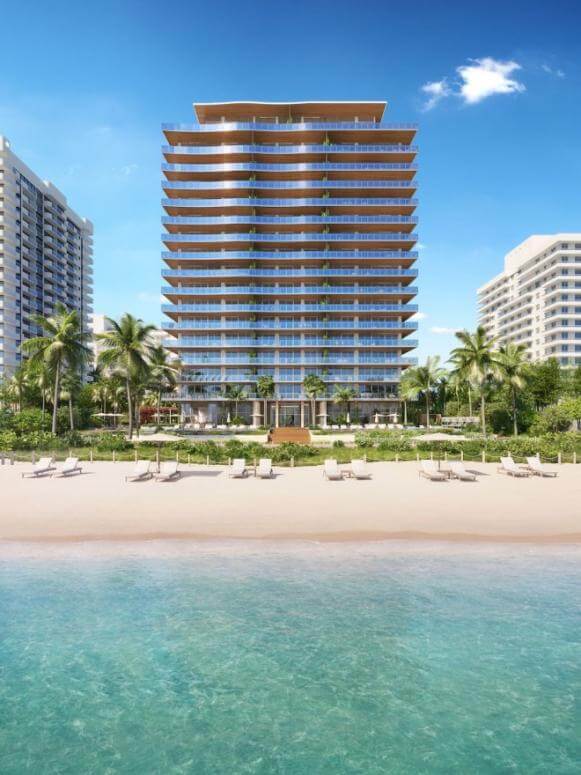 A one-of-a-kind construction featuring an ocean-inspired undulating façade — imagined by Arquitectonica — that mimics the soft waves surrounding it. With amenities such as a fully-equipped fitness centre, outdoor bar, social lounge, two infinity pools, and cabanas overlooking the ocean, the pursuit of a healthy life was undoubtedly a top priority in the development of this project.
Eighty Seven Park — Miami Beach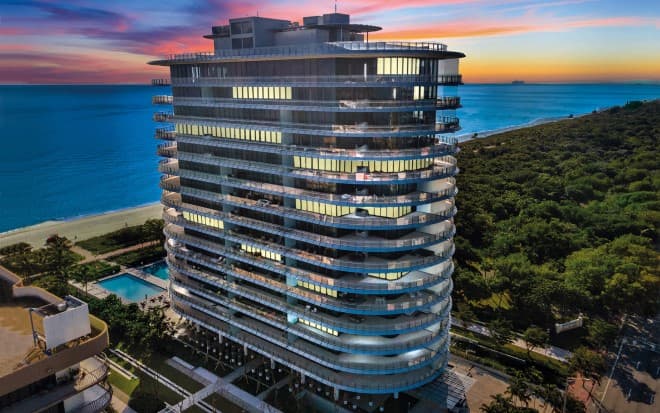 A place bound by land and sea, but rising free of both. Eighty Seven Park is more than a building, but a landmark that blurs the line between imagination and knowledge.
Standing 18 floors tall, the building is located on the edge of North Beach's Oceanside Park and the Atlantic Ocean. Eighty Seven Park eloquently captures the state of tranquillity and ascension with the best ambience that the elite neighbourhood can provide.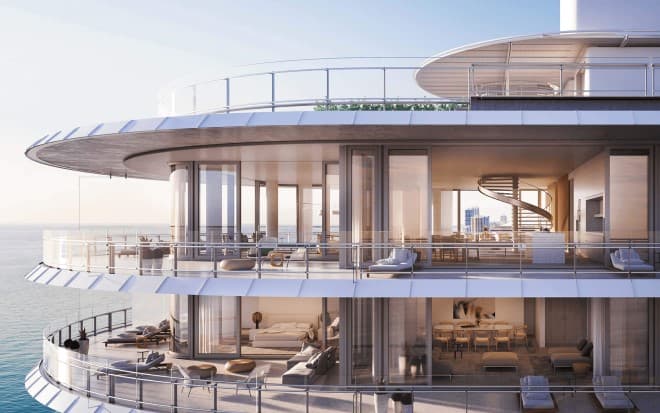 With 70 tasteful homes, ranging from 1,018 square feet to 4,140 square feet, each refined space is designed by an architect with a poet's touch — open floorplans and balconies that invite natural light and air, as well as offering the most dramatic views in Miami Beach. This elemental approach, collaboratively developed with Pritzker Prize-winning architect Renzo Piano, brings together architecture, design and natural vistas.
Meanwhile, the interiors by RDAI beautifully showcase a selection of modish fixtures in bathrooms and kitchens. At a glance, residents can appreciate Italian cabinetry with glass doors, stone countertops, natural oak panels, integrated appliances from Wolf and Sub-Zero, and award-winning Zucchetti accessories.
The desirable condo also has charming amenities which include an opulent wine repository, a fine botanical exhibition, a private garden, an international salon and even an Apple Smart Centre.
For more property reads, click here.
---