---
Style / World of Watches (WOW)
Blancpain Unveils Limited Edition Timepiece for Valentine's Day
With only 99 pieces available, the new Villeret Quantième Phases De Lune watch is a beautiful expression of love with its romantic details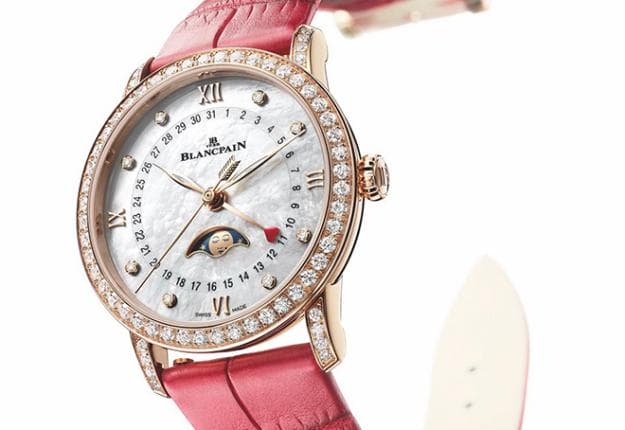 With February 14 approaching, the happily attached amongst us have lots to look forward to: the romantic dates, the thoughtful gifts and all the special moments in between. For Blancpain, it's a time to honour tradition and give one of its beloved watches a special makeover dedicated to Valentine's Day.
Blancpain Villeret Quantième Phases De Lune Timepiece
This year, the Swiss luxury watch brand has picked its women's Villeret Quantième Phases De Lune timepiece for the redesign. Blancpain's Valentine's Day 2019 timepiece boasts beautiful details that are sure to leave romantics swooning, such as the iridescent, natural white mother-of-pearl dial that recalls heavenly skies, or the 8 brilliant-cut diamonds that serve as the watch's hour-markers.
For the occasion, the watch's hands are also shaped like classic symbols of love: the seconds hand is a Cupid's arrow, the date hand features a red-lacquered heart, and two more hands come in the shape of cut-out sage leaves.
As with all of Blancpain's timepieces for women, the limited-edition Villeret Quantième Phases De Lune watch comes with a gold-rimmed moon phase, featuring a smiling moon face with a beauty mark. Other technical details of the watch include a 913QL.P self-winding movement, housed within a 33mm red gold case set with 64 brilliant-cut diamonds.
Only 99 engraved timepieces from Blancpain's Valentine's Day 2019 collection are available; each model comes with two alligator leather straps (one in red, the other in white) that can be easily interchanged by pressing the functional catches located beneath the straps. That versatility means that the timepiece will remain a beautiful gift to treasure, long after Cupid's Day — just like love.
This article is originally published on L'Officiel Singapore.
---