---
Style / Accessories
Mulberry now world's top fashion stock
When it comes to the best-performing fashion brand on the international stock exchange, you would most probably expect a name along the lines of the Pradas of this world, but it's under-the-radar Mulberry that takes the crown. Bloomberg reports that the British luxury handbag maker's stock rose by 526 percent over the past year. Overseas […]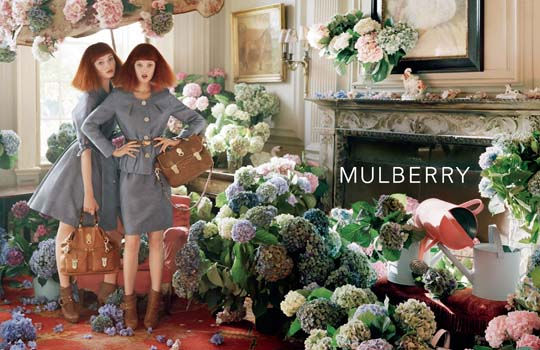 When it comes to the best-performing fashion brand on the international stock exchange, you would most probably expect a name along the lines of the Pradas of this world, but it's under-the-radar Mulberry that takes the crown.
Bloomberg reports that the British luxury handbag maker's stock rose by 526 percent over the past year. Overseas revenue more than doubled over the same period.
In retail, its growth is currently only topped by PT Mitra Adiperkasa, a company that runs Starbucks coffee shops and Sogo department stores in Indonesia.

"Growth is very hard to come by, particularly in western Europe, but there are still some companies growing incredibly fast," said Harry Nimmo, a fund manager at Standard Life Investments who not only invests in Mulberry, but also in Asos, which is the second-biggest riser in Western European clothing retailers.
According to Bloomberg, Mulberry's stakeholders are betting on the brand becoming an iconic household name.
"Some people are looking at it as the next Prada or Ferragamo," said David Stoddart, an analyst at Finncap.
While the label is best known for its high-quality handbags — such as the Alexa, named after the hip UK model and TV hostess Alexa Chung — it "has the potential to broaden its brand to products such as eyeglasses and perfume."
Currently the brand's bags, designed by Emma Hill who is one of the luxury world's lower-profile designers, get regularly name-checked in celebrity style pages and attained even wider popularity through a collaboration with US chain Target last year.
The 40-year-old brand is only beginning to realize its potential in sales terms, given that it has barely touched Asian markets, having just opened its first store in Beijing in January.
Other upcoming store launches are scheduled for New York, Amsterdam, Germany, Korea, and Bangkok over the next year.
Source: AFPrelaxnews
---