---
Style / Jewellery
Lorenz Bäumer for Louis Vuitton fine jewelry
Paris-based jewelry designer Lorenz Bäumer, that had designed anonymously for Chanel and Baccarat has designed a fine jewelry collection for Louis Vuitton. The collection is named L'âme du Voyage ("the soul of the trip") and connects Louis Vuitton's travel heritage with Bäumer's own penchant for going places, in fact he has lived in Bonn, Germany; […]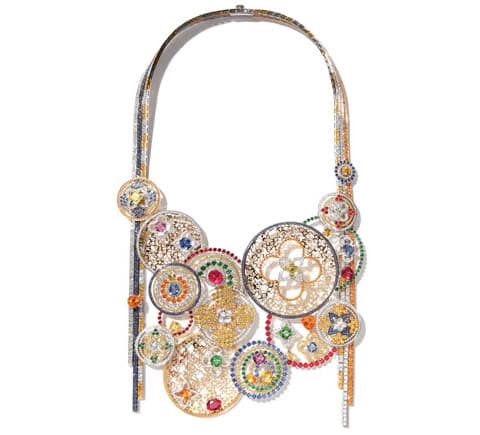 Paris-based jewelry designer Lorenz Bäumer, that had designed anonymously for Chanel and Baccarat has designed a fine jewelry collection for Louis Vuitton.
The collection is named L'âme du Voyage ("the soul of the trip") and connects Louis Vuitton's travel heritage with Bäumer's own penchant for going places, in fact he has lived in Bonn, Germany; Amman, Jordan; Montreal; and Tel Aviv.
The collection consists of six sets, a one-of-a-kind necklace the focal point of each, with prices running up to $2.5 million.


The theme of the collection is circles, which Bäumer describes as a symbol of perfection, he says: "in all the cultures, civilizations and trips that I've encountered, there are always circles, and they always symbolize perfection."
Bäumer adds his mission is to help Vuitton be "recognized, admired and respected as a jeweler. We wanted to show at the beginning the vision, the capacity of creating incredible pieces in terms of craftsmanship, and the ability to tell a story. It's like writing a book. We just wrote a chapter."

And how will Paris designer measure his success at Louis Vuitton? In the same manner as at his own firm. "If you're a jeweler, you're selling love, feelings, happiness, so the more you can cater to this, the more of a jeweler you are," he says. "When a woman gets jewelry and glows, then you're a great jeweler."
---