---
Style / Jewellery
Hermes Launches Fine Jewelry
French luxury goods firm Hermes has announced that it will be launching a collection of fine jewelry with accessories designer Pierre Hardy. The 14 piece collection of "haute bijouterie" was inspired by the shape of a horse's hoof to keep with the fashion house's equestrian roots. Prices range from $23,675 for a pair of rose […]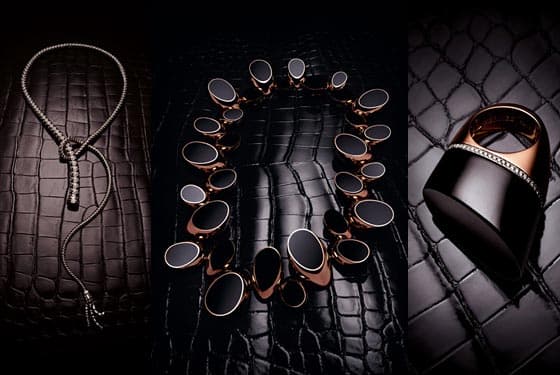 French luxury goods firm Hermes has announced that it will be launching a collection of fine jewelry with accessories designer Pierre Hardy.
The 14 piece collection of "haute bijouterie" was inspired by the shape of a horse's hoof to keep with the fashion house's equestrian roots.
Prices range from $23,675 for a pair of rose gold and black jade earrings to $880,000 for a diamond necklace.

All pieces come with a custom-made alligator leather box complete with a real zebra skin mat.
"Hermès is not a very precious universe," Hardy told WWD. "I simply went back to its roots and to the horse's hoof, taking the roughest, strongest, almost radical element and giving it the most feminine, the most modern interpretation."

Jewelry orders can be placed during the collection's world tour this fall, which will hit Tokyo, Hong Kong, and Berlin, the source reports.
Sources: WWD – Onsugar
---