---
Style / Fashion
Everything You Need To Know About Fear of God Essentials
Here's the 101 on Jerry Lorenzo's quintessential Fear of God brand, which has become a stalwart in the streetwear culture.
Fear of God founder Jerry Lorenzo has a long and winding journey in his career. He's gone from working a retail job in the stock room of a Diesel to handling scholarships and partnerships for the Los Angeles Dodgers, to managing Dodgers star Matt Kemp — he even threw upscale parties that would attract rappers and sports stars. Using the money he made from those parties, Lorenzo then began producing clothes.
He started with a short-sleeve hoodie with zippers on the side, and then moved on to the elongated t-shirt and more. A year later, in 2012, Lorenzo managed to get his creations to Big Sean — through connections of his wife. This led to Ye — then still Kanye West —approaching him for a consult on a collection the rapper was doing with A.P.C. This would blossom into a working relationship where Lorenzo created tour merch for Yeezy, Donda and many other projects.
Fear of God vs Fear of God Essentials
By 2015, Fear of God was already rising through the ranks and had become one of the most coveted streetwear brands. Ever the entrepreneur, Lorenzo was seeking was to make his clothes more accessible and ended up partnering with PacSun to create a more affordable line called F.O.G. When asked why he made the decision to tackle a more accessible market, Lorenzo told The Cut: "I have more family members that shop at PacSun than at Barneys, to be frank, I wanna be where my cousins can go see me and be proud of me." F.O.G. remained a mainstay for a few years, but in 2018 Lorenzo decided to shutter the brand and replace it with Essentials.
Essentials, as its name implies, produces collections of simple pieces in muted tones. Where F.O.G. was basically a more affordable version of Fear of God, Essentials was Lorenzo's attempt to properly segment his creations. Since its launch Essentials has continued to flourish, and as streetwear fans can attest, it's the best way for them to get their hand on Lorenzo's pieces.
Fear of God Collaborations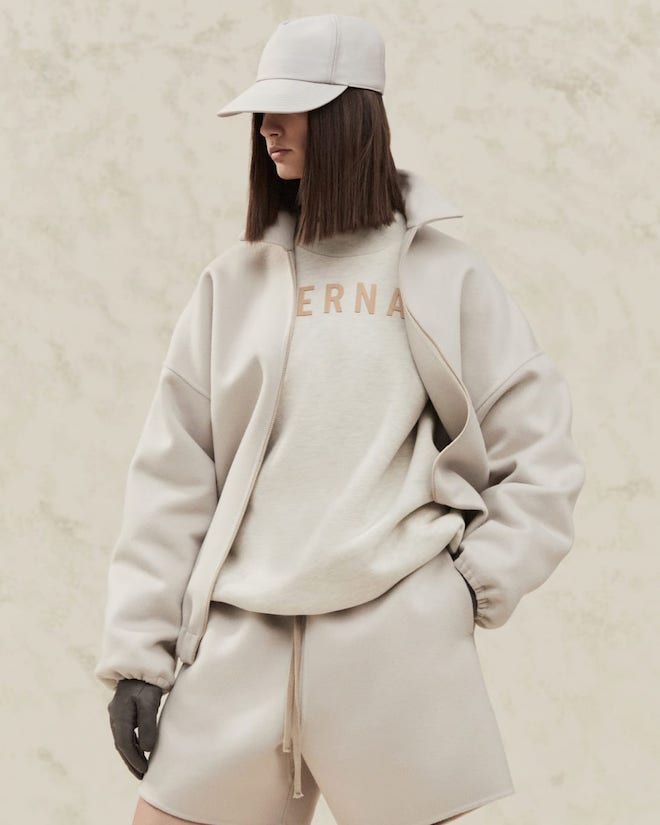 As with most streetwear brands, Fear of God has collaborated with many individuals and brands over the years. From Nike to Converse and Vans, Jay-Z to Kendrick Lamar and many more, Fear of God has been bold with its collaborations.
One of our favourite collections so far has been the collaboration with Union LA, to celebrate stalwart retailer's 30th anniversary. Teaming up with Essentials, Lorenzo put out a collection of sublime pieces, from tie dye hoodies and tees to numerous muted tees, joggers, shorts and caps. It's one of the flashier collections Lorenzo has put out under the Essentials brand, but fans loved it.
Fear of God Kid's Collection
Streetwear for kids is not a new concept, and as a dad himself, it's unsurprising that Lorenzo has explored this segment with Essentials. He has launched numerous collections over the years, and the pieces don't stray too far from the styling of the adult collections. Most pieces are knitwear — shorts, tees, hoodies and joggers — in muted colours.
If you've happened to miss the past collections, check out Goat.com to see if you can cop your desired pieces there.
For more style reads click here.
---