---
Style / Beauty & Wellness
Savage Escape: Yves Saint Laurent Beauté
The desert is your playground with the new Summer makeup collection by the brand.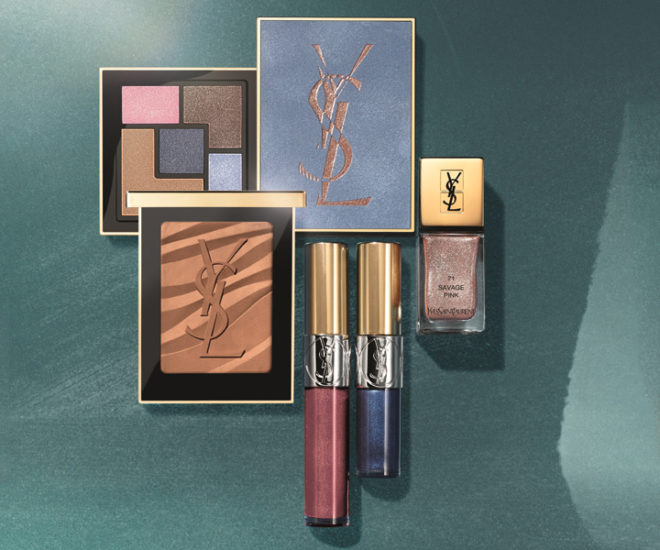 As I dream of a climate that would leave me feeling less like a main-course at a barbecue, Yves Saint Laurent Beauté seems to have embraced the heat and the sun. For the brand's new summer makeup collection named Savage Escape, we a range of products that are inspired by a road trip in the desert.
With the sunbaked roads and unlimited freedom serving as a destination of choice for Lloyd Simmonds, the collection sees a natural, tanned and glowing complexion — but only where necessary. To naturally enhance your complexion, reach for the Sahariennes Bronzing Stones. The creamy powder, with its ultra-fine texture was created using a new micronization technique. The result is a product so light that it barely leaves a trace on your skin. Choose between three shades such as Sunstone, Fire Opal and Jasper to suit various skin tones.
While light makeup is the go to trend for a road trip, that doesn't mean a glamorous look is forbidden. Yves Saint Laurent leaves it up to you with some new products for eyes. With a little help from the Limited Edition Savage Escape Couture Palette, you can choose between natural shades such as shimmery pink, golden beige, sandy brown and cobalt blue. For a more intense and glamorous look, Full Metal Shadow for eyes is being launched in two new shades for the summer: Bonnie Copper, a shimmery gold, and Blue Clyde, a navy blue.
The mouth is all about sensuality this season with two new high-shine shades of Gloss Volupté lip gloss: Aurora Pink and Rose El Dorado, a pale and a vibrant pink, while nails are treated to two new shades of La Laque Couture nail polish: Savage Pink, a pale pink, and Night Escape, a metallic blue.
To finish off this look, YSL Beauté has created some temporary tattoos called Couture Skin Jewels, to be worn like jewelry for a hint of glamour or just for fun. They include the YSL logo, a cuff, and other decorations for the wrists, hands and feet.
---