---
Properties / Hotels
Unique Suites at Hotel Pitrizza, Sardinia
These stunningly spacious suites offer privacy and exclusivity in the Mediterranean island of Sardinia.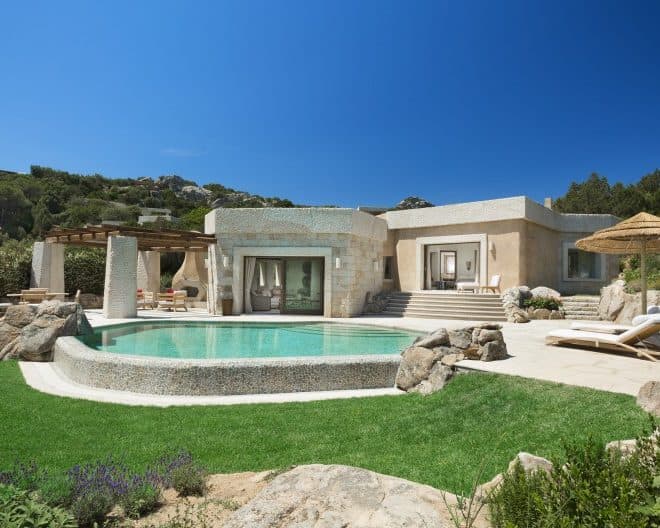 Overlooking the crystal-clear azure waters of Sardinia, Hotel Pitrizza (a Starwood Luxury Collection hotel) sits in its own cozy corner of Costa Smeralda in a setting of untouched natural splendor. The hotel isn't new and our focus here is on something called the Unique Suites, which were recently completed. These suites are so-named because no two are identical of course.
The suites are designed to blend harmoniously into the surroundings. Keeping the traditional Sardinian style in mind, Hotel Pitrizza used local materials such as wood and granite for a rustic charm. Inside, each suite features a stunning bedroom, with a spacious bathroom, living room, dining area and terrace, all boasting breath-taking views of clear skies, white sandy beaches and aquamarine waters.
Hotel Pitrizza also romances with its uncompromising 5-star services. Amenities such as your own private solarium and seawater pool, and 24-hour butler service make the posh seafront hotel your refuge away from home. Starwood Preferred Guests should take note that their privileges definitely come into play here.
While you're there, check out the vibrant Costa Smeralda Season, which kicks off in May with the Porto Cervo Wine & Wine Festival. The extravaganza, which runs through to the end of September, focuses on the best Italian wine and food, with traditional gala dinners and glamorous concerts at the Cala di Volpe attracting international music stars the likes of Elton John and Robbie Williams.
---