---
Properties / Hotels
Hotel chain sells cars, electronics by machine
In the market for a Bentley sports car, a Jean Paul Gaultier dress or a cell phone, but don't feel like dealing with a pesky salesperson? Literally at the touch of a button, visitors to the Mondrian South Beach can buy those items — as well as more prosaic hotel gift-shop staples like toothbrushes — […]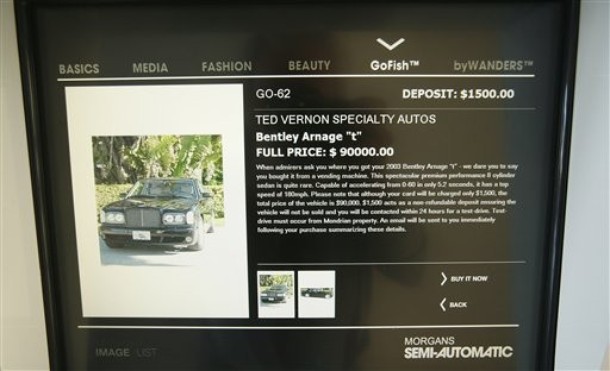 In the market for a Bentley sports car, a Jean Paul Gaultier dress or a cell phone, but don't feel like dealing with a pesky salesperson?
Literally at the touch of a button, visitors to the Mondrian South Beach can buy those items — as well as more prosaic hotel gift-shop staples like toothbrushes — from a new lobby vending machine called a Semi-Automatic.


In a postmodern echo of the early 20th century's Automats, where office workers could buy coffee and comfort food without talking to a soul, the Semi-Automatic peddles a jumble of more than 60 items priced between $10 and $1.2 million in a large, sleek rectangular display.
Customers can view product images and details on either of two small screens.
To make a purchase, they simply swipe a credit card, tap on the product and watch as a motorized arm scoots behind and retrieves it.
Products too large for one of the machine's glossy shopping bags are assigned cards that can be exchanged at the front desk for the purchase.
The biggest items, like cars and condos, the Semi-Automatic dispenses in two stages.
Buyers first pay a nonrefundable $1,500 deposit that puts the item on hold. Then, hotel staff bring the vehicles around for a test drive or take the buyers to visit the property.
Top-sellers so far are gold handcuffs, a gold rabbit's foot and T-shirts with the word "recession" parsed into "Recess Is On" on one side and "(Expletive) the Recession" printed on the other.
---