---
Motoring / Cars and Bikes
The Mercedes-Benz Concept IAA is a Shapeshifting Car
Mercedes-Benz is previewing the future of automotive with its Concept IAA at the 2015 Frankfurt Motor Show.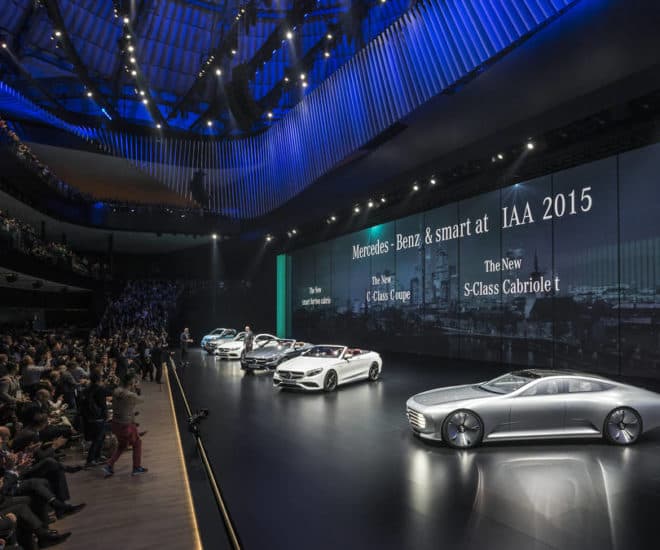 MERCEDES-BENZ is previewing the future of automotive with its Concept IAA at the 2015 Frankfurt Motor Show.
Mercedes-Benz describes its Frankfurt show car as two concepts in one. And that's because the IAA, which stands for Intelligent Aerodynamic Automobile, is a shape shifter in the literal sense.
When standing still it's a perfectly executed visual design exercise, but once it starts rolling and hits 80km/h, the car's exterior elements realign, resulting in a shape with a drag coefficient of 0.19, which, according to the firm, is on a par with the greatest race cars ever built.
"Fascinating and technically sophisticated cars form the core of Mercedes-Benz. The 'Concept IAA' applies intelligent innovations to resolve the conflicting aims of functionality and aesthetics and shows that we still have plenty of ideas on how to achieve further improvements in efficiency," says Prof. Dr Thomas Weber, Head of Mercedes-Benz Cars Development.
The Bugatti Veyron, the world's fastest production car, also changes shape as it accelerates to better cut through the wind and to maintain grip at the limits. However, the IAA is pushing the idea to the max. The car actually grows in length by some 390mm as its aerodynamic properties change. The front bumper even moves under the car to improve airflow.
All of which allows the 279hp plug-in hybrid to achieve an all-electric range of 66km and CO2 emissions of just 28g/kg. Top speed is electronically limited to 250km/h.
And it wouldn't be a Mercedes if the interior didn't offer something equally impressive. Despite the car's huge size — over 5 meters — it's designed to seat just four people in absolute comfort.
There is a clear focus on the finest metals and glass finishes and on technology as a leisure and comfort facilitator. All controls appear and respond like the best tablet or smartphone user experiences, while car-to-car and car-to-infrastructure communication ensure the vehicle avoids accidents and congestion, is prepared for adverse weather conditions, and always knows what's coming at the end of a junction.
Mercedes-Benz wasn't the only luxury automaker to show a four-door coupe concept in Frankfurt. Porsche unveiled the Mission E, its all-electric, battery-powered four-seat sports car concept.
---