---
Motoring / Cars and Bikes
Porsche Unveils Its All-Electric Mission E Concept
Porsche has unveiled its impressive 'Mission E' all-electric concept sports car at the 2015 Frankfurt Auto Show.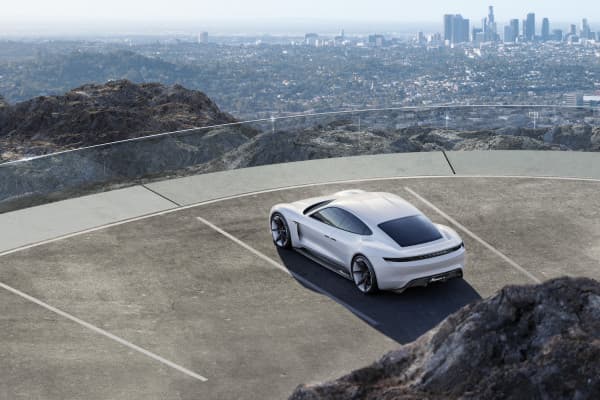 Porsche has unveiled its impressive 'Mission E' all-electric concept sports car at the 2015 Frankfurt Auto Show.
The four-door sedan features a low, road-hugging design that is futuristic while retaining an unmistakably Porsche silhouette that is more reminiscent of the iconic Porsche 911 than the Panamera.
The Mission E is a full plug-in electric car, like a Tesla Model S, but unlike Elon Musk's brainchild, this car can deliver a 500km driving range, 600hp of power, a 0-100km/h time of 3.5 seconds and a 0-200km/h time of under 12 seconds. This power is down to two motors, one powering the front and another the rear wheels that combine to offer all-wheel drive and phenomenal grip when needed.
Despite its striking looks and aggressive low-slung stance, the car has four proper doors and four proper seats. This roomy, light cabin is a direct result of electrical propulsion. With no need for engine firewalls or transmission tunnels that eat into legroom, Porsche's design team has really been given free rein and it shows.
A swooping bridge-like center console separates the front seats while the virtual dashboard panel uses eye and motion tracking technology to place digital representations of dials within the driver's eyeline at all times.
This sounds gimmicky but it's anything but. Like the effect on an iPhone's display — images and content appear to move as the handset turns — the information on the display has a 3D-like nature that bends so that no matter how the seats are set up or the steering wheel is tilted or extended, the information on the display is never obscured or anything less than crystal clear for the driver.
Likewise the virtual wing mirrors that are actually images captured by camera and projected into space where physical mirrors would be located actually offer a clearer, wider and sharper view while drastically improving the car's drag coefficient.
What is gimmicky, however, is the camera in the rear view mirror that attempts to assess the driver's mood and represent it as an emoticon on the dashboard.
But by far the most impressive thing about the car is that something very similar is destined for production within the next two years.
All of the drivetrain and electric motor technology has already been tested and proven via Porsche's racing program and the company claims that the battery can be charged to 80% – or 400km of range – within 15 minutes.
---