---
Motoring / Cars and Bikes
Lotus marks 20 years of the Elise with anniversary model
Lotus has unveiled a special version of the Elise to celebrate the 20th birthday of that model.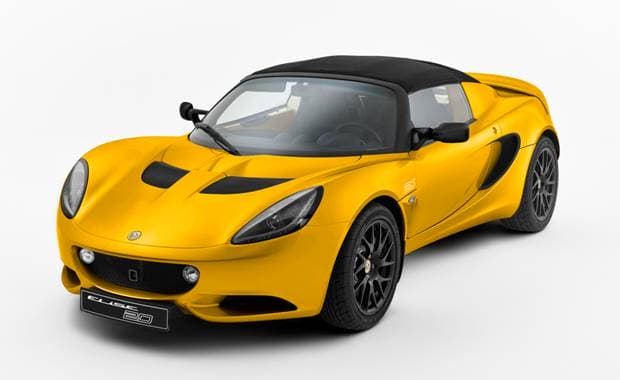 LOTUS has unveiled a special version of the Elise to celebrate the 20th birthday of that model.
The 20th Anniversary Special Edition Elise has lightweight, forged black wheels, equally lightweight leather or Alcantara sports seats ad a new sports mode that speeds up throttle response and dilutes the traction control when engaged for even more track-focused fun.
READ MORE: LOTUS LAUNCHES IN CHINA
However, despite the standard equipment the car still only tips the scales at 914kg — that's lighter than the current flagship Elise S edition and means that the new model can accelerate from 0-100km/h in 4.6 seconds and onto a top speed of 237km/h (145mph), which isn't bad seeing that its powerplant has less than 2-liters of capacity to play with.
The original Elise was a brave decision. At a time when sportscars were increasingly becoming about ultimate power output and creature comforts, Lotus decided to really go back to basics with a car that ditched everything that added weight in search of perfect handling and poise.
Unveiled at the 1995 Frankfurt motor show, the mark I Elise had a fiberglass body and a tiny Rover-sourced 1.8-liter four-cylinder engine.
But because the car only weighed 725kg it could go from 0-100km/h in under 6 seconds and offered levels of handling and control that made even Ferrari owners jealous.
Over the past 20 years, the car has been slightly updated to meet new safety and emissions regulations — it now has a supercharged 1.8 liter Toyota engine — and it's had two minor exterior facelifts, but 32,000 examples later, the Elise still offers supercar handling at sportscar prices.
As well as being the company's best-selling car in recent history, the Elise has also been the starting point for a host of other vehicles, most notably the Hennessey Venom GT and the original Tesla Roadster, both of which were built on its platform.
The 20th Anniversary edition will be offered in four colors — green, yellow, blue and silver — alongside a very small optional extras list of a hardtop, an in-car entertainment system and air conditioning.
---