---
Lifestyle / Alcohol
Bombay Sapphire Limited Edition 'Keepsake' Bag
Bombay Sapphire has collaborated with homeware designers House of Hackney to re-imagine their iconic Hackney Empire print. It is featured on the specially created velvet pouch bag designed to keep special curios and pieces that have been collected on one's travels. The Bombay Sapphire 'Keepsake' was inspired by Bombay Sapphire's exotic botanicals that are carefully sourced and collected to […]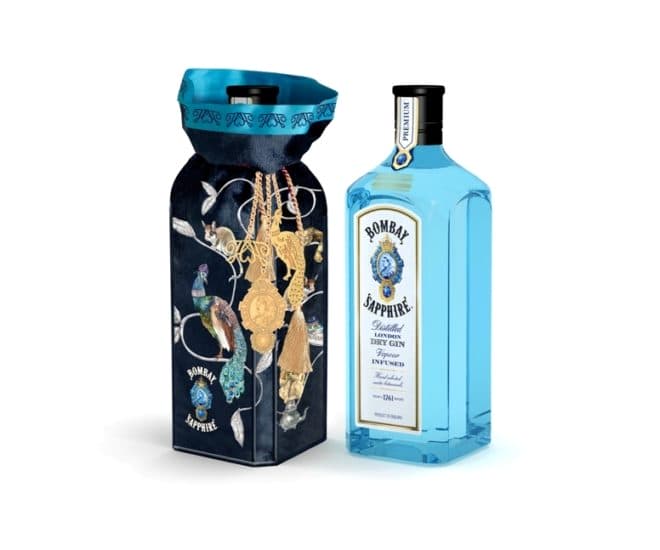 Bombay Sapphire has collaborated with homeware designers House of Hackney to re-imagine their iconic Hackney Empire print.
It is featured on the specially created velvet pouch bag designed to keep special curios and pieces that have been collected on one's travels.
The Bombay Sapphire 'Keepsake' was inspired by Bombay Sapphire's exotic botanicals that are carefully sourced and collected to create the iconic gin.

It features a fun yet intricate motif printed on dark navy velvet featuring exotic animals inspired by the countries that the gin's key botanicals originate from.
A peacock wearing a turban echoes the pride, luxury and sensuality of the brand, whilst the Java mask deer playing a Spanish guitar reflects the Javanese cubeb berries and the Spanish almonds and lemon peel botanicals found within the gin.
An African parrot and frog symbolize the grains of paradise from Africa that infuse the spirit and a golden lion tamarin sat on a Moroccan teapot represents the liquorice from China and coriander from Morocco.
Fastened with striking Queen Victoria and House of Hackney charms, the Bombay Sapphire 'Keepsake' is home to a limited edition Bombay Sapphire 70cl bottle engraved with a golden House of Hackney logo.
During the time the limited edition Bombay Sapphire 'Keepsake' is available, there will also be a specially created Bombay Sapphire 'Keepsake' Cocktail on serve at the House of Hackney Gin Den at cult East‐End eatery, Bistrotheque.
The cocktail showcases a mix of Bombay Sapphire with almond syrup, blue Curacao, rebalanced with freshly squeezed lime juice creating a truly sublime tipple.
The House of Hackney Gin Den infused with imagination by Bombay Sapphire at Bistrotheque opened on Thursday 28 July 2011 until the end of the year.
Visitors can enjoy the evocative maximalist décor, inspired by House of Hackney's 'Hackney Empire' collection, featuring bespoke Bombay Sapphire lamps within Bistrotheque's dimly lit and cosy main bar.
The Bombay Sapphire Limited Edition 'Keepsake' by House Hackney will be available exclusively at Selfridges from late November 2011. Price: £34.99
---