---
Style
How Sustainability is Driving Innovation in the Watch Industry
Sustainability is the new global trend which luxury brands in different industries are embracing. We take a look at how watchmakers, in keeping with the times, are coming up with innovations, fuelled by the demand for sustainable products.
Patek Philippe's famous slogan reads "You never actually own a Patek Philippe, you merely look after it for the next generation". The fact that one of these timepieces will outlast its user is one of the main selling points of a luxury mechanical watch. Apart from the appeal of potentially being able to pass down a watch as an heirloom to the next generation, a more contemporary allure has risen around mechanical watches: sustainability. After all, if it can be used for decades and passed on without having to be replaced, it has to be sustainable right? Unfortunately, according to a World Wildlife Foundation report on the Swiss watch industry published in 2018, there were several environmental concerns revolving mining, pollution, and the resources needed to process raw materials for manufacturing. More had to be done. Fast forward to present day and many distinguished watchmakers are pushing the boundaries of innovation, fuelled by the global trend towards sustainability.
The most common examples of sustainable innovations in any product-centric industry invariably have something to do with the materials used in the manufacturing process. The watch industry is no exception. Steel has always been a classic material used in the construction of many beloved timepieces. However, producing steel isn't a very environmentally friendly process. The pollution and carbon emissions from mining and processing raw iron has great impacts on our environment. Yet, steel is part of the DNA of many watches, particularly divers and field watches which had to be made using robust components. Naturally, a more sustainable alternative to steel would be an ideal focus for innovation. Panerai launched the Submersible Mike Horn back in 2019 and it was made using a proprietary EcoTitanium, produced from scrapped aircraft. This year, the manufacture released the new Submersible eLAB-ID PAM01225, their latest sustainability-led timepiece as part of Watches & Wonders 2021.
Also released this year was Swatch's latest addition to the BIG BOLD line. These watches are made of a proprietary material dubbed BIOCERAMIC, made using a combination of bio-sourced plastics and ceramic. Coupled with the watch's crystal and strap which are both made of bio-sourced plastics, Swatch has made a sustainably innovative watch, in line with global trends.
Apart from the case materials, manufactures are also looking into innovations surrounding the rest of the watch. A common theme is the use of recycled plastics obtained from a number of different sources. Tom Ford's Ocean Plastic Timepiece, as its name suggests, recycles maritime plastic waste in its construction. Each watch reportedly uses "an average of 35 bottles of plastic waste used per product including watch and strap".
Ulysse Nardin has been studying a variety of oceanic materials and assessing their suitability for use in watchmaking. From this research comes the Diver NET, a concept watch designed in collaboration with Fil&Fab. Unwanted fishing nets were recycled and formthe raw material used in the Diver NET's case, back and bezel. Another innovation is the use of transparent ceramic glass instead of more energy-intensive sapphire crystals.
There number of technical innovations in the watch industry are endless and would be impossible to cover in a single sitting. However, the greater demand for sustainability isn't limited to materials and design. It has also led to innovations in the realm of brand marketing. As consumers become more conscious of environmental and social issues, they expect that their favourite brands reflect the same values they believe in. A report by Nielsen indicated that 73% of Millennials were willing to spend more on products offered by brands which were known to be sustainable or socially-conscious. An example of marketing innovation driven by sustainability is Seiko's Save the Ocean series which was done in collaboration with prominent ocean conservationist Fabien Cousteau. The series features some of Seiko's most popular Prospex dive watches such as the Turtle and Samurai. Part of the proceeds from the sale of these watches is donated to the Fabien Cousteau Ocean Learning Centre and helps fund their global efforts at marine conservation.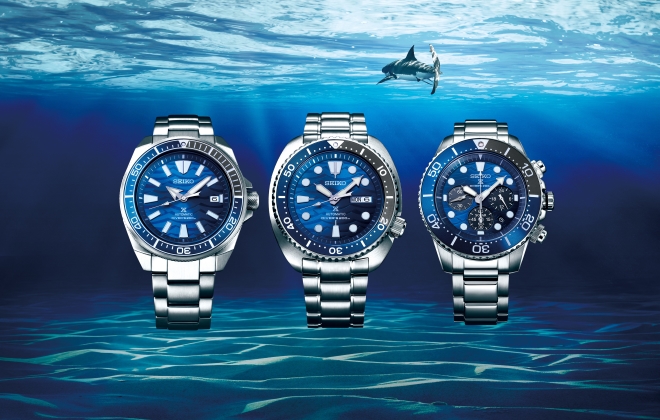 Other non-tangible innovations include the way brands are run as businesses. Several of the industry's biggest brands, including Omega, IWC Schaffhausen and Cartier are members of the Responsible Jewellery Council (RJC). Members of the RJC are certified to have an ethical supply chain which covers precious metals and gemstones. Some even go beyond the certification to set consumer's minds at ease. IWC Schaffhausen for example, embraces sustainability and transparency by releasing a report in its practices to the public every two years. Apart from utilising an ethical gold supply chain, brands such as Chopard and Rolex even run their own gold foundries and recycle the gold used in their timepieces.
As the new generations of consumers become more aware of social issues around the world, watch manufactures have had to keep up with the times. As climate change and environmental pollution begin to take centre stage in discussions the world over, sustainability has become a key concern in the minds of consumers. This has helped to drive innovation in the watch industry in terms of actual watchmaking and design, as well as the way brands market themselves and run their businesses.
---