---
Leaders / Style
Ifeoma Ubby's OliveAnkara Represents A New Generation of Female Entrepreneurs Who #ChooseToChallenge
Ifeoma Ubby left her home in Italy to pursue her post-doctorate studies in Singapore, and then left her established career in Molecular Biology to manage her fashion label OliveAnkara. In an exclusive interview, we find out about her passionate outlook on life and more in this International Women's Day Special.
The theme of this year's International Women's Day is #ChooseToChallenge and Ifeoma "Ify" Ubby is no stranger to challenges. In university, she pursued a degree in Molecular Biology. Despite it being a largely male-dominated field of study, she followed her passion and attained a PhD in Human Molecular Genetics from Scuola Normale di Pisa. When it came to doing her post-doctoral studies, she decided to challenge herself further and took up an overseas position in Singapore at the National Cancer Centre (NCCS), leaving behind the comfort and familiarity of Europe—the continent she had grown up in. While doing her PostDoc, she founded a fashion label, OliveAnkara, in 2017.
In 2019, following the conclusion of her post-doctoral research, she took a leap of faith and switched from an established career as a Molecular Biologist to managing OliveAnkara full time. We interviewed Ify to find out more about her colourful life and what drives her to #ChooseToChallenge.
You're of Nigerian descent but were born and grew up in Italy. What was your childhood like and how did it influence your personality and outlook on life?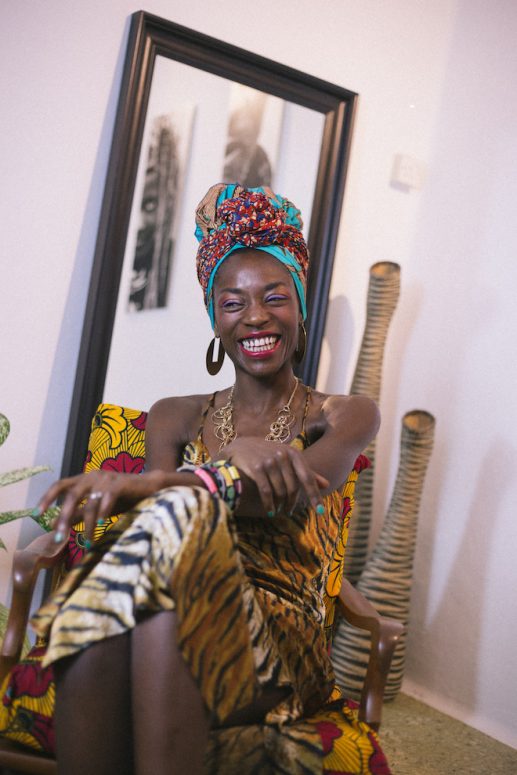 I was born and raised in Italy, near Venice, where my parents moved from Nigeria in the early Eighties. I grew up surrounded by Italian people, culture and taste, but my Nigerian roots always played an important role. I have been exposed to African cultures a lot during my youth, especially thanks to the big Nigerian community that grew in Italy during those years.
One aspect that always fascinated me when attending family gatherings was the colourful clothing that men and women were wearing. I fell in love with African fabrics, and this love never faded.
How was it like transitioning into life in Singapore and how did you overcome the challenges along the way?
Moving to a new country is equal parts exhilarating and scary. You never realise quite how strongly tied to the culture of your home country you are until you move abroad and are faced with a culture that is markedly different [from] your own. I decided to move here focusing mostly on my scientific career, so expectations were not really a thing, but I definitely felt the change. I had a friend that was already living here since 2012 and he was enthusiastic about Singapore. [My husband and I] didn't have any experience in Asia so we came here with an open mind and a lot of curiosity. The trick is to embrace it, instead of letting it get the best of you.
We opted for moving to a new country because we wanted some adventure and because I found a PostDoc position at the National Cancer Center. Getting adjusted for us started with leaning into the experience and getting the most out of it that we could. After almost 8 years we are still here and we are not planning to go anywhere, this means that we found a place to call home and we really love Singapore and consider it our home now.
OliveAnkara started as a passion project to fill a gap in Singapore surrounding African fashion. What made you decide to make the switch from an established career in molecular biology to committing fully to fashion?
"How did you know it was time to leave? How did you really know? Why?" I get this question a lot. How'd I know it was time to jump from my motivating, nice, stable, science job? Well, I had ZERO intention of starting a business. OliveAnkara happened almost by chance. I didn't start with the idea of bringing Africa to Singapore, but rather just to make my own clothes with the fabrics I love and couldn't find here. I made some other garments for myself and for some friends. The response was so good and I realised that I was very passionate about it. In January 2019, I decided to try going full time with OliveAnkara. It was a very hard decision to leave science for OliveAnkara, it was purely a leap of faith. [Three and a half] years later, here I am!
My motto was and still is, no regrets, follow your passion, it will never be a failure because you have tried. In the end, we only regret the chances we didn't take. And now I am on a mission of spreading the beauty of African inspired fashion to this side of the world.
How would you describe OliveAnkara's style and what do you want your wearer to feel when they don your clothes?
We believe in the freedom to express ourselves. At OliveAnkara we love the impact and vibrancy of colours and cultures of the African diaspora and beyond. We embrace the beauty of many cultures so that you can have that extra dash of excitement in your closet! Our collections are designed to make women feel gorgeous while being comfortable in their own skin. My dream is to see women of all colours wearing a garment by OliveAnkara.
Apart from the African influences, how did growing up in Italy shape the way you design your collections?
Growing up, I've always been attracted by the joyful colours of African fabrics and inspired by the craftsmanship of Italian fashion, the flawless attention to detail. It's no exaggeration to say that Italian fashion's influence and creative output has been and continues to be prolific. What more would you expect from a country for whom the concept of la bella figura (directly translating to "the beautiful figure", but meaning "to make a good impression") is as ingrained in its culture as Aperitivo hour?
The idea of presenting your best self, the way you dress, the food you eat, what's in your home, Italian fashion is all about that. It's not for nothing that Italy is a world leader in architecture and furniture, too. When I design new collections it's never about making one perfect thing that can't be replicated, but a series of things and making each one perfect each time.
What are some practices that OliveAnkara has adopted in order to come as close to zero waste as possible?
OliveAnkara production approach is oriented towards two main concepts: to be a so-called slow fashion brand, where quality and uniqueness are above quantity and mass production. We create small collections and limited editions and we try our best to reduce waste and optimise processes. We put quality and design ahead of quantity and trends. We don't make clothes that last a season, we aim to make timeless clothes. Even as we grow as a brand and plan to increase our production, we will always work with the intent of creating something that is respectful of the planet and the people involved in the process. We also work towards a zero-waste philosophy, we create our accessories by using the off-cuts from the previous collection. We always try the best to be as close as possible to the concept of sustainability.
With everything you've accomplished so far, you're definitely a great inspiration to many women around, particularly women of colour. How do you feel about that?
Ah, thank you! I feel great, I love to see the interest and curiosity. People were very curious to know the story, the origin, and know more about the fabrics and the brand. Consumer education is a crucial part for me, a lot of people here don't know anything about the history, the origins, the meanings of the fabrics we use and most of all the culture. I don't see myself as an ambassador yet, but I would love to become one, cause it would mean I am doing a good job and achieving my goals as a person and as a brand. I never felt it was a burden, I rather see it as a blessing and I am thankful for it. I would love to spread a message that goes beyond past history and borders, and inspire people to know more and understand better not only African fashion but also the meanings and stories behind it.
Molecular biology and science, in general, is a largely male-dominated field. What advice would you give to young women aspiring to step into similarly male-dominated career fields?
Just be yourself and be passionate about what you are doing. If you fail, you will become smarter, If you succeed, you will gain even more self-confidence and emotional and financial rewards. Last but not least fight for yourself.
What has the learning curve been like for you with regards to setting up your own fashion label in Singapore, especially since you have a niche in African designs?
We are so proud to see how the brand is organically growing in the last few years and to see more and more people becoming aware of the West African Culture.
What are your plans for OliveAnkara moving forward?
For almost a year now we have been working on a project that will bring meaningful changes to the brand in terms of sustainability, production and expansion. We are working towards making our supply chain transparent and trackable and increase our production in a clean and ethical way. We want to expand beyond the Singapore market, and we want to do it by keeping our pillars at the centre of the project. We will have exciting news coming up in 2021 but we do not want to spoil the surprise now, so keep following us to find out what will happen!
If you were to name one mentor who has inspired you, who would that be?
Would be a lie if I will give you only one name, I had many and I still have many. This question would need 6 pages to answer and it still wouldn't be complete! But my family is the one that keeps inspiring me.
Lastly, any words of advice for female entrepreneurs?
Never be afraid to follow your passion. But to turn your passion into a profitable business is something you need to learn even more. No doubt, doing a business comes with its own risks as we are investing money and time. Start small with one product line, then develop the brand from there, in a way that feels consistent and carries forward the same design DNA. If you have enough passion for your business idea, nothing can stop you. Pursue your dreams and believe in who you are and what you are doing. Don't be afraid to ask for help. You can learn from other people and their experiences. Because out there is a tribe of successful women who have your back!
To find out more about OliveAnkara, do follow their Facebook and Instagram @OliveAnkara. Alternatively, you can also head over to their website oliveankara.com
Image Credit: Courtesy of OliveAnkara
---