---
Culture / Art Republik
INFLUENCERS: A Special Exhibition Celebrating the Best of European and Southeast Asian Artists
"Our wish is to offer the public the keys to better understand Modern art and contemporary creation."
Nowadays, it's almost impossible to find any physical art exhibitions around as the coronavirus pandemic has pulled the plug on most showcases. Realising the importance of keeping the arts alive in Singapore, Alliance Française de Singapour has taken on the mantle to organise "INFLUENCERS", an art exhibition that puts the spotlight on 11 talented international artists. How aptly named, these artists are the ones to watch and we can only imagine the influence they will wield in the region. Asia, as a whole, is a fertile ground for creativity due to the diverse cultures and these cross-cultural influences will definitely shape the world of painting in the future.
Inspiration for INFLUENCERS runs far to the previous century, the "Salon des Indépendants", was the pioneering art exhibition that hosted many of the world's avant-garde artists of the past which have undoubtedly guided contemporary artists of today. The new exhibition, INFLUENCERS, is a nod to the Salon des Indépendants, which the creators have also called the "Salon des Influenceurs".
But before we head down to view the various masterpiece, we have spoken to Fabian Forni, Executive Director of Alliance Française de Singapour and Marina Oechsner de Coninck, Art curator of "INFLUENCERS", to learn more about the exhibition and what can we expect.
Marina Oechsner de Coninck is the art curator who has also brought to us the all-female art exhibition in January 2021 called, "The Call Of The Sea".
The INFLUENCERS exhibition will be staged in Singapore from May 8 to June 19 2021, tell us more about the concept and what visitors can expect to see?
Fabian Forni: INFLUENCERS is part of our cultural programme, French Excellence, which aims to share the best of French culture through an exciting line-up including exhibitions, workshops, talks and screenings. Through this programme, we also hope to create a dialogue between cultures and to strengthen the ties between people and communities. INFLUENCERS, which spans May and June, comes after April's French Art Of Fine Dining, and will be dedicated to modern painters and their influence on the contemporary art scene.
The INFLUENCERS exhibition gathers 11 contemporary artists from Europe and Southeast Asia, and examines the enduring legacy of Modern art on creators and their practice today. We offer an insider's look into their works, allowing visitors to discover the many cross-cultural influences and trends emerging in the world of painting today.
Who are the participating artists and what is their respective background?
Marina Oechsner: All the artists of this exhibition are exhibiting internationally and have diverse cultural backgrounds. From the Greek artist Emi Avora to the Singaporean artist Andy Yang, five nationalities are represented in the artists' selection. My role as an art curator was to select contemporary artists with cross-cultural backgrounds on the angle of Modern art influence from Impressionism to Abstract expressionism movements. We hope viewers, as they view the paintings, experience a journey through art that is both insightful and emotional, but we also hope to offer a memorable and playful experience to the community of art lovers in Singapore. The viewer is invited to guess the influence of the old masters: from pointillist Seurat on Indonesian artist Wayan Novi, to cubist influences on Delphine Rama's fractal art.
The exhibition is staged at Alliance Française (Singapore). What are the links between the exhibition and French culture?
Fabian Forni: Many current trends of modern painting can be traced back to great French masters. And what better period in French art than Modern art, from Impressionism in the 1870s to Surrealism well into the 1960s? The French masters have left legacies that many current artists have inherited, and they have influenced their contemporaries like Georgette Chen, whose works, housed at National Gallery, still garner great admiration. As part of this new programme, we pay tribute to these wonderful artists with a documentary on Henri Matisse, as well as screenings of other Impressionists.
The link between the exhibition and French culture can also be seen in the artists chosen. Reflecting our desire to make cross-cultural interaction and connection an essential part of our programme's construction, five of the eleven artists are French, while four are locals.
If you were to give our readers 5 reasons to visit INFLUENCERS, what would these be?
Fabian Forni: (1)The talent of 11 contemporary artists, who assert their individuality while remaining rooted in the heritage of the art world. (2) An opportunity to better understand Modern art through the contemporary art scene. (3) A great way to discover the other activities offered in the French Excellence programme. (4) The occasion to discover Alliance Française de Singapour, a unique French Hub in the city-state where you can, among other things, eat the best crepes in town! (5) I hope this unique exhibition will make you want to learn French to better embrace French culture!
Will all artworks exhibited at INFLUENCERS be for sale?
Marina Oechsner: Yes, the artworks are for sale at affordable prices. We hope to reach new art collectors and art lovers, and sales (via our e-catalogue posted online), have already begun. The benefits will be re-invested to propose more cultural events of this kind and to continue to promote local and international artists.
Will this be an annual exhibition or Rendez-Vous?
Marina Oechsner: The "Influencers" Collective Exhibition is happening in a particular time where the art community, local and abroad, is keen to experiment new collaborative mode inspired by cross-cultural exchanges. A chance is given by Alliance Française here in Singapore. We would be thrilled to see iterations of INFLUENCERS elsewhere in the world.
Aside from the Alliance Française, which are the supporting partners and participating galleries?
Marina Oechsner: We are grateful to collaborate closely with established galleries in Singapore – Art Porters, Cuturi Gallery, and one online gallery, Clementine De Forton Gallery. Art Porters represents the Indonesian artist Wayan Novi, and is playing a leading role in promoting Southeast Asian artists in the region. Cuturi Gallery connects audiences with high-profile artists including Lionel Sabatte, Gael Davrinche and Delphine Rama, as well as emerging artists like Marla Bendini. Clementine de Forton represents European artists such as Nicolas Lefeuvre.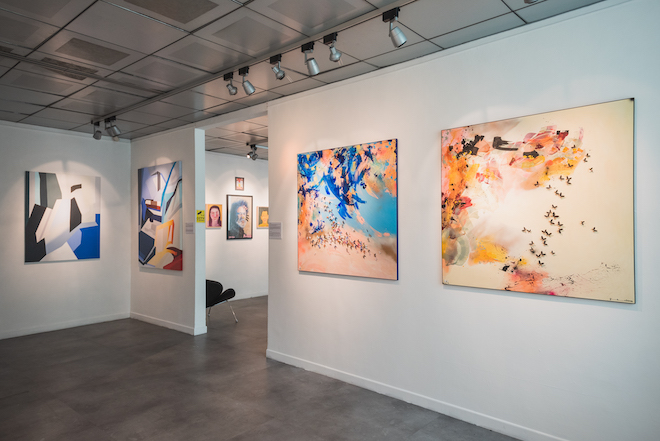 A creative platform together with Heart Media Group with the aim to foster art collaboration in Asia via cross-cultural concepts and to support the artists to reach their audience in the time of the pandemic. The project was made possible in a short timeline due to the dynamism of our partners, who share the same value of French excellence as Alliance Française.
What measures are you putting in place to ensure the exhibition complies with the strictest health rules?
Fabian Forni: Alliance Française is committed to strict adherence to safety measures, implemented in line with the government regulations. As such, visitors of la Galerie will be asked to check in and out of our premises using SafeEntry, keep their masks on at all times, and maintain a safe distance between one another. Additionally, the capacity of la Galerie is limited to 16 people at any same time.
What are your very first impressions of Singapore and of the local art scene?
Fabian Forni: Before moving to Singapore, I was posted in Bangkok where I had the chance to get to know the creative force of Southeast Asian artists. Since arriving here, I have visited many exhibitions that have confirmed that there are many talents here that deserve to be highlighted. I also admire the way that art forms with such different roots coexist and interact with each other together.
Have you already had a chance to visit art museums, galleries and cultural centres in Singapore?
Fabian Forni: Yes, I was already enthralled by the richness of Singapore's museums during my previous stays. I had the chance to visit almost all of the galleries in Singapore! I confess I am looking forward to the reopening of the Peranakan Museum. I recently met some collectors that made me even more excited to learn more about this beautiful culture.
How deep is the Alliance Française rooted in Singapore and what are your plans to further strengthen the presence of French culture in the city-state?
Fabian Forni: Alliance Française de Singapour has deep roots in Singapore. We were established in 1949, and over the seven decades here, have been contributing to the buzzing evolving Singaporean cultural landscape. We programme more than 100 events per year in three key venues: theatre, gallery and media library.
Alliance Française's cultural and educational programming is extremely rich and coherent in achieving its goal: to bring France (and French culture) to an ever-increasing community of people whose strength is built from cross-cultural understanding—the heart of all dialogue. With our president Andrew Lau, we truly believe that this cultural programming is also a way for our students to embrace French cultural heritage.
Your personal wish(es) with respect to the INFLUENCERS exhibition and its impact on the Singapore art scene?
Fabian Forni: Our wish is to offer the public the keys to better understand Modern art and contemporary creation. We also seek to make the talent of this new generation of artists, some of whom are already internationally recognised, better known in Singapore. Finally, we hope to support artistic creation.
---
INFLUENCERS
Date: 8 May to 19 June 2021
Time: Monday: closed
Tuesday to Friday: 1:00pm-7:30pm
Saturday: 9am-5.30pm
Location: La galerie, Alliance Française de Singapour, 2nd Level
1 Sarkies Road Singapore 258130
For more information regarding this exhibition, you can visit the Alliance Française de Singapour website.
---