---
Style / Fashion
Versace opens new Milan store in historic setting
Versace announces the opening of a new boutique within the central Octagon of the Galleria Vittorio Emanuele II.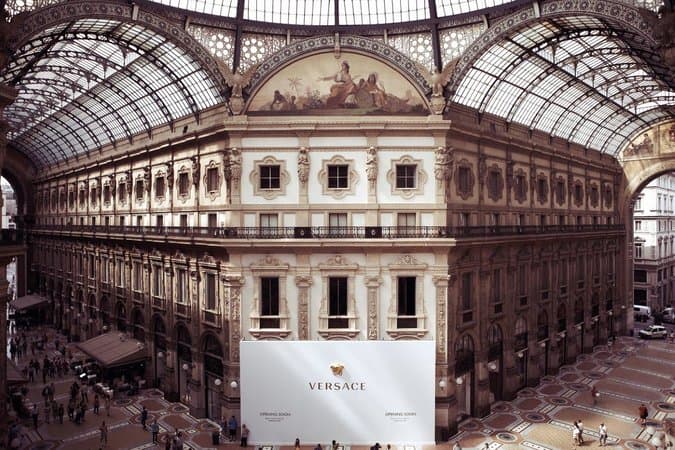 With the world's fashion press in the Italian city for the Spring/Summer 2015 shows, VERSACE has chosen this week to open a new boutique in the recently restored Galleria Vittorio Emanuele II.
The restoration of the famous Galleria, which survived the city's bombing during the Second World War, was supervised by the city's Sovrintendenza alle Belle Arti (Department for the Fine Arts), with delicate work undertaken to preserve and protect the friezes and other decorations.
DON'T MISS: MCDONALD'S SUES MILAN OVER PRADA STORE
The Versace boutique was designed by Donatella Versace and architect Jamie Fobert, with the space designed to balance the distinctive Versace aesthetic with the delicate late 19th century features of the Galleria.
"It has been an honour to preserve and promote the importance of Italian culture giving back to Milan one of its treasures," says Donatella Versace, "the importance of Milan to Versace is fundamental: it was in this city that the Maison was born in 1978. It means the opening of our boutique in the Galleria Vittorio Emanuele II is hugely important to us."
DON'T MISS: VERSACE'S FIRST KIDS STORE OPENS
In celebration of the opening, Donatella Versace and her team have designed a new accessories collection in honor of the store.
The Versace Ornamental Collection features a heat-impressed print motif which riffs on the friezes and columns in the Galleria.
---