---
Culture / Events
Tesla Roadster and Tag Heuer go on world tour
Luxury watch brand TAG Heuer has unveiled a new concept watch for its specially designed Tesla Roadster March 18 – and announced plans for a world tour. To celebrate its 150th anniversary, Tag Heuer will send the Tesla Roadster around the world, leading a travelling exhibition of the brands timepieces. At the centerpiece of the […]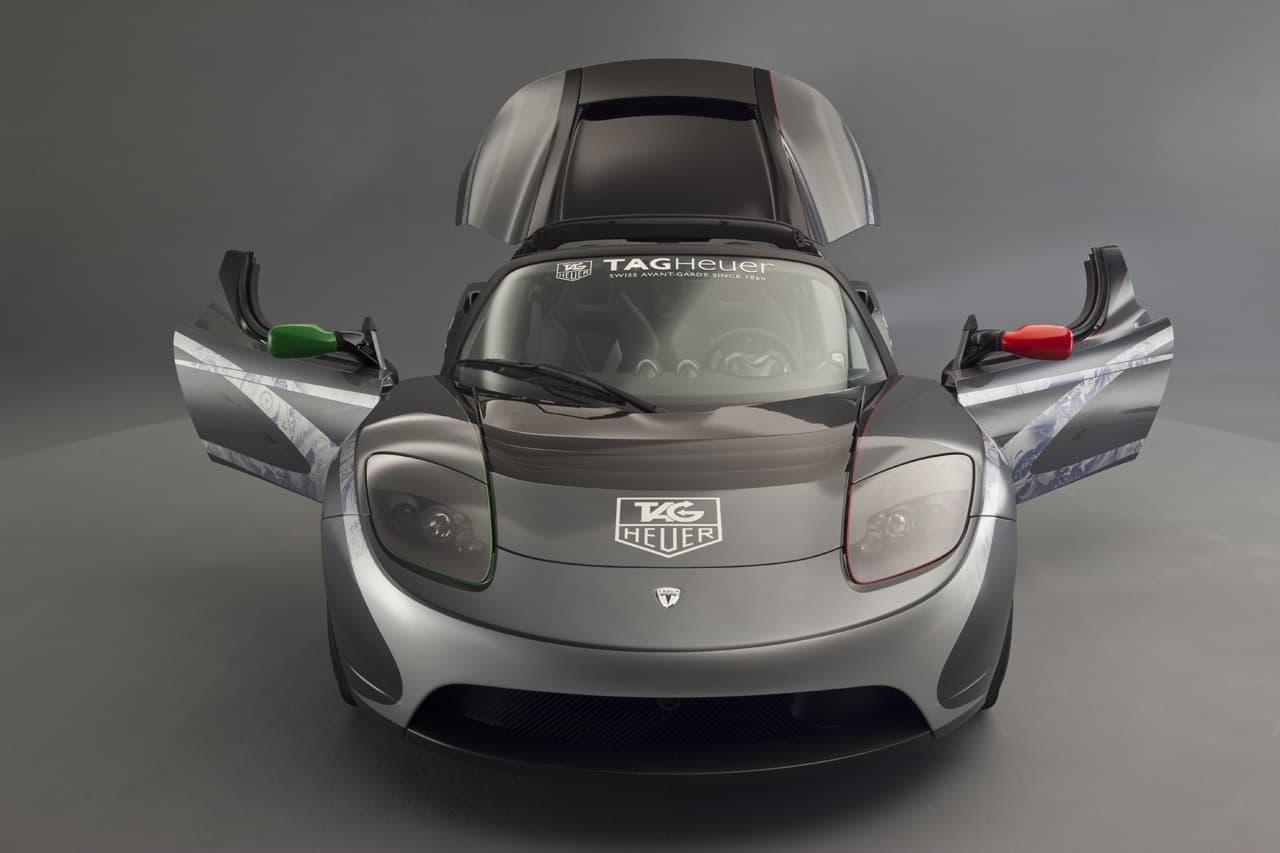 Luxury watch brand TAG Heuer has unveiled a new concept watch for its specially designed Tesla Roadster March 18 – and announced plans for a world tour.
To celebrate its 150th anniversary, Tag Heuer will send the Tesla Roadster around the world, leading a travelling exhibition of the brands timepieces.
At the centerpiece of the car's console will be the Grand Carrera Pendulum, a 2010 concept watch specially designed to fit in the Roadster that was also launched at the event.
The all-electric Roadster, unveiled at the Geneva Motor Show, will travel some 37,000 miles — the first round-the-world tour by a zero emission GT car.

In total, 15 city stops will be made between March and October 2010.
The car's first stop will be Monaco on March 25, in time for the start of green car show EVER Monaco which begins on the same day.
Last November, Tesla opened third European showroom in Monaco, providing sales and service to Southern Europe.
Breitling and Bentley joined TAG Heuer and Tesla in unveiling combination timepieces at the Baselworld show.
The new Bentley Supersports watch, limited to a 1,000-edition run, was also launched March 18.
Follow the Odyssey of Pioneers Trip
March 25 – 28 Monaco
April 7 Milan
April 15 Budapest
April 22 Warsaw
April 29 – May 2 Moscow
May 20 – 23 Delhi
June 3 – 6 Beijing
June 17 – 18 Shanghai
July 8 – 11 Tokyo
July 29 – 30 Los Angeles
August 19 Miami
September 2 – 5 New York City
September 16 – 19 London
September 30 – October 17 Paris
---