---
Culture / Art Republik
Interview: Artist Max Zorn Talks Tape
Art Republik gets up and sticky with Max Zorn.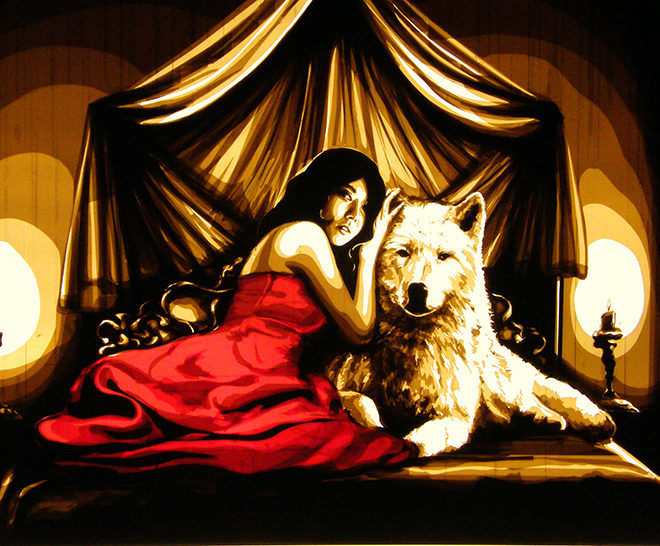 Putting down layer after layer of brown packing tape on acrylic glass and using only a surgeon's scalpel for his paintbrush, street artist Max Zorn creates, from memory, portraits of his muses. Subjects and landscapes from 1920's and 1950's film noir appear in sepia, illuminated from behind with a warm glow, illustrating moods of crime and romance with femme fatale's and classic detectives reclined against famous skylines and cityscapes.
At a recent Tedx Talk, Max Zorn shared his feelings about his choice of medium and how it relates to the all forms of art: "What fascinates me the most is that transformation when tape interacts with light. The fact that one additional element – the light – changes everything that we knew about the tape and I feel that doesn't only apply to tape but also touches the broader issue of art. As art takes the world, chews it up, and spits it out again as a new narrative, it enables us to see things which are around us, which are in front of our eyes all the time, in a completely different light."
Urban street art is nothing new and the boundaries seem almost endless, but the Dutch artist brings a certain romance back to the genre. Away from political and social commentary, with a departure from the rebellion which seems to define urban art, Zorn's works highlight a nostalgia from an era when glamour was in fashion and our hero's were cinema stars.
Max began his career out of boredom climbing lampposts to put up his art stickers in major European cities such as Amsterdam, Madrid and London before launching his project 'Stick Together' in 2012. Resulting in the participation of thousands of people keen to be involved with urban art, the project triggered the conception of live events around Europe by well-known international artists. Just four short years later, 'Stick Together' has formed an art gallery showcasing some of the most established artists in contemporary art.
Art Republik caught up with Max at the recent Spring 2016 edition of the Affordable Art Fair Singapore, where the gregarious artist thrilled visitors with live demonstrations throughout the weekend.
How did you get started with this technique?
It began a few years ago because I had this idea to make street art for the night in Amsterdam. The cityscape after dark inspires me, and I guess I just wanted to include something, somehow, that would be a part of that. So I would climb up street lamps and put little sketches on lanterns with tape as a kind of background. I liked the way light shined through the tape, so I sort of started my focus on tape there.
Have you experimented with any other materials?
When I was a student at university I painted a little on the side to get through my studies. I sold an entire show of works on oil and watercolor to some collector who happened to pass by my little art show. I was lucky, I guess. But since that time, I have only worked with tape.
Your pieces seem to have a vintage, 1940's era film quality to them. What are some of your muses?
Before I created art I first learned about Americana through Spaghetti Western films and American authors like Steinbeck, Hemingway and Tom Wolfe. Those are really my roots for inspiration. As a child I always dreamed about New York City or the bayou in New Orleans and adventures like that. The medium really enhances a nostalgic past, kind of like film noir when you tie in the subjects as well. So I'm inspired by the past, and decades such as the Roaring 20s in Europe and the US, but also the 1950s, and modern city skylines.
How long does it typically take you to complete an artwork?
Well that depends on the size of the artwork and the detail of the artwork. An average time would be a little over a week. I think of a concept. I start with a blank piece of acrylic glass. I build from there. Then I preserve it. And lastly I build the frame. So it's a whole process.
Are there any artists or creatives who have influenced you?
Edward Hopper is a big one. He shows this incredible vast city full of people, but still alone as an individual. I like artists who deal with people as subjects more than landscape, and moments of confusion and loneliness in an era of progress and miracles. I'm interested in artists in general who try to find a raw moment with whomever they depict, like Francis Bacon. I'm just interested in these moments myself and I try to find other artists who express that.
What were you doing for a living before you started doing this? Have you always been an artist?
I recently completed my Masters with a Degree in Sociology, Psychology and Philosophy. I always painted, as did my family, but not professionally. Because of the fast response to my work I was lucky enough to eclipse over from being a student to being a full-time artist in a short amount of time.
How did the Affordable Art Fair audience in Singapore respond to your work?
Well, to start with, I like the idea to not only show a finished product, but also the process behind the creation of an artwork. I felt, from their feedback, that they were very much interested, and I felt excited to work live, in front of an audience. The Affordable Art Fair team was full of questions about the origins of the work, the ideas behind it, the process itself, and I felt a very immediate and warm connection with visitors of the art fair.
What's next for you? Are you thinking about trying something new?
Well I'm happy to be sold out so I have a great opportunity now to try a new series! I'm always looking to see how color tape is going to affect my work, so I'd like to experiment a bit in technique and the way I show. This also includes two-dimensional and three-dimensional works such as installations and large-scale artworks.
Story Credits
Text by Tanya Michele Amador
This article was first published in Art Republik.
---