---
Cars / Yachts
Bernard Arnault's "Symphony" Super Yacht Is First Feadship To Cross 100 Metres
The 105 metre luxury superyacht 'Symphony' is the first Feadship to cross 100m and it is now owned by the richest man in France, LVMH CEO Arnault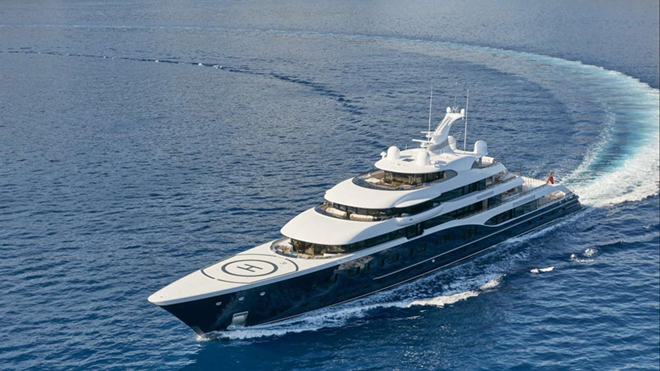 Ranked 50 out of the world's top 100 superyachts, the 101.5 metre six deck "Symphony" luxury super yacht with its "bones" by De Voogt Naval Architects and designed by Tim Heywood Design is the largest Feadship ever built in 2015 (a record since been broken by the 110 metre Feadship 1001). The Symphony is also the first Feadship to be fully compliant with the new Passenger Yacht Code regulations, allowing more than the usual twelve passengers.
Interior designed by Zuretti Interior Design, it was the first Feadship to cross the 100-metre mark, and it was revealed to be owned by Bernard Arnault, one of the richest men in world.
First Feadship larger than 100 metres, "Symphony" luxury super yacht is Owned by LVMH CEO
The CEO of French multinational luxury goods conglomerate, LVMH, owns the largest Feadship to be ever built according to Yacht Habor. According to Forbes, Bernard Arnault with a net worth of US$93.5 billion, is one the world's top ten billionaires and the richest man in France. Unsurprisingly, the man who has been shaping the luxury world for 35 years is bound to own a luxury mega yacht worth US$150 million.
Arnault's previous yacht Amadeus was sold in 2016 for an asking price of US$50 million euros and has recently donated €200 million to the rebuilding fund for Notre Dame de Paris. The "Symphony" yacht is worthUS$150 million.
Designed by Tim Heywood and built by Feadship in the Netherlands as Project 808, Symphony has a gross tonnage of near 3,000GT. With an aluminium structure, the yacht can house 36 passengers and is an eco-friendly yacht, using 30 per cent less fuel than other similar yachts.
Symphony has a couple of luxury features such as a 6 metre glass-bottom swimming pool on main deck, an outdoor cinema on bridge deck, and a jacuzzi on the sundeck. While the  owner's deck is equipped with double bathrooms, dressing rooms and a sauna, a forward terrace with Jacuzzi, a private office and a study, a lounge and a spacious aft deck area for lounging with a dining table for 20.
Arnault interest for the yacht industry dates back to 2008 when Arnault ventured into the yacht industry by leading an acquisition of British yacht manufacturer, Princess Yachts which saw L Capital, a fund controlled by LVMH, gain a 70 per cent controlling stake in Princess Yachts. Feadship, the world leading brand of custom-built luxury mega-yachts, has been working with LVMH closely since 2008.
For more yacht reads, click here.
---