---
Business / Billionaires
Top 10 Philanthropists in the World
As one of the biggest economies with the highest number of billionaires in the world, philanthropists in the US have so far given away a total of US$169 billion.
As one of the richest nations in the world, the US has about 700 billionaires residing in the country and the accumulated wealth of the top 1 per cent of the population reached a record US$45.9 trillion at the end of the fourth quarter of 2021 as reported by the Federal Reserve. Despite various economic disruptions due to the pandemic, the top earners still managed to grow their fortune by more than US$12 trillion and along with that accrued money came donations to various charities and the country's philanthropic efforts hit a total of US$169 billion over the course of the donor's lifetime.
According to Forbes, leading the pack is Warren Buffett, who gave US$4.1 billion to The Bill and Melinda Gates Foundation and foundations set up by his late wife and three children. Following closely is MacKenzie Scott, the former wife of Jeff Bezos, who is widely known for her donation and has given away US$5.8 billion to over 500 different groups across the US. Other notable donors include George Soros, Mark Zuckerberg, Michael Bloomberg and Charles Feeney.
Here Are the Top 10 Philanthropists in the US
Warren Buffett
With an accumulated lifetime giving of US$46.1 billion, the nonagenarian pledged to give away more than 99 per cent of his wealth and is possibly the biggest philanthropist of all time. Much of his donation has been to his close friends Bill and Melinda French Gates' foundation. Roughly about US$2 billion to US$3 billion worth of stocks from Berkshire Hathaway each year go to that foundation, which works on poverty and healthcare initiatives in developing countries and education in the US. In addition, he also co-founded The Giving Pledge with the Gates and gave billions of dollars to the charities set up by his family members.
Bill Gates and Melinda French Gates
The Bill and Melinda Gates Foundation was the main conduit for the former couple's philanthropic efforts. Despite ending their 27-year marriage, the duo remain co-chairs of the foundation that they have set up since 2000. In 2020, the foundation made US$5.8 billion in grants and the money was used on research and vaccine development for Covid-19. Additionally, the Bill and Melinda Gates Foundation has also supported 20,000 low-income students of colour in the US with university scholarships and has worked to improve sanitation in developing countries.
George Soros
The billionaire's Open Society Foundations provide funding for a range of causes that have social impacts like journalism, justice reform, human rights, and economic injustice. Last year April 2021, Soros made a US$500 million commitment to the endowment of Bard College, a 2,400-student liberal arts institution just north of New York City. Also announced last year, the Open Society Foundations is restructuring the way it "confronts the problems of the day", citing the rise of authoritarianism as the main concern in today's society.
Michael Bloomberg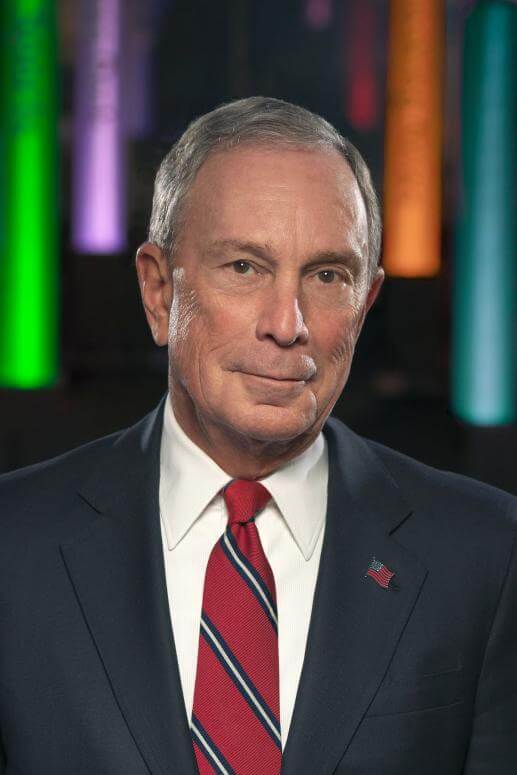 With a focus on climate change, gun safety and public health, Michael Bloomberg has set up Bloomberg Philanthropies to address issues that arise. The former mayor of New York City and co-founder of Bloomberg has donated more than US$12 billion to charitable organisations and last year he donated US$1.6 billion. Following the protest of George Floyd, Bloomberg Philanthropies made a US$100 million commitment to fund four historically Black medical institutions. Furthermore, in December 2021, Bloomberg further committed US$700 million to assist charter schools in 20 metro regions around the US for the next five years.
MacKenzie Scott
Not a person who openly publicises her donations, MacKenzie Scott wants the nonprofit organisations' works to speak for themselves. The ex-wife of Jeff Bezos inherited a huge fortune after her divorce from the billionaire and has since been active in using the money for good. So far, she has donated at least US$8.6 billion in less than two years to over 700 groups that focus on various issues from racial justice, gender equality and public health. While Scott does not share the details of her donations, she chronicles her philanthropic journey on Medium, an online publishing platform but still, people criticise her for lacking transparency in her effort. And so, Scott said she would share more information and disclosed that she will be setting up a website with a searchable database of gifts.
Charles Feeney
Charles Feeney takes his philanthropic effort to the extreme as he has notably said to have a lofty goal to die broke. The co-founder of Duty Free Shoppers, a retail chain that was set up in Hong Kong in the 1960s, he has donated about US$8 billion to various causes like education, youth and human rights. What began as a sleuth operation to donate his wealth, Feeney's identity was made known and his action later became a source of inspiration for Warren Buffet and the Gateses to launch The Giving Pledge in 2010. In September 2020, Feeney and his wife Helga shuttered his foundation, the Atlantic Philanthropies, after it gave away the last of its assets.
Gordon and Betty Moore
Technology company Intel's cofounder and longtime CEO, Gordon Moore launched a foundation with his wife in 2000 and funds it with gifts from Intel stock. The couple has accumulated a lifetime giving of US$5.5 billion. In 2021, the Moore foundation joined hands with others like Jeff Bezos's Earth Fund and Bloomberg Philanthropies to pledge US$5 billion over the next 10 years to support biodiversity. According to Forbes, it is said that the commitment is to ensure that at least 30 per cent of the planet is protected in the most important places for biodiversity by the end of the decade.
Jim and Marilyn Simons
A good education is one of the ways a person can leave the poverty circle. Focussing on this aspect are Jim and Marilyn Simons, who are staunch supporters of this cause. Jim concentrated his effort on funding STEM research while his wife Marilyn established the Simons Foundation, which has been championing Maths, a nonprofit that backs math and science teachers. Furthermore, the foundation also supports life sciences research such as the Autism Research Initiative.
Phil Knight and Family
Most of the wealth that Phil Knight has amassed comes from Nike, one of the most famous brands in high-street fashion. Not much has been disclosed by the billionaire but it is said that he has donated to three universities: The University of Oregon, Oregon Health & Science University and Stanford University. The amount is said to be US$1.9 billion and in July 2021, Knight and his wife further their donation of US$500 million to expand the University of Oregon's scientific research campus.
Mark Zuckerberg and Priscilla Chan
Meta's founder and his wife join the list with their philanthropic and advocacy organisation, "The Chan Zuckerberg Initiative" (CZI). The duo has backed scientific and medical research, in addition to education and criminal justice reform. It is reported that the couple has given away about US$3 billion so far. Furthermore, at the end of 2021, CZI said there would be a new initiative amounting to US$3.4 billion for the next ten years that will centre on measuring and analysing biological processes in the human body. Along with this initiative, the organisation will leverage the latest technology like AI and machine learning to complement the advancement in the fields of biology and medicine.
For more billionaire reads, click here.
---