---
Business / Business of Luxury
The Return of Luxury Brick-and-Mortar Stores
Physical stores cannot just solely be a point of transaction but a destination where consumers can interact and be engaged with the brand's universe.
The internet age has brought about unparalleled convenience for human society. With a click of a mouse, you can place an order for the latest product and it will arrive at your doorsteps a few days later. During the height of the pandemic in 2020, demands for digital services exploded as lockdowns became the norm for the world.
Physical retail shops had to close as many governments ordered their citizens to remain at home. This cast a shadow on the utility of brick-and-mortar shops as many companies found new opportunities by ramping up its e-commerce capabilities to meet the increasing demand for such services. As a result, the familiarity with online shopping became more entrenched amongst shoppers and is now almost second nature.
With online shopping being a ubiquitous experience , could this spell the end of brick-and-mortar shop? Many luxury brands would still want to keep its physical stores because of the intangible experiences that can be created for its customers. Luxury in today's sense is no longer just conspicuous consumption as many consumer products are now widely available for everyone.
Buying luxury goods as a status symbol is slowly becoming an outdated concept. The rise of a new generation of consumers who are more attuned to the context in which these goods are made or related to the zeitgeist has taken over as luxury brands' leading spenders. For this group, curating an experience is paramount in keeping them loyal to the brand. Luxury brands are doing its best to make this a unique shopping experience and ensure this journey is as seamless as possible.
While a digital shopping experience can be an effortless process that can be done anywhere and everywhere, this has also stripped off the emotional aspect of the retail experience. Fundamentally, consumers shop to obtain their desired product but more than that, it can also be a way for them to understand more deeply the brands they choose to support. Hence, a physical store makes the best way in which luxury brands can introduce its universe to consumers.
An exquisitely crafted product, which is the amalgamation of the key pillars of traditional and aspirational types of luxury, matters less to younger consumers these days. In an era where information is in excess, people increasingly value time and space to enjoy unique or extraordinary moments instead of acquiring objects. With consumers seeing value in physical retail for the tactile experience, typically through its image and storytelling, what appeals in stores today is the brand itself.
An example of this storytelling, where the brand's universe crosses paths with the real world is Louis Vuitton. The French Maison's second store in Miami is a tribute to the house's late designer Virgil Abloh, where his influence and vision fill the 3,586 square feet of space. Stepping into the physical space is akin to entering Abloh's universe and joining a community where consumers can interact with the brand more closely. These bond-building efforts will pay off as consumers become devout brand fans in the long run.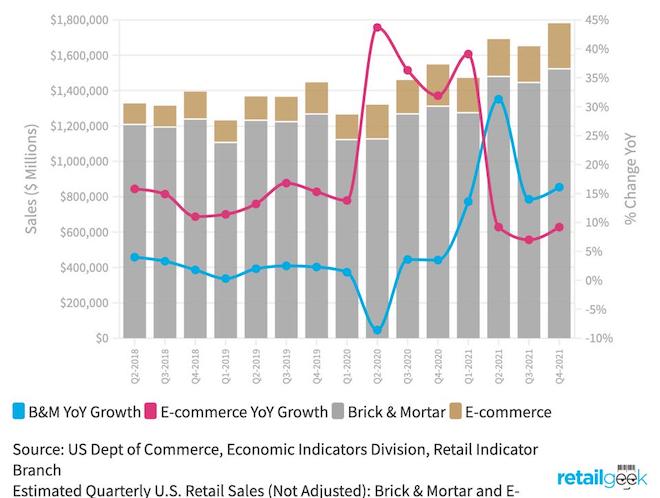 The e-commerce industry appears to be outpacing brick-and-mortar, yet the latter continues to dominate in terms of actual trade. According to the US Department of Commerce Retail Indicators Division, sales at brick-and-mortar stores grew at 18.5 per cent compared to just 14.2 per cent for e-commerce.
Encouraging statistics like the above are why luxury brands believe physical stores are still an essential conduit in its omnichannel strategy. At the start of this year, Dior reopened its flagship at 30 Montaigne and Saint Laurent opened a new flagship in Seoul, South Korea last year.
Most recently, Chanel announced that it would be opening private boutiques starting next year to meet consumers' demands for its product. CFO Philippe Bondiaux has shared that it will open these private boutiques for its top-tier clients beginning in early 2023 in key Asian cities. For the financial year 2021, Chanel's earnings hit a high of US$15.6 billion, which is a 50 per cent jump year-on-year. Despite price hikes, inflations and limits on the number of its most popular items one can buy.
In keeping up with today's consumption pattern where the value of the entire experience is what counts, e-commerce alone will not suffice as a holistic consumer journey. Luxury brands have to avoid becoming robotic and infusing the human touch where possible, and this means curating a personalised physical store experience. The end goal is simple: to create an unforgettable experience overflowing with engaging content and even adventure.
For more Business of Luxury reads, click here.
---