---
Style / World of Watches (WOW)
World of Watches Malaysia Festive 2018
World of Watches Malaysia Festive issue 2018 celebrates important milestones of many brands, specially curated for the year-end issue. Words by Kelvin Tan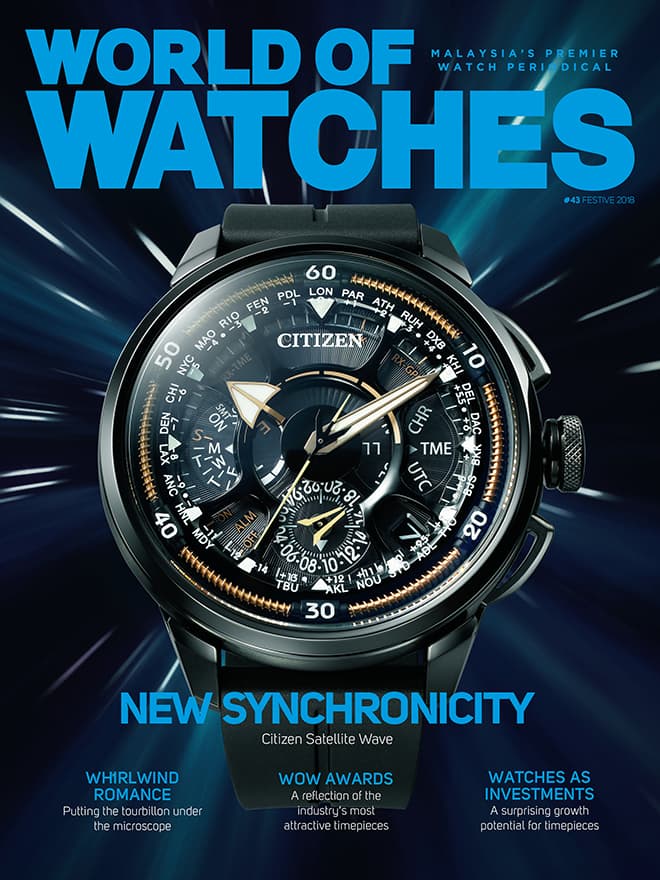 The cover star for this issue is Citizen's Satellite Wave watch – a masterpiece of Japanese technology and watchmaking know-how. The watch shows us that there is much more to learn about Citizen and what the brand is truly capable of. We close the series of features that cover Citizen's huge 100th anniversary and the brand's record-breaking achievements with a comprehensive cover story that clearly indicates that there will be more to come from Citizen.
World of Watches Malaysia Presents Festive Issue 2018
Also, a key highlight in our Festive 2018 issue is our inaugural edition of the WOW Awards, an exciting initiative by our WOW SG counterparts. Meant to be a celebration of the year that was for watches, the awards are a positive effort to honour watches, brands and the industry in general. The SG team put much effort to bring this to fruition in order to present to our readers what the team deem the best-in-show for timepieces in 2018.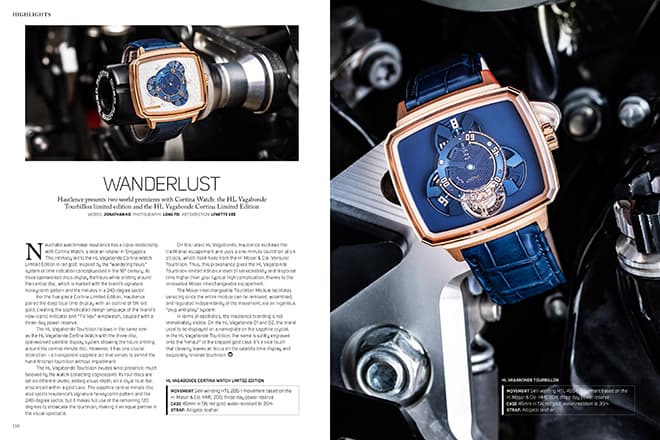 The Festive issue focuses upon the brand of Hautlence. Within it, we explain new releases such as the Hautlence Vortex Gamma as well as limited edition Hautlence Vagabondes specifically made for Cortina Watch. We also have an intriguing interview with the CEO of MELB Asia, Bertrand Meylan, done astutely by our Editor-in-Chief, Jonathan Ho. In view as well are our dual interviews with avant-garde independents, Urwerk and MB&F. Read about it as we learn how these brands continue to astound and ignite our imagination with new compelling ideas in horology.
We take a look at how the Japanese watchmaking giants continue their unstoppable progress in the market. Apart from Citizen's cover feature in the magazine, Seiko also gets a mention with their latest Seiko Street release meant to target the youth and those who indulge in an active lifestyle. Furthermore, Casio stole some limelight when they brought all G-Shock fans together to the celebration when their G-Shock 35th-anniversary celebrations hit Kuala Lumpur.
Far from forgotten are our write-ups for fine watchmaking activities in Malaysia. Acting as proof that the country continues to exhibit growth in demand for the finest watches in the world are events such as Sincere Fine Watches' ode to German watchmaking with its A. Lange & Söhnes 100 Masterpieces exhibition and Blancpain's big bash to launch a stunning flagship boutique in Suria KLCC.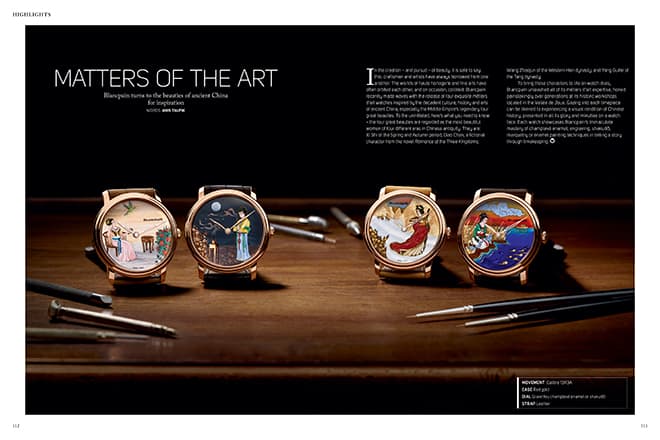 "A brand manager once opined that "World of Watches continues to be the best, consumer-centric publication with substantive editorials" to that I would like to add, "for good reason", our brand partners and readers who have stood by us and we moving into 2019, we will continue to deepen understanding of these brands, the legacy, and the intrinsic value of their offerings to our readers." – Jonathan Ho, Editor-in-Chief.
"WOW remains the preferred watch magazine in Malaysia but we will not stop at improving and exceeding the expectations placed upon us." – Kelvin Tan, Associate Publisher
"The team has taken much time and effort to bring this issue together. In our pages, you will find stories about the things we love the most – watches! Pore over them and you will discover a great mix of write-ups from the brands, the individuals moving the industry as well as the beautiful timepieces themselves. We love that our readers tell us that we are a welcome sight at newsstands and that they always anxiously await the arrival of our issues. We also appreciate that the brands support us tremendously and continue to support us in the times to come as we evolve to serve you all better. Without a doubt, WOW remains the preferred watch magazine in Malaysia but we will not stop at improving and exceeding the expectations placed upon us." – Kelvin Tan, Associate Publisher.
---