---
Style / World of Watches (WOW)
Vacheron Constantin Lacquer Collection
Vacheron Constantin will soon launch new "Métiers d'Art La symbolique des laques Maki-e" series watch. The new collection is devoted to a one-of-a-kind centuries-old Japanese lacquer technique called maki-e. The first set of the Vacheron Constantin watches was given the name "The Three Friends of Winter." The set, as interpreted by Japanese culture, symbolizes endurance […]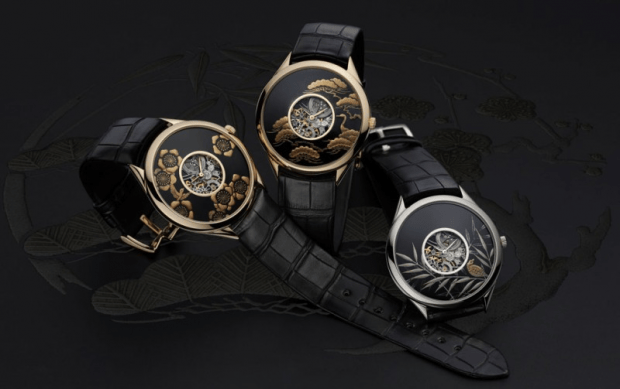 Vacheron Constantin will soon launch new "Métiers d'Art La symbolique des laques Maki-e" series watch.
The new collection is devoted to a one-of-a-kind centuries-old Japanese lacquer technique called maki-e.
The first set of the Vacheron Constantin watches was given the name "The Three Friends of Winter."


The set, as interpreted by Japanese culture, symbolizes endurance and longevity in the face of bitter and severe conditions.
In the production of watches, Vacheron Constantin has selected 1003, 14K white gold hollow ultra-thin mechanical movement.
The central section in the dial features a cutaway revealing the horological beauty of a skeletonized manually-wound movement, found on the list of the thinnest in the world.
The new collection includes 3 fabulous timepieces: the Pine Tree and Crane Watch – Matsu to tsuru, the Bamboo and Sparrow Watch – Take to suzume and the Plum Tree and Nightingale Watch – Ume to uguisu.
The Maki-e craft will be completed in Japan, which is the first time that Vacheron Constantin finishes its part of watch manufacturing processes in other place rather then Geneva.
Only twenty of the watches will be made each year each being completely unique.
---