---
Style / World of Watches (WOW)
Ulysse Nardin Only Watch 2019 EXO-Skeleton X inspired by Autonomyo
Like the series production model, the Ulysse Nardin EXO-Skeleton X lays its powerful gear train bare but this time, supported & inspired by the Autonomyo's biorobotic exoskeleton
At SIHH earlier this year, Ulysse Nardin unveiled the SKELETON X, a 42mm timepiece which explored the angular, shape-within-shape-within-shape geometry of an X formed by four of the indexes is framed in a rectangle. More than an aesthetic choice, the Ulysse Nardin Skeleton X was meant to be completely complementary to the high powered calibres from the Le Locle manufacture with one of the star innovations descended from brand icon – Freak Vision: a super-light balance wheel in silicium, extra-wide, with nickel flyweights and stabilising micro-blades.
Based on the UN-171 movement, the peerless transparency of the Skeleton X necessitated the redesign and creation of the UN-371 calibre, allowing function to determine design, rendering the beauty of the three-dimensional beating heart obvious and majestic with its 96-hour power reserve read through the caseback.
Ulysse Nardin Only Watch 2019 EXO-Skeleton X inspired by Autonomyo
Created to support Only Watch 2019, this Ulysse Nardin piece unique was takes its raison d'etre a step further. Similar to how the pioneering Skeleton X was inspired by its UN-371 calibre, the EXO-Skeleton X is inspired by Autonomyo, a walking exoskeleton designed to give victims of Duchenne muscular dystrophy for more freedom.
Autonomyo is an Exo-Skeleton created by REHAssist, an EPFL research group affiliated with the Biorobotics and the Translational Neural Engineering labs with the purpose of being the world's best-adapted exoskeleton for people with degenerative muscular diseases.
"Autonomyo is an exceptional device which has been designed to be used without crutches. Our goal is to be able to support walking and managing balance for sufferers of muscular dystrophy. We are driven by the hope that assisted walking will delay the use of wheelchairs." – Dr. Mohamed Bouri, head of the research group REHAssist
The orthotic tool mimics the human skeleton and thanks to its systems of sensors and artificial intelligence, detects intended movement (flexion, extension and abduction of the legs), allowing the wearer to walk like a regular person unimpeded with the neuro-degenerative disease. For the 2019 Only Watch charity auction, Swiss watchmaker Ulysse Nardin designed the unique piece, EXO-Skeleton X with the design cues of the Autonomyo's biorobotic skeletal structure.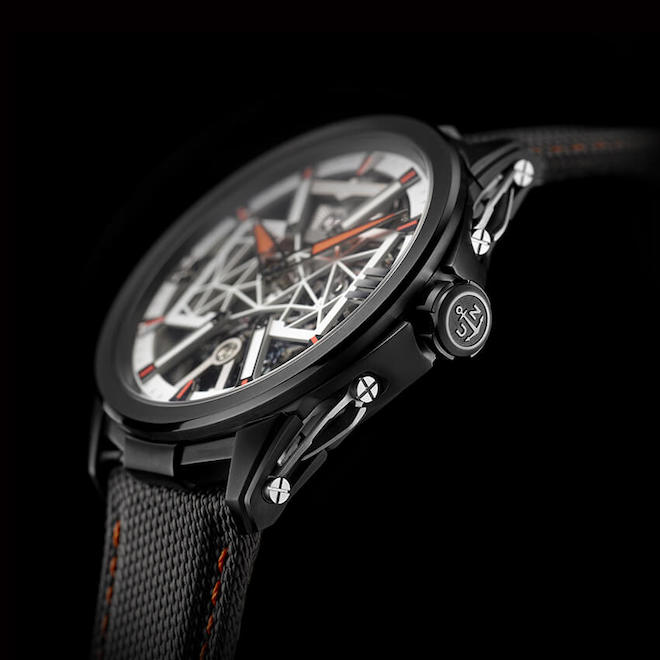 Like the series production model, the Ulysse Nardin EXO-Skeleton X lays its powerful gear train bare but this time, its supported by an "exoskeleton" formed from four flexible blades fixed to the case, functionally, to improve comfort of wear, but stylistically, reminiscent of its biorobotic skeletal inspiration.
The EXO-Skeleton X is a direct reference to the futuristic Autonomyo motorised device and by developing this exceptional Only Watch variation of the pioneering Skeleton X and incorporating a "watchmaking exoskeleton", Ulysse Nardin shows support for the cause beyond a simple re-dressing of a regular production model.
Ulysse Nardin EXO-Skeleton X Price and Specs
Movement hand-wound UN-371 with 96 hours power reserve
Case 42mm titanium case with 50 metres water resistance
Strap Woven textile strap
Price CHF 35,000 – CHF 45,000
---