---
Cars / Cars and Bikes
TAG Heuer and Porsche enter Partnership for Formula E
TAG Heuer and Porsche have a long heritage of motorsports, the revival of this partnership heralds a new era for both brands in Formula E's sixth season
Given the shared heritage and provenance of both brands in the realm of automotive racing, TAG Heuer and Porsche have elected to revive a historical partnership with the La Chaux-de-Fonds watchmaker becoming Title and Timing Partner of the Porsche Formula E Team.
As early as the 60s, Mr. Heuer himself was was already involved in motorsports. This shaped the brand's perspective in the growing genre of automotive racing, seeing Heuer team up with  Jo Siffert who drove for Porsche from 1966 to 1971. Siffert won a number of endurance races, including leading Porsche to victory in the 1969 in the World Sportscar Championships.
"We are truly honored to begin our partnership with Porsche, a move which further strengthens our presence in Formula E. Beyond sharing the same passion for motorsport and having the same challenger spirit, our two brands have the same uncompromising love for quality and technology." – Stéphane Bianchi, TAG Heuer CEO
TAG Heuer and Porsche enter Partnership for Formula E with La Chaux-de-Fonds brand becoming Title and Timing Partner
By the 1980s, "TAG-Turbo made by Porsche" powered Formula 1 cars won two Constructors' Championships (1984 & 1985) and three Drivers' Championships (1984-1986). The 90s saw TAG Heuer becoming a sponsor of the Porsche Supercup and today, both brands will cross new frontiers with their partnership in Formula E, the world's first electric street racing series currently into its sixth season.
"We are delighted to welcome TAG Heuer again at Porsche Motorsport. Looking back on our successful history, both brands will build on former achievements for this new era in Formula E." – Fritz Enzinger, Vice President Porsche Motorsport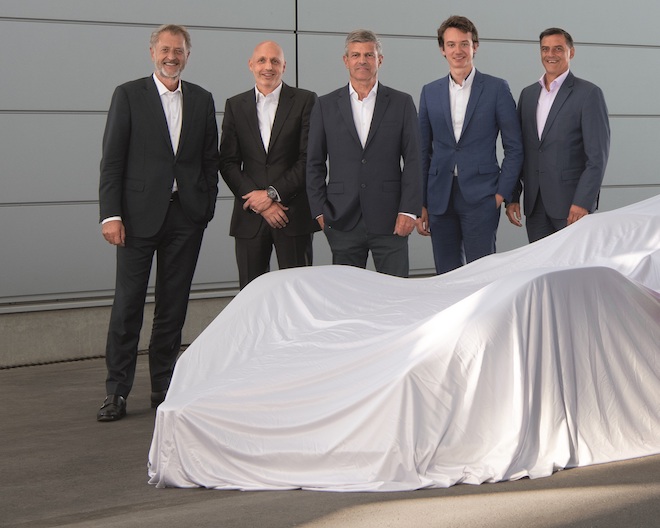 In terms of popular culture, the Swiss watchmaker's association with the car maker was catapulted globally when Michael Delaney (Steve McQueen), a Porsche driver, wore the iconic Heuer Monaco in the movie, Le Mans. In the real world, TAG Heuer has been synonymous with motorsport since the earliest part of the 20th century, with leading partnerships extending across all areas of the sport. The brand is also one of the founding partners of the ABB FIA Formula E Championship,
Just today, a Porsche Taycan prototype, driven by Lars Kern, set fastest 4-door electric car record at Nürburgring Nordschleife. The Taycan, which will officially debut September 4, completed the 12.8-mile course in 7 minutes and 42 seconds.
Earlier in July, the Porsche Taycan appearaed as part of the grand finale of the ABB FIA Formula E Championship in New York, where it showed off its capabilities by completing several fast laps on the race circuit, prompting Porsche works driver Neel Jani to opine, "Like our Formula E car, it has a Porsche drivetrain that is designed for performance and reliability. No matter whether it is a racing car or a series-production model, it is extremely important to drive many miles in the test phase and to gain experience with the vehicle."
The Taycan prototype has made three appearances on three continents (China, Great Britain and the US ). Heuer also recently launched the third of their limited edition Monaco racing chronographs.
---