---
Style / World of Watches (WOW)
Sustainability In Watchmaking: Uncertainty Rules
The lack of clear guidelines in the sustainability conversation hurts brands and consumers.
The inspiration for this rather conspicuous and hefty section is the WWF Watch and Jewellery Report 2018. It has been long enough since the original publication of the data and recommendations that the shock value has passed, but the import has not. Indeed, the intention of pursuing the stories in this section was to examine, with a degree of uncertainty, the claims in the report, and the implications for watchmaking.
First a word about that uncertainty and our interpretation of the WWF report's findings. Transparency is the central problem hobbling the report's conclusions, and casting aspersions on the watch and jewellery trade. The report itself mentions that a lack of transparency in the supply chains of watch and jewellery firms is hurting the trade's sustainability credentials. This is a longstanding problem, and we agree that the industry has to get ahead of it. We will have more to say about this in a moment.
Unfortunately, a lot has happened since 2018, which will now be known to us as the Before Times. The epoch-defining Covid-19 pandemic will shape generations to come, and potentially shift the course of current ones in unexpected ways. Those who doubt it need only look to past global disruptions and take no comfort from what they find there. Sustainability is no exception, but it will take some years to examine the impact of a crisis that has not yet passed — you will be reading this issue at least a month after it was written but we are confident that COVID-19 will remain a clear and present danger.
Returning to the 2018 report, the main concern for the watch industry comes from the sourcing of raw materials. The watch and jewellery industries use around 50 per cent of the world's gold and 67 per cent of its newly-mined rough diamonds, and yet when asked where their raw materials come from, most are incapable of answering, blindly trusting their suppliers to be responsible on their behalf.
The WWF says that organisations such as the Responsible Jewellery Council (RJC) verifying standards for watch brands is a problem because that organisation itself is not subject to any binding authority. Here is the problem verbatim from the report: "this (RJC) certification does not allow a third party to assess whether a company is sourcing responsibly, and more proactive, transparent communication should therefore be implemented." So whose authority should everyone accept anyway…
A work in progress
According to the RJC in 2019, it is indeed third-party audited, and this is noted on the organisation's website. Perhaps what is disputed is what sort of third-party accountability is needed. An audit requires trust, and someone to make certain that everything is as it should be.
Kosher or halal, in other words, which is a system that describes well the authority needed to establish the standard. If, on the other hand, the WWF report recommends real-time access to raw data, to be able to jump in at any time and see what's happening in any given company, that is a big ask. So what does this all mean?
Well, it depends on whom you ask and when you ask, which is as good as saying the current standards are still not meeting the expectations of sustainability activists. But it is more than that. ESG remains a work in progress, and standards are currently not widely agreed upon. Many of you, dear readers, will be familiar with ESG challenges in your own fields so make of this what you will. Bear in mind also that the Swiss Made statute, which mandates what a threshold percentage the value of any given watch has to reach before it can be called Swiss Made, is not well understood by most people (this is our contention, not a global consensus – Ed).
But it goes without saying that when you buy a watch that has the words Swiss Made on the dial, you do not wonder if it really was made in Switzerland. We conclude that the words Swiss Made have a great deal more clout with consumers than any current sustainability conventions. We will return to this subject towards the end of this story, in our inevitable exhortation for the trade.
Some of this boils down to information presentation, the lack of communication on certain standards in watchmaking, and a general reluctance, for undisclosed reasons, to discuss realities behind-the-scenes. For example, typical steel features some percentage of recycled iron — it goes up to 97 per cent in some instances. This is a well-established fact that can be verified easily. Despite this, no one can reliably tell you what the percentages are in Swiss watchmaking. Indeed, some collectors may be surprised to learn that there are recycled raw materials in use in the world of fine watchmaking.
Sustainability is a complicated affair
This brings us to why this subject is complicated, because when it comes to gold, there is such a thing as recycled gold, but it is a dicey subject. This is mainly because industry experts do not agree if recycled gold can be fairly branded as ethical. Again, this has to do with standards, or the lack thereof.
The RJC does have standards, to be sure, but these are sometimes at odds with Fairmined and Fairtrade gold supporters, and those campaigning for a better deal for artisanal miners. This is a little beyond the scope of this article, but we suggest you look into this and be ready to go down a rabbit hole.
Speaking of which, we must also briefly address organic matters. Of course, the leather straps the watch industry uses also comes in for some scrutiny.
Zeroing on why sustainability is relevant in watch and jewellery, accountability standards aside, the WWF report notes that approximately half of the largest luxury watch brands are Swiss, and that between 60 per cent and 70 per cent of globally mined gold passes through Switzerland to be refined (2,400 tonnes in 2017).
Of this amount, more than 2,000 tonnes are used in the global watch and jewellery industrial complex — the report itself contradicts this figure more than once, by not identifying sources properly, or just poor information management and presentation. Once again, do recall what our own position is on this.
Speaking of percentages, one of the reports we consulted for this story, the Deloitte report in fact, noted that out of the watch industry executives surveyed, close to 90 per cent recognise sustainability is an important issue for the trade. Somewhat unbelievably though, only half said they actively communicated their respective work in this area, and less than one-third publish a sustainability report. We tested the reports portion out, and you can do the same via the websites of all the major groups, and major brands. Transparency is of little use if the public does not bother to look at the available information first, after all.
More questions than answers
The WWF report takes some pains to stress that this transparency is useful for brands too. "If a company does not know where its raw materials are coming from, it might be (unintentionally) supporting tropical deforestation, violent conflicts, illegal trade, child labour, im-mense health hazards and numerous other adverse effects." The report does not pull punches though in noting that brands who do find themselves inadvertently crossing lines should not expect a forgiving government or public, for that matter.
This is particularly relevant as Impakter, a climate activist organisation, notes that more than 50 per cent of a luxury brand's environmental impact will come from its supply chain. Independent academic research bears this out (although these also use public data, like the WWF report) and so do the corporate ESG reports from the luxury groups, Richemont in particular.
The New York Times reported earlier this year that Swiss watchmakers are particularly fearful about identifying suppliers because of the chance that a rival may gain an advantage. Dredging up the Make Swiss Made Great Again affair, the story boldly states that some Swiss brands are concerned about revealing their suppliers because the public will then realise that some of their components are made in China. This particular rumour has been circulating in the watch trade since this magazine debuted 20 years ago, and it has clearly not gone away. In fact, this is the second time this information has come up in this section…
For the tl;dr on sustainability in watchmaking, we summarise the relevant watchmaking points from the major groups, and then move to the independent players. For convenience, groups are listed by watchmaking weight, and sustainability progress.
Swatch Group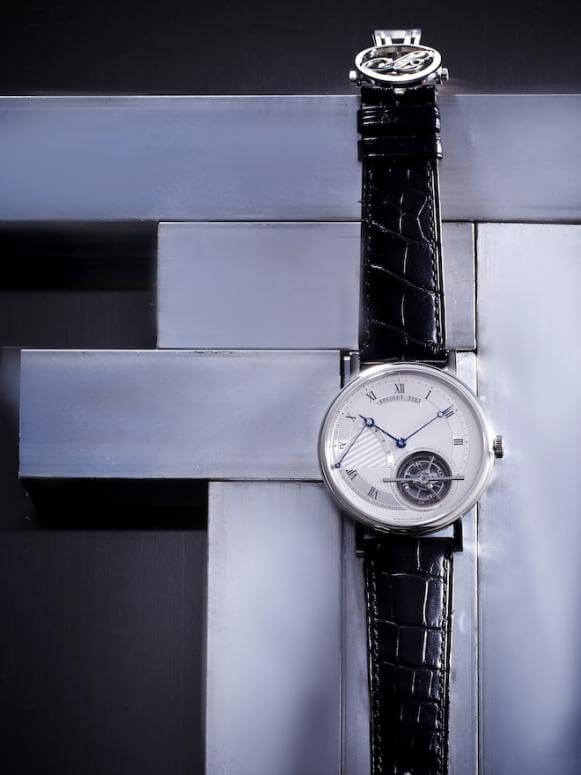 The world's biggest watchmaking group says it not only obeys the laws in all regards, but goes above and beyond. For example, in its non-Swiss and EU sites, the Group states that it complies with both local labour laws as well as Swiss ones. Perhaps the most relevant declarations here are about sourcing of raw materials, and transparency. There is no specific commitment to the latter, but as far as precious metals go, the Group says it only buys from RJC and London Bullion Market Association (LBMA) members. That means artisanal mines are out of the picture; Swatch Group strongly condemns forced and child labour and will not take unnecessary risks on this front. Notably, the Group's foundry is RJC-certified.
Richemont
With a stable of brands ranging from Cartier to Vacheron Constantin, Richemont has tried to be ahead of the curve as far as digital transformation and adopting best sustainability practices is concerned. It does this, and demonstrates it in its numbers, because these measures are cost-savers in the long run. Richemont's most recent report reveals how far ahead of the pack it is, with its sustainability report verified by accounting firm Ernst and Young (EY).
Richemont is the only major group to take this step. The report notes that Richemont now secures 90 per cent of its gold from RJC Chain of Custody sources, and is of recycled origins. It identifies transparency and traceability of raw materials as primary concerns, along with climate change. EY's own notes on the report are also included, as a measure of assurance.
LVMH
The world's biggest luxury conglomerate is actually a newcomer to publishing sustainability reports, with the 2021 edition being its first. This report marks the first time collectors of Bvlgari, Hublot, TAG Heuer and Zenith will learn of the group's ESG efforts, and broader commitment to transparency and sourcing of raw materials. Most of the information here relates to other aspects of LVMH, not watchmaking. There are no specifics on transparency but traceability, via the RJC, is addressed.
Kering
Like Richemont, Kering is on top of the sustainability question, with Gucci for example being widely praised for its ESG plaudits while peers come in for withering criticism. The Group's other brands, including Ulysse Nardin and Girard-Perregaux, are also on the same page. Kering is notable for not pushing out a traditional ESG report, rather developing what it calls the Environmental Profit and Loss (EPL) standard.
Independents
We have not forgotten the non-public companies, but they are obviously so diverse that generalisation would be futile. One thing we can say is that on the transparency front, only Code41 scores maximum points. This brand makes transparency a selling point so this is unsurprising.
For larger brands who want to keep things exclusive and are not chasing growth, the story is more complicated. This includes Patek Philippe of course, but also brands such as Richard Mille and Audemars Piguet. Here is what the subject of our cover story next issue, Parmigiani Fleurier told us about it, via an official statement:
"Our watchmaking centres (who make up our supply chain) are RJC-certified and we have started to use ethical gold in our novelties which will be launched on the occasion of Geneva Watch Days. Also, due to our small organization size and the fact that we do very little automated production, our carbon footprint is rather small compared to other watch brands of comparable reputation."
At the level of these brands, and basically anyone with the finish and quantity of A. Lange & Söhne for example, it might be possible and practical to be responsible to each and every customer. If you are interested in something from Ochs und Junior, for example, the brand can probably take you through every detail that you want to know about. The issue is one of trust, which is what the accounting firms and organisations such as Climate Partner contribute to the equation.
Unfortunately, this leaves the big independents such as Rolex, Hermès, Chanel, Breitling and Audemars Piguet out, even if many are making good faith efforts. There is simply no public documentation on the level of the sustainability reports that the groups are producing. Anecdotal evidence is not enough for the WWF report, for one thing — it wants cold hard facts. Given that LVMH just produced its first such report, the larger independents will probably follow suit. It is important to note that even the existing reports from the groups, exempting Richemont, are probably not up the WWF's standards. Oris is planning a report for 2022, and it may thus be the first to set a standard.
Making Swiss-Made truly great
Having said all this, we do think one answer is within reach that supplies the facts and spares the feelings: the statutes that define Swiss Made. If these statues embrace the right degree of ESG credentials, then we can all be sure that sustainability has been accounted for in any watch we buy. For example, Rolex does most — if not all — of its watchmaking in and around Geneva. If the brand were to simply be in compliance with some kind of expanded Swiss Made mandate, there would be no doubts about anything. Swiss law would offer the assurance.
Even when it comes to gold, the WWF's biggest bugbear, this could solve problems because of all the gold that is refined in Switzerland. The origins of this gold are sometimes dubious, but the Swiss authorities recognise the danger and have since 2017 been trying to engineer more transparency here. While the gold's country of origin is often unclear, as noted by human rights groups, the specific mines are probably not known to regulators, importers and of course, brands.
Finally, we close on a realistic note: there are no easy answers. With the pandemic still in effect, the Deloitte report noted that some Swiss watchmakers found themselves in trouble early, when Chinese production sites shut down. While the effect of the lack of travel retail, and the absence of the Chinese tourist is well known, that particular assertion in the report is not. This brings us back to the Swiss Made standard, and it is obvious how it could be one answer for collectors, not just the broader group that buys watches.
Think of it like you would the USDA standards for meat, which are relatively well known and enforced by the US government. It is certainly not perfect, but it is a tool that is widely accepted and does have some enforcement teeth. The conversation with regards to USDA certified meat, which might be labelled organic if it is sustainable, is then merely about what this agency considers organic and sustainable, and why the two are conflated. There is no need to go to each farmer and ask to see certification, or ask them to voluntarily submit to yet another set of standards.
To end, we know there is a lot to be desired in something like Swiss Made. It will never be perfect, and probably will not come close. Even today, in its current state, it has problems. Nevertheless, Swiss Made can at least get all brands on the same page, and ring-fence those brands that are Swiss but whose owners are not.
For more watch reads, click here.
---