---
Style / World of Watches (WOW)
Partners in Time: Panerai Luminor Quaranta Razer PAM01353
Sustainability and conservation take centre stage of the first watch marking the partnership between Panerai and Razer.
When Officine Panerai announced last year that it would be working with gaming titan Razer, we could not have imagined this 40mm Panerai Luminor Quaranta Razer PAM01353. In hindsight, conservation and sustainability links both Panerai and Razer, with both companies having a strong commitment to conserving nature, for example. Both brands are working with Conservation International to support research on marine species; possibly the most prominent bit of work you might know about here has to do with protecting manta rays.
We think the Luminor Quaranta Razer PAM01353 is amongst the most exciting yet under the radar double-signed contemporary watches. No doubt only time will tell where this Panerai-Razer partnership will go, and that will shape how collectors view this watch. Limited as it is to 500 pieces, the exclusivity factor of PAM01353 is certainly in play; it is available only at Panerai boutiques and on the Panerai website. What is attractive to us is that the hype is absent, with hardly any serious watch content platforms picking up this story, even at this relatively late date. Perhaps, like us, these platforms were expecting something wilder, like a smartwatch or even a dive computer.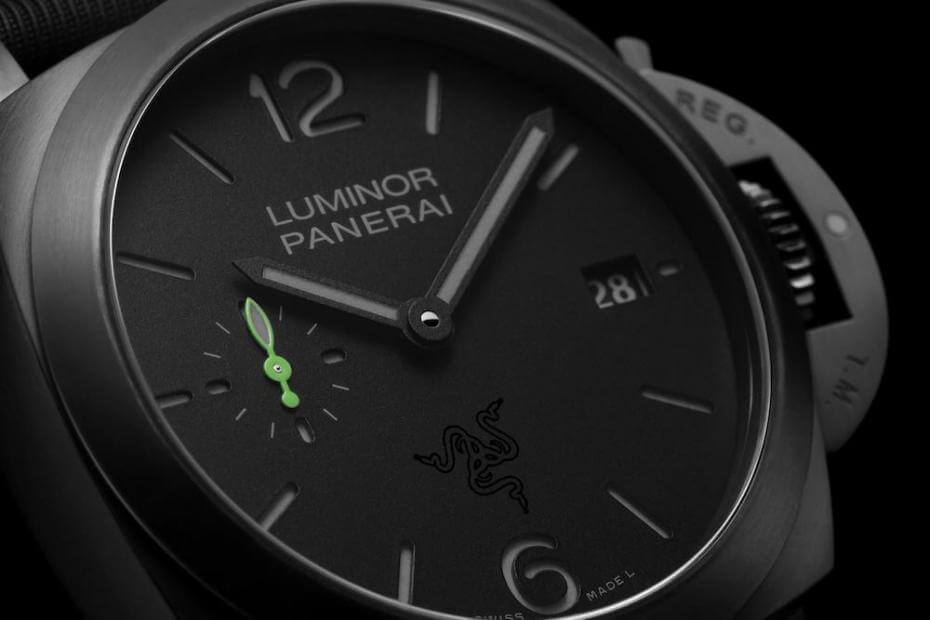 That said, the Luminor Quaranta Razer is a visually arresting time-only watch with date that pushes the limits in terms of what watchmaking can do with recycled materials. So yes, the case here is in eSteel, which is the recycled steel that Panerai introduced a couple of years ago (you can hear what Panerai executives say about the firm's sustainability initiatives here). The watch case is DLC-treated, making it pleasantly dark while adding a dash of tool-like charm. The green of the SuperLuminova is the darker Razer version, which is a nice touch. The same colour tone appears on the stitching of the recycled PET strap, but the Razer THS logo on the traditional sandwich-style dial is virtually invisible.
Collectors should take note that the Razer logo also appears on the closed caseback, while the Razer name appears in Razer's signature font on the crown-protection bridge. PAM01353 is powered by the automatic calibre P.900 with three days of power reserve from a single barrel, which will be appreciated by the Panerai faithful. Intriguingly, the watch is water-resistant to 100 metres and so it might be relatively slim (height specifications are not available). There are two straps, with the alternative here being rubber. The buckle also has a quick release system, which is notable.
For more watch reads, click here.
---