---
Style / World of Watches (WOW)
On Newsstands: WOW Spring 2021 Celebrating Breguet's Excellence
In this Spring 2021 issue of WOW Singapore, we feature the first new watches for the year, alongside the last of the 2020 novelties on our radar.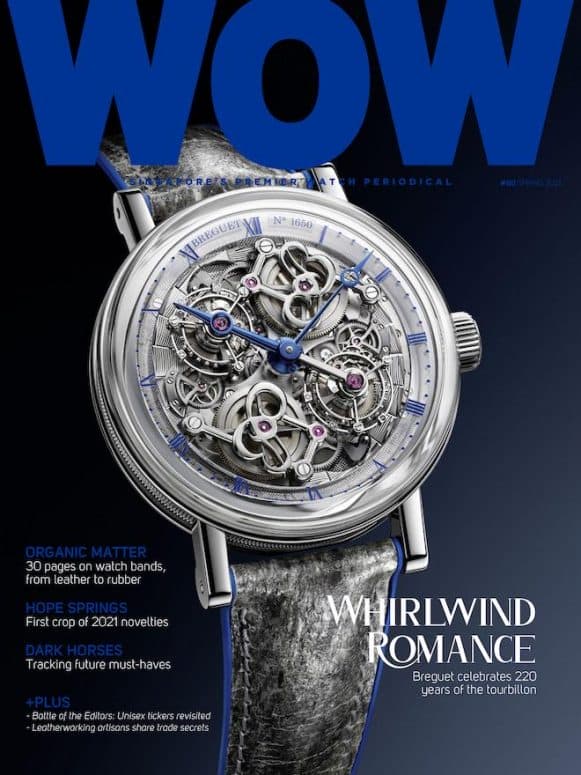 It is our first issue of 2021, our 20th year of continuous publication. We are still in pandemic times though so celebrations are not top-of-mind. Instead, the fallout from the global catastrophe preoccupies the magazine, even as the watch trade prepares for the second digital Watches & Wonders. Well, it is actually both digital and physical so that makes the event a first in its own right. We will be tracking this on our digital platform, LUXUO.com of course, so stay with us.
In advance of that, the team at WOW would like to take a moment to hope that COVID-19 has impacted as few lives in our trade as possible. While the press and watch loving communities may bemoan the shortage of some models of some watches, none of us would like to think that people are risking their lives to make wristwatches. The recent release of the Blancpain No Radiations watch reminded me that watchmakers did put their health on the line to keep making watches that the public wanted, but perhaps did not quite need.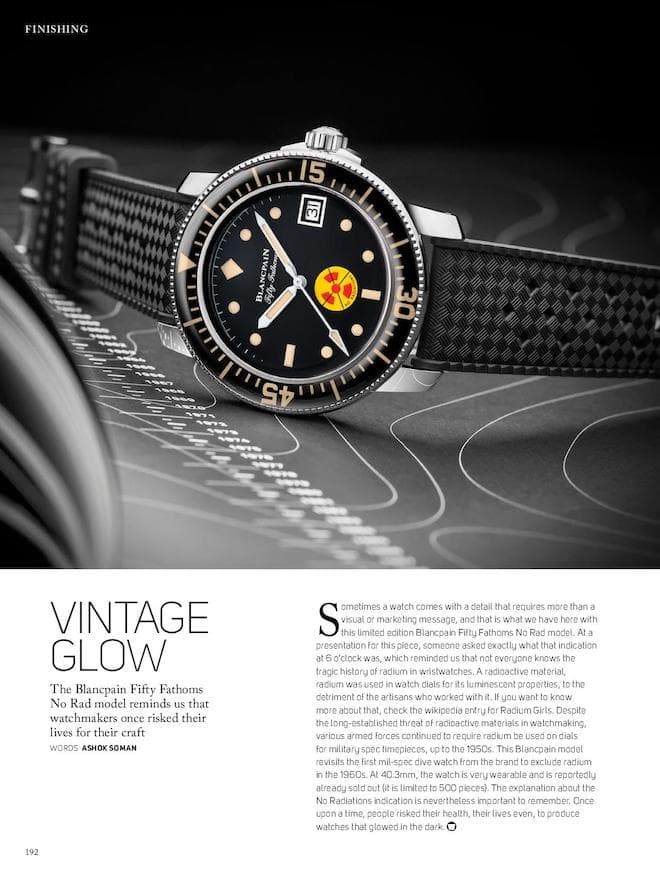 We make room for this watch in the issue, along with a few other watches issued for the military – these are the usual suspects but we have tried to keep it light and breezy. Of course, the wristwatch itself comes to us thanks to conflicts in the 19th and 20 century, as we discover in our main 30-page section on wrist bands. The closing instalment in our year-long exploration of this subject gets into leather, rubber and fabric straps, put together with both the best in contemporary technology and the skills of artisans honed over centuries. We even include a note about the humble spring bar, which watch collectors both love and loathe.
Our cover for Spring 2021 features the Breguet Classique Double Tourbillon 5345 Quai de l'Horloge, but in a first for us, the watch is not the focus. Instead, we are celebrating the 220th anniversary of Abraham-Louis Breguet's invention of the tourbillon. Yes, it still has a place in the 21st century wristwatch. Speaking of which, this issue also features the first new watches for the year, alongside the last of the 2020 novelties on our radar. There are gems here to be discovered, if one knows how to look.
WOW Editor-in-Chief Ashok Soman comments: "After 20 years in this trade, we have embraced lifelong learning, because to be a collector is to always be on the hunt for that which others overlook. In all seriousness, such watches are all around us. Most are far from completely unavailable."
---