---
Business / Business of Luxury
Antoine Pin, Bvlgari's Watches Managing Director on the Importance of Risk Taking, Serpenti Seduttori and Octo Finissimo
We spoke to Antoine Pin, the new Head of Bvlgari Watchmaking and discovered that pushing the boundaries of fine women's complications using know-how gained from record-breaking Octo Finissimo was a key strategy for the Roman Jeweller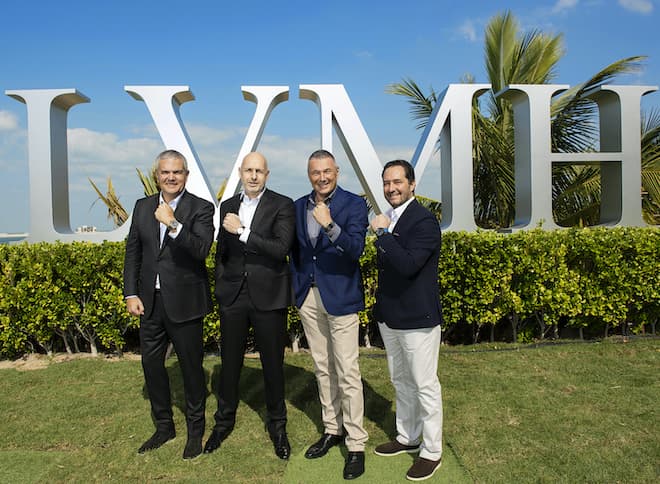 During the opening speech by Bvlgari CEO Jean Christophe Babin, we were officially introduced to Antoine Pin, the new Managing Director of Bvlgari's Watch Business Unit during the inaugural LVMH Watch Week 2020 in Dubai.
A veteran of the global watch industry for over 25 years, Pin spent four years as a junior sales manager in LVMH brand TAG Heuer before moving to high jeweller Boucheron in 1998 as the brand's marketing director. He returned to LVMH, running Zenith's marketing division and then subsequent positions across the group as managing director of the Watch & Jewellery division in the UK, back to TAG Heuer Japan as Managing Director and finally heading up Bulgari for Greater China and Australia.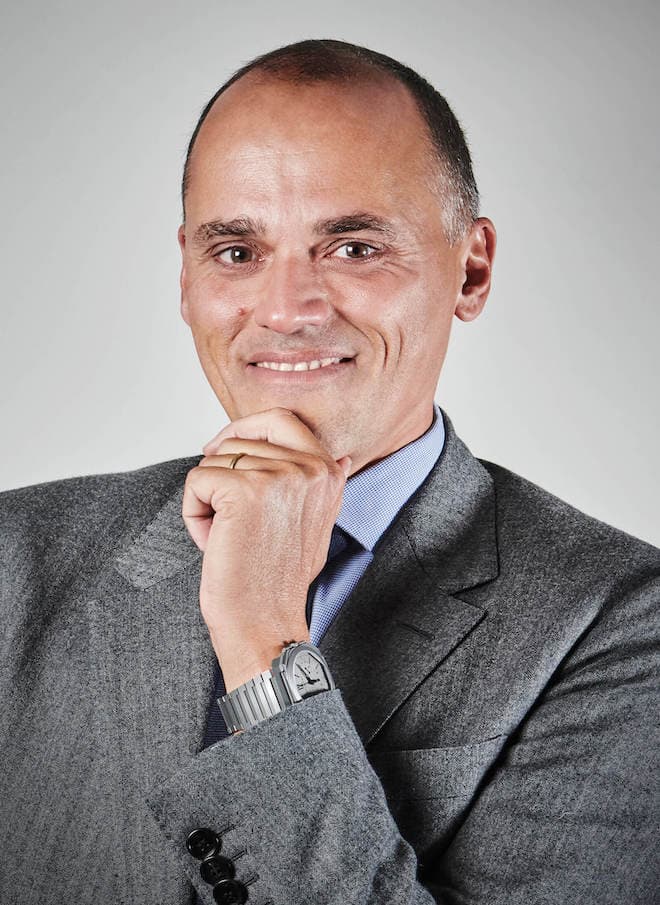 Antoine Pin, Managing Director of Bvlgari's Watches on the Importance of Taking Risks and investing in the Serpenti Seduttori Tourbillon
LVMH's "watch week" (technically three days) fills the absence of the first January in 10 years without a Swiss watch fair. It's a momentous occasion for sure and LUXUO/World of Watches takes the opportunity to speak with Antoine Pin on the new direction and global trends shaping the Bvlgari watchmaking strategy in the years to come.
Yo've got experience handling TAG Heuer and Zenith in countries like Japan and China, and now, given the current situation for watches and the global luxury market, what do you make of Bvlgari and its continued success (especially with its slate of world records)?
Thanks to LVMH I've had the chance to face lots of different clients and to have those kinds of experiences is extremely helpful when requiring a global perspective. First, you know how important the proximity to customer is. Next, you never forget that hard times will pass: I've been in England during the financial crisis. I've been in Japan during the earthquake. I've been in China, during the the the fight against corruption; and all the research promised that it would be a disaster. Yet, we (Bvlgari) always had the capacity to increase our market share or sales and to post growth in the different markets because there is always an appeal for attractive propositions, both in terms of products and experiences and I think the name of the game is our capacity to truly think about ourselves with the eyes of the consumer – we are basically fighting complacency.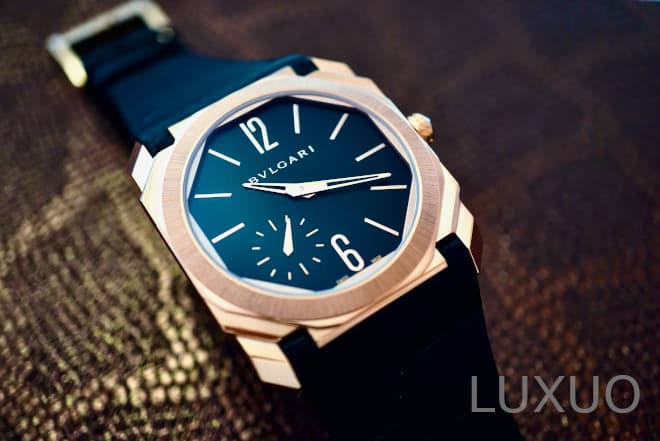 It's interesting that today that Bvlgari is under constant expectation to provide some kind of world record novelty, because I feel that it is a way to fight complacency. I mean, if everybody's expecting us to come up with something that is again unique in performance or breaks yet another milestone etc, it forces us to challenge ourselves and and we've imposed this discipline within the teams and the teams are eager to, to use this as as a tool to push themselves. I'm not saying we should continuously come up with another world record in the way we've done it because we need to surprise as well and there will be years when we don't beat any world records but it doesn't mean that we won't surprise our customers and fans in a different way. I believe Bvlgari's philosophy is the appropriate one – This is the essence of luxury: delighting customers is something that is complex, but anytime we develop an idea that would entice people to come to the stores to discover the product or to enjoy a special moment, we've been successful. Then, the cost for this is the brand's capacity to take risks, and the fact that have to give ourselves room to fail.
Speaking about room to fail and capacity for risks, you're taking more risks when most brands are just going back to the archives – what gives you the confidence to redefine the rules of watchmaking which Bvlgari has consistently done?
I think two things. First, we are a brand that has always been pushing the limits. Bvlgari created the China (porcelain) pieces of jewelry. We created aluminium watches, we even created an after-sales watch specifically for customers who sent their watches in for servicing. We made gold digital digital watches in the 70s as well. There is a tradition of innovation and of proposing unexpected products that of course reassures our strongest supporters. With Bvlgari, the perception is that we are always presenting something that is new and different.
Next, you're in an environment that is conducive for innovation. We are led by a CEO who is not risk averse and this gives us an immense advantage. This initiative and welcome of risk means we dare to be creative and experimental. There are moments in the life of a manager where you sometimes ponder the risk and you say, "Oh, I've invested this money and what if we fail? What if we bet on this innovation to to achieve our target or objectives or to make the year's revenues, what happens when we do fail?" This are the moments when you are shaken personally, but not from an external source.
I think it's a sound approach to always balance opportunities and investment but also be aware of the risk whenever you take the initiative. But the culture of the company and the nature of our CEO, makes it quite easy to make  risky decisions and have it seen through to its successful payoff. I consider it a real blessing in our industry.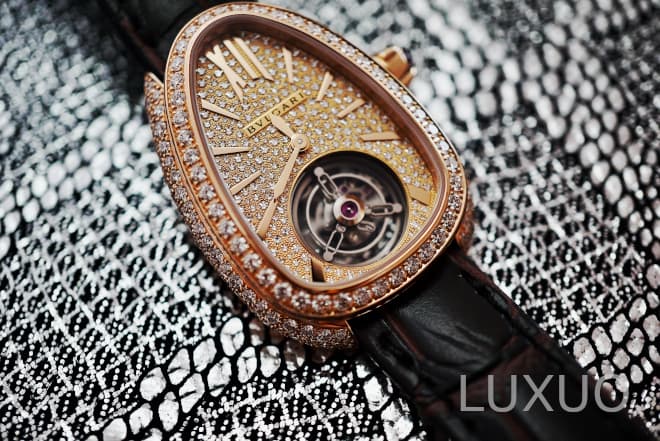 Speaking of taking initiative, there's an unspoken hierarchy in watchmaking – some are specialists in chronographs, others in ultra-thin watchmaking, some in tourbillons, Bvlgari has gone and done all of them in the Octo Finissimo, what are the challenges associated with working in complications where you've had no previous know-how?
It's yes and no that we have not had previous know-how. What we do have is a strong watchmaker culture built from the acquisition of the Gerald Genta and Daniel Roth houses but we were already designing original watches 20 years ago, and we were manufacturing watch components and executing hand finishing for more time than this. So, let's, let's say we do have some institutional knowledge of hand-finishing and watchmaking. I think today we have to make sure that people understand that Bvlgari is not only a Roman jeweller, but a true watchmaker with innovation.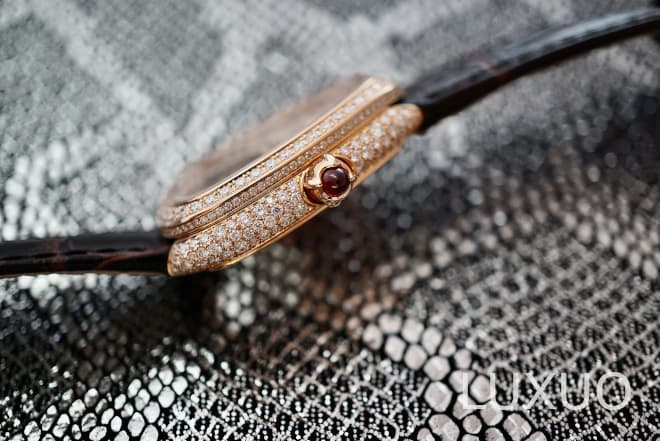 Now, you're right to say that the market is somewhat traditional in the way that it classifies the brands. But it's also probably not the way the world is considering things today. Who would have thought that Apple would sell more watches in 2019 than the whole Swiss watch industry 10 years ago, and nobody thought it would be possible! But it sells and not only does the Apple Watch sell well, it also sells with Hermes straps at a higher price, I think this is a reflection of the industry's capacity to imagine and to keep up with the Joneses. It's a different world today and our success shows that the world is ever-changing.
To be fair to the market, the industry has to remember that people don't buy a watch every six months, the way they would buy clothes or other consumable luxuries, there is a very different product life cycle and therefore a very different strategy is required for our industry. People also need a certain consistency because they're not being exposed very frequently to watch communication. And we need to keep that in mind as we find ways to expose them to our brands, even when people don't purchase, and to continue to inform and to educate. We have a role to play here, so that when people purchase they have a large perspective of the industry, and not the traditional one.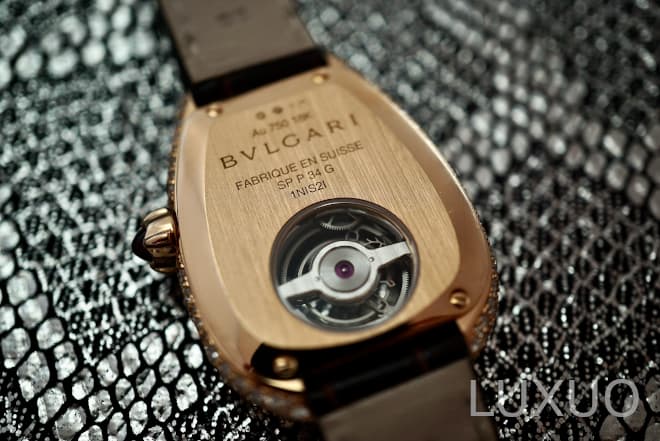 Having just introduced a Tourbillon in the Serpenti, how big is the segment for complicated watches for women in Bvlgari?
For Bvlgari, high end watches are very important. I can't reveal numbers but they are significant, obviously jewellery watches make the bulk of it. The minute repeater we are launching on the Diva this year is our second and our first one is sold out already. We do have special bespoke high end watches for ladies haute horlogerie.
So, how big is it as a whole, I can't answer but as for how important it is for us, very important. There is immense potential – The high end market exists for as long as you offer opportunities for it to develop and to grow and that's what we're doing, we're presenting and developing it. I believe that when there is a significant supply, demand appears. It is when there is no supply and then who knows what the market can be, and clearly we are more pioneering in this segment. There are not so many brands that are doing what we are, please don't get me wrong, Jaeger LeCoultre and Patek Philippe are offering complications for ladies as well but we are trying to offer more products on average.
I know you can't go into numbers but would you say the split is 60:40 with more ladies? Does the introduction of the Octo Finissimo tilt this balance a little?
I believe that the Octo Finissimo should balance this split somewhat but keep in mind that it is still a new concept somewhat, especially with the new models in titanium priced above 10,000 euros; there are not so many competitive models like this, and it's certainly not a "mainstream timepiece". Now we're coming creating mainstream models like steel Octo Finissimo because of the success that the collection has on the market as well as the exceptional recognition it has today. We thought we had to make it more mainstream, and that's why we are launching a more consumer friendly edition and we gave also managed to improve the product in terms of water resistance up to 100 meters so that the Finissimo is basically convenient for daily use. And now, we hope that it will be perceived as a watch that you can purchase as your first premium watch, then when we first launched it. Together with this and the introduction of the gold Finissimo on strap, we will expand the share of men's watches in Bvlgari.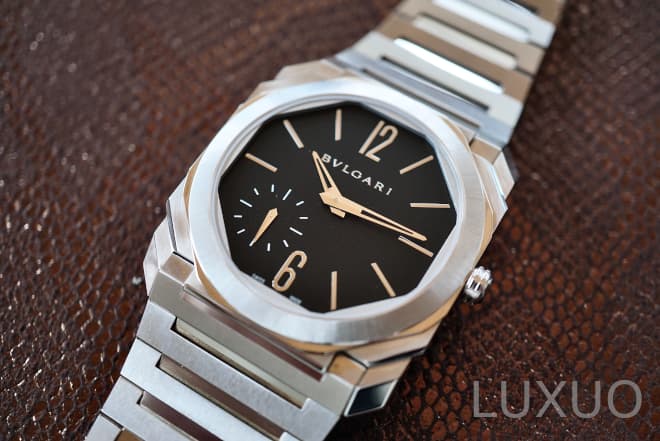 The new Tourbillon for the Serpenti Seduttori exists in a shaped movement, which is a rarity because it can only be used for that form, could you explain the business thinking behind this? Is this a hint that you are going to produce a far larger assortment of Serpenti watches?
We were asked for mechanical movement for the Serpenti. Historically speaking, we've had a Serpenti watch since the mid 30s. It's an almost 80 year old collection and obviously the first movements for the series were mechanical. As you know, the market for mechanical movements for ladies is is minimal today, there are two players and both use in house movements. So, we went back to quartz when we reintroduced the Serpenti at a larger scale, but there was real demand for Serpenti with mechanical movements and and clearly this is something we're looking into and it makes sense because we have the know-how and absolutely no reason that mechanical watches should only be for men.
Now what is great is also the fact that because of experience that we have acquired on miniaturisation of mechanical movements, we can now dig deeper into mechanical calibres for ladies' watches. Why tourbillon? because it's the top of the game and also because it's an innovation, and also because we are creating minimal quantities and so it implies different industrial processes.
Where is the bulk of the demand for ladies' mechanical watches coming from?
China.
In business school, we're traditionally taught to moderate our risk. Do you feel this is an over dependence on China?
Not for us. We are very balanced worldwide*. It is very complex to manage because when we are too balanced people will say we don't have any icons or any key markets. And I've always been balancing between over dependence on one model, one market or one flagship. But we always take a moderate approach. Obviously when you have the capacity to to rely on several directions to drive the business it's much better and it clearly makes you feel more confident. The best example is Rolex. It is primarily a one product family and no one can say they're not successful.
Some brands from the 1980s and 90s have been successful thanks to Japan and to a bigger extent thanks to the reliance on China. It's a matter of anticipation and vision that you cannot just rely on one market. You shouldn't put your eggs in the same basket, at least not for a long period of time. Let's just say that when you're identifying the areas where you can grow faster, you also need to identify areas where you are overly dependent and then rebalance the portfolio and investment of resources.
*Bvlgari CEO announced plans to reduce points-of-sale from 600 to 300 over a 3-6 year timeline, keeping a greater proportional presence of mono-brand Bulgari boutiques. The 300 selected stores currently represent 85% of global sales
---