---
Style
Van Cleef & Arpels Rejoice The New Year with an All-New Range of Lucky Animals
Van Cleef & Arpels, are back to rejoice the new year with an unveil of its latest gallery of tender and poetic animal clips.
French luxury jewelry, watch and perfume company, Van Cleef & Arpels, are back to rejoice the new year with five new Lucky Animals. As of January 16th, the brand unveiled its latest gallery of precious animals with the addition of an all-new Turtle, Horse, Panda, Duck and Pig selection. Initially launched in 2017, the collection which is made up of tender and poetic animal clips, represent the brand's benevolent nature and is popularized by its hard stone and mother-of-pearl composition which is delicately bordered with beads of gold.
Van Cleef & Arpels Rejoice The New Year with an All-New Range of Lucky Animals
Captured in the natural pose, each clip emanates an air of playful curiosity coupled with distinctive style, personality and meaning. Exuding a sense of tenderness and warmth, the Panda clip is designed round and wide, with bright laughing eyes, whilst the Horse represents a brave and noble companion, depicted through its poised gallop and vigorous stance. The curved outline and richly nuanced adornment of the Pig and Turtle bring a sense of serenity, while finally, the Duck appears in a dynamic and touching pose with a half open beak.
With the help of expert gemologists, each element of every pin is meticulously selected and graded to ensure the highest quality – with the white mother-of-pearl assessed for a regular reflection and subtle nuances in the gray variety, while hard stones are utilized for their bright and even color.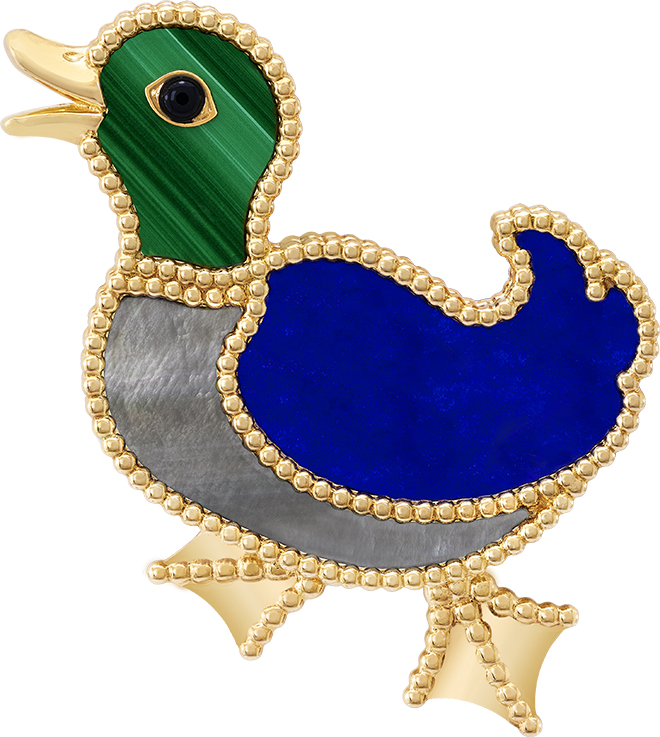 Van Cleef & Arpels pride themselves with over a hundred years of excellence and expertise in jewelry craftsmanship through an intricate and precise creative process. Every element of every product is thus, delicately hand-cut and polished to perfection.
---