---
Style / Accessories
RIMOWA Releases "Surreal" Shoot For New Essential Collection In Desert Rose and Cactus
The all-new RIMOWA campaign shoot explores two new desert-inspired hues through a mirage of different lenses.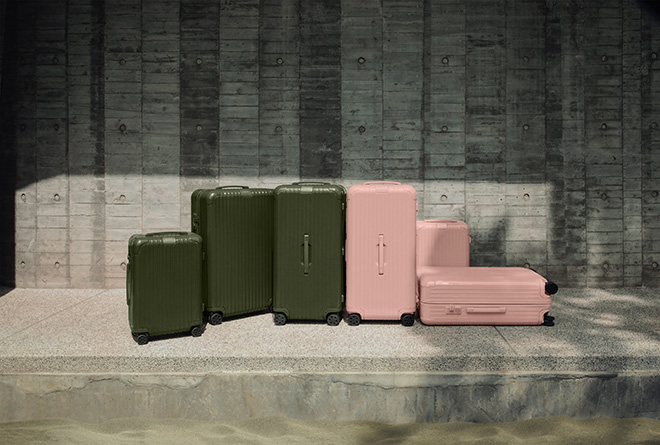 Celebrating the release of their latest RIMOWA Essential collection in Desert Rose and Cactus, the brand's all-new campaign shoot explores two new desert-inspired hues through a mirage of different lenses. Through combining trend-driven styling with the enduring quality of polycarbonate elements, the additional colour selection is intended to represent the arid climes of the Mojave Desert.
RIMOWA Releases "Surreal" Shoot For New Essential Collection In Desert Rose and Cactus
Photographed by Manbo Key at the Wandering Walls hotel, this visual campaign is inspired by conceptual spaces which hover between concrete reality and surrealism, thus bridging the gap between two seemingly different landscapes to create a fictionalized version of the Guanyin Caota Sand Dunes of Northern Taoyuan. Regarded an ideal location in light of ongoing global confinement, the Wandering Walls hotel in south Taiwan, aids in merging the disparate locations seamlessly with the help of digital photo editing.
The campaign which features models Zoe Fang and Rene Maximo, armed with their luggage as they wander the architectural interior, effortlessly transforms the hard lines of brutalist concrete slab structures into undulating organic scenes of desert dunes. Masking balconies and staircases with the crest of sand dunes perched over the water's edge, the final scene opens up a portal into another dimension which conceivably negotiates both fiction and reality.
Taking cues from the Mojave landscape's pastel-colored sunsets, and the region's faded green and rugged vegetation, the latest RIMOWA Essential collection features a lustrous exterior with expertly crafted handles, zippers, badges, and wheel housings.
Complete with matching iPhone cases (US $91.22) crafted in premium polycarbonate to facilitate slim and lightweight functionality, whilst providing shockproof quality, good grip, comfort, and optimal protection, the new additions to the RIMOWA Essential collection are currently available for sale worldwide, in three sizes, ranging from Cabin (US $707.85), to Check-In L (US $919.47), and Trunk Plus (US $1131.10).
---