---
Style / Accessories
CHANEL '3 Girls, 3 Bags'
In a monochromatic photoshoot for Chanel, Karl Lagerfeld unites Kristen Stewart, Alice Dellal and Vanessa Paradis, as they unveil the 'it' bags of the season.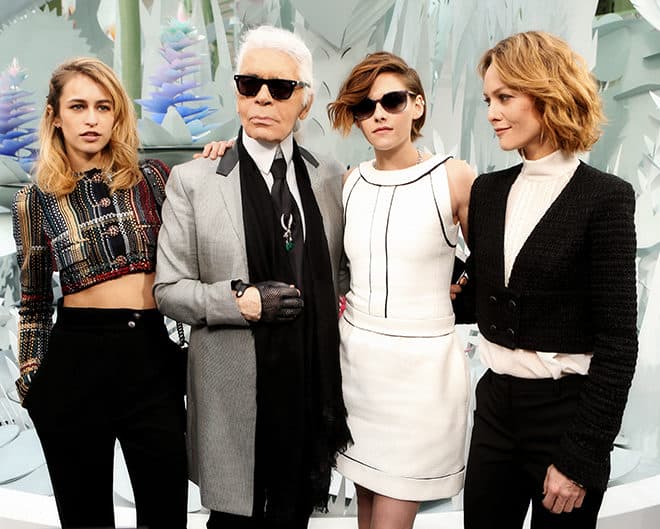 Supermodel Alice Dellal, American actress Kristen Stewart and French actress Vanessa Paradis have returned to inspire Karl Lagerfeld's latest campaign for the luxury brand's handbags.
"Three women, three handbags" is how Chanel presents its latest campaign. In the first visuals revealed, the famous brand ambassadors pose separately, each with one of the label's bags.
1) Vanessa Paradis for the Girl Chanel
Among Chanel's signature spokesmodels, French actress Vanessa Paradis first posed for the label in 1991 as the face of the Coco fragrance.
Nearly a quarter of a century later, the partnership is still going strong.
For Karl Lagerfeld, Vanessa Paradis poses naked, wearing only a pearl necklace and the new Girl Chanel handbag in lambskin leather with a leather braid.
2) Alice Dellal for the Boy 
The British supermodel has always been the face of the Boy bag, which is particularly suited to her androgynous style.
In this latest campaign, she stays true to this style, wearing only a loose-fitting leather shirt and a denim patchwork version of the Boy handbag.
3) Kristen Stewart for the 11.12
Finally, Kristen Stewart is the face of one of the French label's enduring classics, the quilted 11.12 handbag.
In the black and white photograph, the young woman wears a silk crepe suit and the famous bag in chevron quilted lambskin.
"For me the iconic handbag is just like the House of Chanel, fundamental and modern, two qualities not usually shared," said Stewart, who is best known to movie fans as the star of the "Twilight" franchise.
---