---
Style
Two Stunning Baccarat Collabs: Virgil Abloh and Louis Vuitton
Baccarat's two stunning collaborations offer some of the most exquisite crystal work.
There are two Baccarat collaborations on the horizon, one with the late Virgil Abloh, and one with Louis Vuitton. For one of his final collaborations, Abloh brought his creative vision to Baccarat to create a new collection called, "Crystal Clear".
The limited-edition collection is an amalgamation of industrial and classic influences, fusing the two centuries of history behind Baccarat with Abloh's modern vision. The collection consists of a chandelier, four vases, and a signature glass complete with a lid and straw. Each piece is also numbered and has chain-link accents.
Only the chandelier and vases are made to order.
Before his untimely death, Abloh had commented on how partnering with a brand like Baccarat would line up with his personal goals. He says: "For me, Baccarat represents the expression of the dynamism of crystal through history and today. The 'Crystal Clear' line of objects is an extension of my art practice, expertly realised by the artisans of Baccarat."
The pieces are available to shop on Baccarat's website here.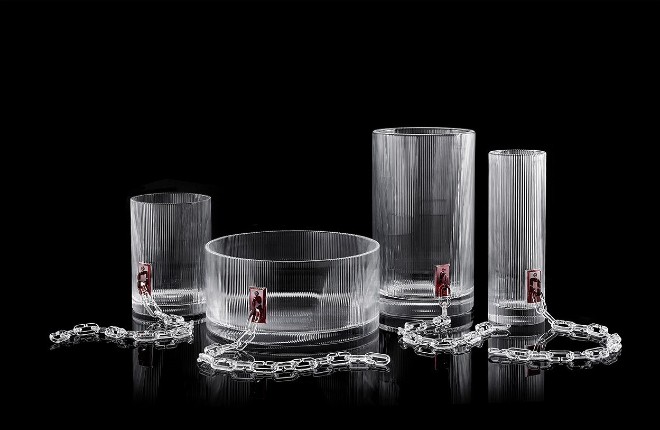 Baccarat has also teamed up with Louis Vuitton Les Parfums to present an Ultimate Bottle created by Marc Newson in Baccarat's signature crystal. The bottle is presented in a glass dome and natural leather base. It is limited to only 200 unique and engraved pieces.
"For the perfume's Ultimate Bottle, I wanted to create something whimsical and fun that's also very functional. It's scaled up to a sculptural dimension and takes inspiration from vintage fragrance displays," said Marc Newson.
The Ultimate Bottle will be available for three of the Les Parfums fragrances: Rose des Vents, Matière Noire, and L'Immensité.
Rose des Vents is a beautiful fragrance of three roses, Matière Noire is a blend of Laos agarwood with patchouli and L'Immensité is a fresh concentration of ginger and grapefruit.
The collection is available to purchase at selected Louis Vuitton stores for €15,000.
Elsewhere on Abloh's collaboration with other brands, Mercedes-Benz also unveiled its last collaboration with the late fashion icon — Project Maybach. It is a solar-powered electric car with zero emissions. It is nearly six metres long and has an other-worldly spaceship-like appearance and is decked out in entirely tan leather.
The iconic designer, owner of streetwear label Off-White and artistic director of Louis Vuitton's menswear, Virgil Abloh passed away after a private battle with a particularly aggressive cancer for more than two years. The news of his passing broke out last Sunday and was confirmed by his family.
For more reads on accessories, click here.
---