---
Style / Jewellery
Van Cleef & Arpels Celebrates Spring With New Two Butterfly Collection
Inspiring the celebrated Maison since 1906, the butterfly is revived in glorious gold, bright diamonds and sky blue turquoise.
Just in time for spring, renowned Parisian jewellery house Van Cleef & Arpels has unveiled its new Two Butterfly series. The new additions to the collection further immortalised the grace and beauty of butterflies with stunning precious jewels.
Every year without fail, the Maison celebrates the arrival of springtime with exquisite creations captivated by the metamorphoses of flora and fauna. The Two Butterfly line began in 2001 and has consistently featured butterflies with infinite pairings of coloured stones. It has appeared throughout the years in wood, lacquer, enamel, mother-of-pearl, and ornamental stones.
This year, for the first time, the iconic winged creatures are decorated with vivid turquoise, warm yellow gold and scintillating diamonds. The beautiful and bold contrast between colours is presented in the pendant, Between the Finger ring and earrings.
On the pendant, the turquoise-filled butterfly is seen tilted to one side, pursuing a sparkling diamond that's fixed along the chain. The butterfly's subtle raised design further evokes a sense of movement, as though the creature is truly flapping its wings.
Van Cleef & Arpels is known for making asymmetrical jewellery pieces. This unique style is seen most prominently on its earrings and the Between the Finger ring. Each butterfly that makes up the pair of earrings is different; one is decked with shimmering diamonds and the other in glistening turquoise.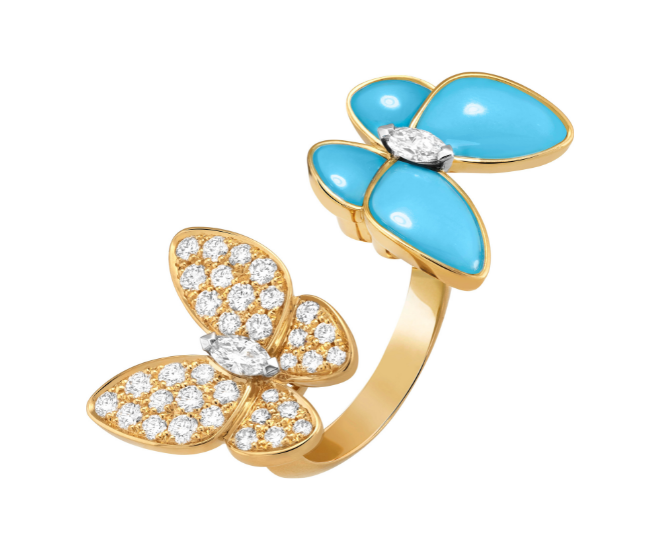 The Between the Finger ring calls to mind how butterflies flirt in nature. The gentle creatures are nestled close by the gold band that disappears when the ring is worn. An illusion of the butterflies just floating above the finger is created, which is undoubtedly a talking point.
The sparkling diamonds are meticulously selected for the finest quality. Like the Maison's jewellery, high jewellery and watchmaking collections, the chosen stones are rated D to F for colour and IF to VVS2 for clarity.
The Two Butterfly collection perfectly illustrates the Maison's savoir faire in creating stellar jewellery. In the whole production process, from gemstone selection to the final polishing, every step was done with great care and intention. The openwork backs of the jewellery have been carefully wrought to enable light to pass through the diamonds. Meanwhile, the turquoise stone achieves its intense colour and gleaming surface after several cutting and polishing stages.
In other jewellery news, the world's biggest blue diamond will go under the hammer in April, during the Sotheby's Hong Kong Luxury Week. The rare 15.1-carat De Beers Cullinan Blue is estimated to fetch a whooping US$48 million.
For more jewellery reads, click here.
---