---
Style / Jewellery
Prada's Eternal Gold Fine Jewellery Collection Makes Sustainability Its Cornerstone
The luxury fashion brand's first fine jewellery collection uses 100 per cent certified recycled gold and every step of the production chain can be traced.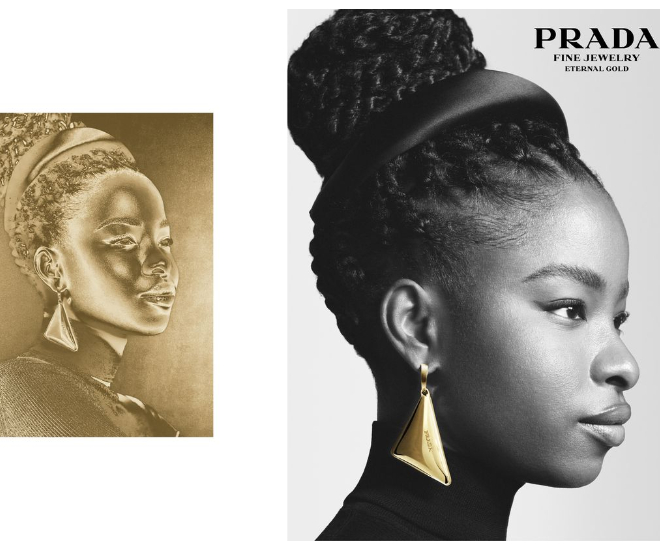 Luxury fashion house Prada has debuted its first sustainable fine jewellery line, Eternal Gold. It was a momentous launch as the brand is the first to use 100 per cent certified recycled gold to create its jewellery collection. The press release states, "Prada fine jewellery is embedded in sustainable practice that informs 21st century luxury, alongside time-honoured artisanal techniques and precious gems and metals."
At its core, fine jewellery collections were created with the future in mind where pieces are treated as heirlooms and passed down through generations. Taking the notion a step further, Prada reinterpreted what the word "eternal" meant in today's context and derived that sustainability should be the cornerstone of its inaugural fine jewellery line.
The brand has been a forerunner in sustainability where it has a "wide-ranging commitment to conscious and responsible practices across every facet of its business". An example is Prada's shift from using virgin nylon to regenerated nylon, which it calls "Re-Nylon", and it is made by recycling unwanted plastics found in landfills and oceans. This innovative material made its way to the mainstream market in 2019 as part of Prada's capsule collection for its bags before appearing on the brand's runway, ready-to-wear, accessories and footwear.
Further strengthening Prada's dedication to sustainability, it ensured that the gold used in Eternal Gold meets the "Chain of Custody" requirements set forth by the Responsible Jewellery Council. Every step to producing the jewellery is verifiable and traceable; this is a feat that no other fine jeweller and luxury brand can confidently profess.
"Prada's recycled gold is drawn only from eligible recycled material sources, in compliance with due diligence — including industrial gold, and post-consumer precious objects," said the brand in the accompanying press release. "Prada partners exclusively with those suppliers of precious metal and stones who meet the highest industry standards concerning human rights, labour safety, environmental impact, and business ethics."
The records of this verification are stored on the Aura Consortium Blockchain platform, which Prada and other luxury conglomerates like LVMH, Richemont, OTB Group and Mercedes-Benz are also members. Leveraging the growing importance and usefulness of blockchain technology as a solution to many of the world's problems, today's cognisant consumers can go onto the aforementioned platform to verify jewellery's authenticity and trace its provenance.
While typically only achievable with stones of 0.5-carat or greater, Prada widens the idea, for the first time, to diamonds of all sizes. Every stage of a diamond's existence may be traced, from mining through cutting, setting, and polishing. Furthermore, the decrease in new gold mining benefits the environment and human rights.
For the debut collection, Prada continues its focus on creating "objects of luxury" that espouses the highest level of Italian craftsmanship combined with precious materials. Its unique style heritage has since become a timeless fashion statement that now crosses over to the world of fine jewellery in the form of the Prada triangle — "a powerful silhouette and universal shape that has become synonymous with Prada".
Appearing as sleek earrings, pendants, clasp closures and as the head and tail of the snake bracelet, the collection is rife with Pradaisms. Elsewhere, the triangle motif takes shape covertly on the chain links of heart pendants. The brand started this project about two years ago after it was announced during the group's Capital Market Day in November 2021. Moving forward, Prada is also looking to launch its own high jewellery collection in the future.
The collection will be available online in select countries from 17 October 2022.
For more jewellery reads, click here.
---