---
Style / Jewellery
Dior's Largest High Jewellery Collection, Dior Rose, Has Landed
There is the Romantic Rose, Stained-glass Rose, Futuristic Rose and Abstract Couture Rose — all made with gems.
Welcome to Planet Dior, a world where the House of Dior pays homage to the Queen of Flowers — in the most lavish way. The creative mastermind behind this unexplored world is Victoire de Castellane, artistic director of Dior Joaillerie for over 20 years. Aptly named Dior Rose, the high jewellery collection is inspired by the House's historic home at 30 Avenue Montaigne.
The 116-piece jewellery collection is the largest to date for Dior, and de Castellane has spilt the bijoux into four chapters. Each parure is a reimagination and reinterpretation of the colours of the rose. The four chapters are: the romantic rose, the stained-glass rose, the futuristic rose and the abstract couture rose.
The Romantic Rose
For this parure, which is composed of a necklace, bracelet, ring, and earrings, feature blue sapphires from Myanmar. Surrounded by pink sapphires and emerald-cut diamonds that form its petals and leaves, this set honours the rose in its truest and most lavish form.
The Stained-glass Rose
Akin to stained glass windows, this parure is focused on transparency through the series of monochromatic and rose-cut stones, fastidiously set all over a central gem. The gradient hue that is typical of its namesake window frame can be observed from the use of Colombian emeralds and Mozambique rubies. They are delicately decorated with rubelite leaves.
The Futuristic Rose
De Castellane's signature use of vivid colours and textures is prominently displayed here. This set features earrings, a pendant necklace, and a ring, all cast from either yellow or white gold. At the centre, representing the pistil, are golden South Sea or white pearls. Encrusting the stylised rose are diamonds that almost make the pieces appear pixelated, intertwining the romance of the rose with that of sharp modernity.
The Abstract Couture Rose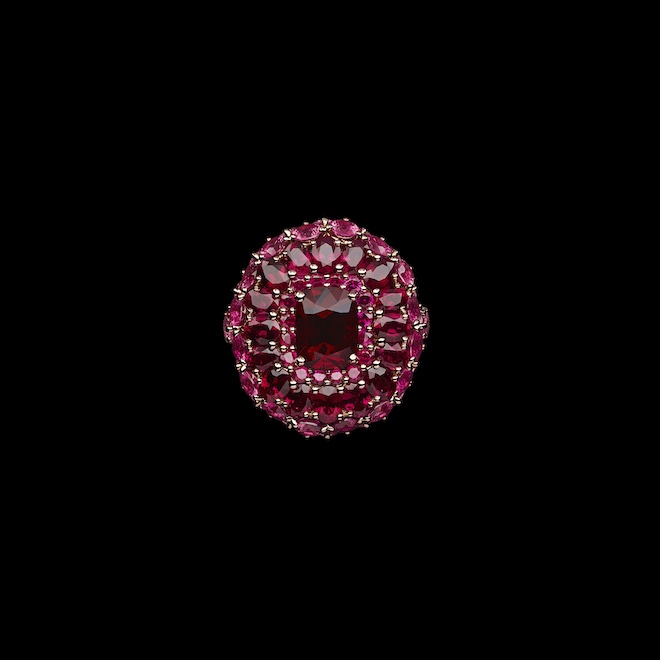 As its name suggests, this is the most abstract interpretation of the rose. Much like how couture represents the highest form of craftsmanship in fashion — which Dior is famously known for — the idea is brought to the fore in this parure. It explores asymmetry with different setting heights such as pear-cut rubies and yellow diamonds dazzle on necklaces and earrings. A kite-cut diamond adds to the geometric oddity of this branch of the collection.
The collection was first unveiled earlier this year at the Dior runway show in Chengdu, China, which also enlisted the help of creative director Maria Grazia Chiuri in putting together a mini collection of pleated gowns specially designed for the occasion.
The Dior Rose high jewellery collection can be summed up in three words: Timeless, poignant and sophisticated. The very same words that describe the heritage of the Christian Dior brand.
For more jewellery reads, click here.
---