---
Style / Fashion
The suit is alive and well: Javin They represents the future of bespoke tailoring in Singapore
The Common Suits founder discusses his passion for men's tailoring, sartorial faux pas and what to look out for when you get your next bespoke suit.

You can tell a lot about a man by the way he dresses. While a soild shirt and tapered trousers may be versatile wardrobe essentials, a good suit is a timeless staple. With the shift in corporate culture, the redefinition of "officewear", and the rise of fast fashion, the relevancy of the suit has been called into question in recent years. Javin They aims to bring back the nuanced appreciation for bespoke suits, bringing a taste of Savile Row with a Neapolitan influence to the streets of Singapore. From construction and silhouette to fabric swatches, they clues us in on what it takes to build the modern man's wardrobe, one suit at a time.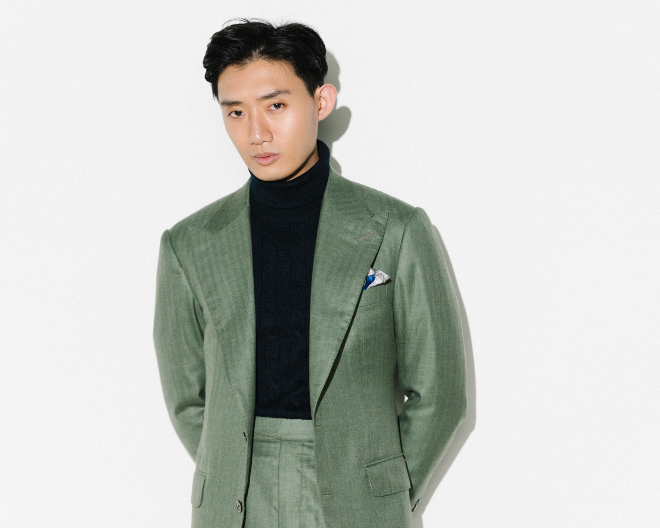 You were born in Singapore and you set up Common Suits in 2014 right after graduating. Tell us about your first steps in the men's fashion and tailoring world?
I incorporated the company two weeks after my last paper in school. I started testing the business model with a small rental booth for two days right outside NUS Business school canteen, with two to three posters and second-hand mannequins which I had bought from Carousel. I started as a customer tailoring suits and shirts since my university days, and I have always observed how I was being measured. I then went on YouTube and the National Library to soak in information I could find with regards to tailoring. To back test the formula I applied to my garments, I would dismantle my favorite garment pieces and compare it against my body measurements and find the ideal algorithm for my liking.
You like to refer to Savile Row in the UK as your ultimate benchmark. Where did your early passion for men's tailoring originate from?
After all these years of being exposed to international tailoring standards, I personally like a fusion of English, Italian and French tailoring. I have always liked the presence of a masculine shoulder line and the drape in a structured English jacket. However, I really like light construction (thanks to our weather) and a contemporary flattering silhouette, hence I draw a lot of inspiration from Neopolitian tailoring for the construction and silhouette, and a nice masculine roped shoulder from a Parisian tailor.
Tell us about the fabric selection process and fitting steps at Common Suits? What is the usual timeframe between the first consultation and the pick-up day?
It can be intimidating to choose a suit from the thousands of fabric swatches we got. Hence we will typically first distill it down to the purpose of the suit (is it for work, an event, wedding or leisure). From there, it will be easier to branch out to considerations such as the working culture, venue of the event, attire of the other gentlemen, skin tone, the customer's existing wardrobe etc.
We will typically advise a lead time of eight to ten weeks with two to three rounds of intermediate fittings. The timeline can vary a little depending on seasonality.
You keep mentioning the charcoal suit as the "must-have" suit in all modern men's wardrobe, why is that?
Firstly, it is a cousin of the black suit, but more versatile than a black one. In Western culture, black is most often than not associated with funerals. In our culture, it's usually associated with the corporate industry from lawyers to customer service providers. Unless you are in these lines, a Charcoal is a softer colour and more welcoming than black. It can also open up more possible shirt and shoe combinations.
Besides Charcoal, Navy is also another staple that every man should have. In fact, a Navy single breasted jacket that's done in our soft construction and natural shoulder finishing can also double up as a sports jacket that you can pair with light coloured chinos or denim.
Wrongly matching a pocket square with a tie: mistakes can happen. Which common mistakes do men do when dressing?
It can broadly be categorised into "stylistic mistakes" and "technical mistakes".
A common stylistic mistake is wearing the exact same fabric for pocket square and ties. These two are supposed to be complimentary but not "matchy matchy".
The next most common stylistic mistake that men make is buttoning up all the buttons on the jacket. It's an unwritten rule to always leave the last button undone be it for single or double breasted suit jacket.
A common technical mistake is a collar gap. This is when the jacket collar constantly lifts away from the wearer's neck. A correctly tailored jacket should always hug the wearer's neck no matter how he moves his arms.
The second most common technical mistake is not correcting for uneven shoulders. Most men are asymmetrical and have numerous idiosyncrasies in their body. However a lot of tailored suits have not been able to address these issues, hence resulting in uneven jacket length, chest gapping, shoulder divots, collapsing chest etc.
Tell us about the key advice you provide to grooms looking at investing in a tailor-made suit for their wedding day?
Consider these few important elements to get the ideal suit for your wedding:
– Are you going to repurpose the suit?
– The venue. Does your suit match the venue? Is it an outdoor or indoor wedding?
– What is the bride wearing? Your outfit should match up to the formality of her gown.
– Does the fabric colour compliment your skin tone?
– How are you going to stand out from the audience?
Where do you see Common Suits in five years?
We currently have a presence in Manila and we aim to have a presence in more countries in the next five years while also offering a wider range of products such as semi-ready-to-wear suits, polos and accessories.
You previously mentioned that "Getting a suit is in fact a long-term investment, and not just a mere decision to be taken lightly". What are your views on the concept of "fast fashion"?
I think fashion has a powerful impact on a person's state of mind, confidence and emotions. This is what I like about fashion. It is transformative and the results are instantly visible. I understand the importance of fast fashion in society as the prices are made affordable for the masses. However, I am also seeing more consumers being aware of the sustainability aspect of fashion, which is heartening.
What brands in the current world of fashion inspire you the most?
Loro Piana, Ralph Lauren, Brunello Cucinelli, Tom Ford.
What are your favorite watch brand(s)?
I aspire to own a Patek Philppe in the future.
You stated, "When I started Common Suits, I had my grandparents' voice in my head: 'Be humble and stay true to your values.' I continue to keep this close to my heart". What would be your best advice to a young entrepreneur?
Start first and think later. Many tend to overthink and hence find it difficult to get things started the longer you ponder. You may not have the best product or plan at the moment, but it's okay. We learn and we tweak along the way. That's how we grow.
Another piece of advice I live by is that reputation weighs more than money. We have to be honourable in the way we conduct the business. Reputation is the only priceless asset that will stick with us even after we are gone.
If you were to name one person or mentor who has inspired you along your life and career, who would that be?
My grandmother has demonstrated great strength, resilience and diligence ever since I was a child. And that has formed the foundation of my life and career.

For more on Common Suits check out their website or discover the official Facebook and Instagram pages.

For more on fashion and style, click here.
---