---
Properties / Homes
Rod Stewart's Beverly Hills Mansion in Los Angeles Goes on Sale for 70 Million USD
The entire estate spans a little over three acres and includes 13 bedrooms,19 bathrooms, two gyms, two motor-courts, a resort-sized pool and a soccer pitch.
Raspy-voiced rock legend, Rod Stewart, is letting go of his Beverly Hills home of nearly 30 years with a befitting price tag of US$70 million. The entire estate spans a little over three fully landscaped acres, with the main house at 2648m2 and the guest house at 418m2, sharing between them 13 bedrooms, 19 bathrooms, two gyms, two motor-courts, a sheltered garage, a resort-sized pool and a 37-by-18 meter soccer pitch. The estate sits in North Beverly Park, a gated community on a hill for celebrities and the international ultra-rich including the likes of Justin Bieber and reportedly several Saudi princes.
The former Stewarts' residence is part of rock history in itself, being the place where London-born Stewart recorded his first two Great American Songbook albums. Stewart had Canadian mansion specialist Richard Landry custom build the estate from scratch in the early 90s on a then US$12 million vacant lot. With all but one of the eight Stewart children raised and grown, the mammoth of the mansion is ready to bid farewell to the rockstar and welcome its next billionaire owner.
An English Country Estate
Stewart recruited renowned Los Angeles-based interior designers Thomas Allardyce and Illya Hendrix in the 2000s to bring alive his vision of a grand manor imbued with his love of art nouveau. Allardyce has been quoted revealing that Stewart had a vision of "an English country estate". "To us, that meant creating the home of a well-traveled individual who has amassed a collection of very fine antiques, art and decorative arts over a lifetime, and combining them in a Neoclassical-style interior," Allardyce shares.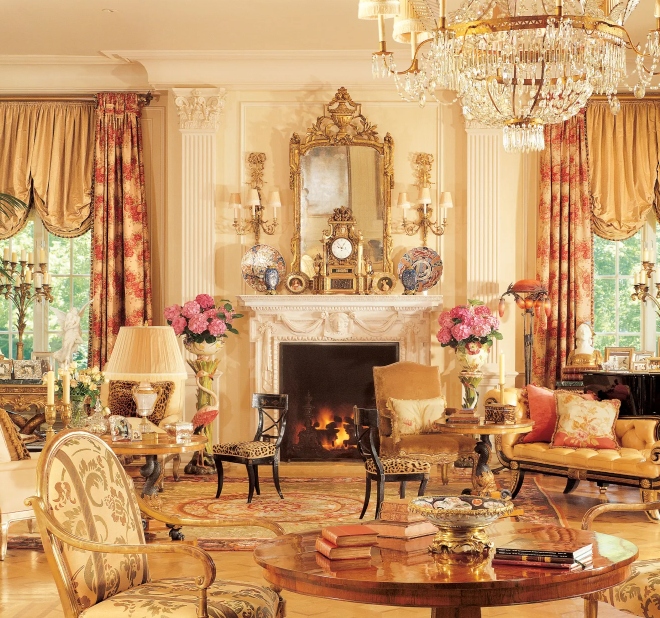 The estate seems to take after its owner, flamboyant from start to finish. Past the grand gates is a long driveway leading to a royal nine-meter tall fountain in the centre of a roundabout. Swathes of manicured lawn flank you as you walk up to the ornate double front doors.
Inside is a complex puzzle of acanthus and egg-and-dart mouldings, striéd walls, Axminster carpets, illustrious tapestries, polished marble and parquetry floors, all bathed in a warm golden hues. "I must have 200 of the great European houses in my head," Allardyce describes. The attention to detail in the house is razor sharp, from the glazed chiaroscuro on every egg and dart moulding to each individual chair upholstered in a specific colour of silk velvet and its own animal print. "It's a house, but you also have to think of it as an environment," explains Allardyce.
How A Rockstar Hosts
Each living room is lavishly adorned with custom furnishing and collectors' oil paintings, leaving just enough space for framed Stewart family pictures. The French crystal chandeliers and cascading taffeta curtains add that extra bit of class, while the marble fireplaces return a sense of comfort and warmth into the air.
The gourmet kitchen is flanked by two sitting rooms. One is the main dining room which seats up to 20 guests on its long Regency-style table and high-back gilt chairs. It connects to the extensive network of loggias around the perimeter filled with plush outdoor sofas and ample reading corners.
The second sitting room functioned as the Stewart family tearoom — "What can I say? It's bred into the English. Every day at four o'clock we have to have our tea. We don't do cucumber sandwiches and all that. But we will have a biscuit," professes Stewart.
The main bar features several renaissance nudes on the walls, enjoying ample sunlight from the floor-to-ceiling French windows. A rockstar's house, however, cannot come without its own hidden speakeasy. The speakeasy is done up with Brèche de Vendôme marble floors and cheeky emerald green wooden walls, possibly an ode to Stewart's Scottish heritage. It also connects to a movie room which Stewart shares is the most lived-in room on the estate.
Back in the entrance atrium, a grand double staircase leads to the master bedroom with dual bathrooms. The first one is dressed in beautiful jade green marble struck with white veins and a darker, more mature looking wood for the cupboards and pillars. A yellowed striped sitting couch with zebra print cushions sits right in the middle, giving the bathroom the look of old country clubs.
The second bathroom is contrastingly bright with the cupboards and walls painted white and a stunning pink marble for the counter tops and bath.
The bedrooms open up to a balcony with views of the estate grounds, the pool and rest of the neighbourhood. Supersized walk-in closets hold Stewart's extensive collection of clothes and shoes from his years as a rockstar and former Faces frontman.
The listing for the Stewart estate is held by Michelle Oliver from Douglas Elliman.
For more home stories, click here.
---