---
Style / Fashion
Mushroom Leather: Solution for Fashion's Insatiable Thirst for Innovation
The shift in fashion's taste of material production that has been sparked by Stella McCartney's renewed talks on newly developed vegan leather, Mylo.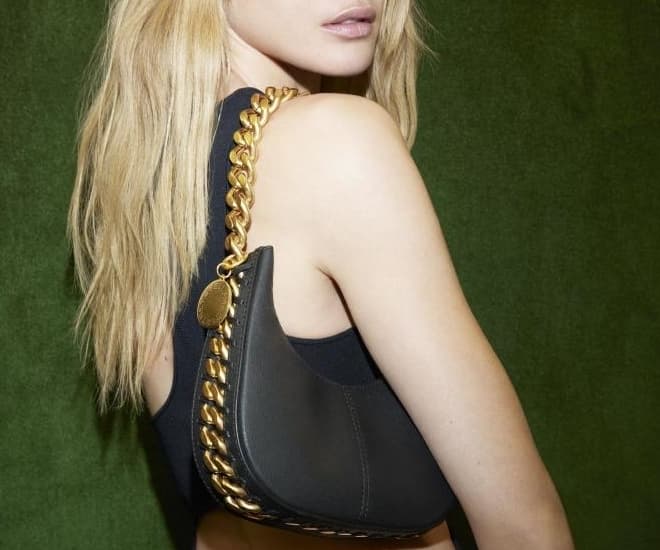 Even though vegan leather would solve the problem of sustainability in fashion, the world's thirst for fashion hangs in the balance. Could big name brands and luxury goods consumers quench this thirst? A number of brands and even fashion weeks have gone fur-free in recent years, vegan leather could be the next step. A cost-effective way to produce leather materials, vegan leather could be produced in a short period of time compared to cow leather.
In the business world where time is money, brands are constantly on the lookout for alternatives to lower their cost and fill consumer demands concurrently — and in today's age, there's a need to be environmentally ethical. With vegan leather, the speed that takes them to produce could also tremendously speed up their profitability. In return, these profits could be used to invest in upgrading the technology as well, eventually improving the quality of luxury products.
However, many of these uber-luxury spenders often feel the need for the authenticity of the material used, to have that status which they already hold. The world has grounded genuine leather as a material that is of excellent quality and has a high cost of production. Based on this belief, authentic leather takes the top spot of high status. Present-day, where vegan leather is a potential replacement for leather, many tend to lean towards the source of material instead of the brand's craftsmanship and heritage.
In modern times, together with technological advances in the fashion world, it is always working towards a more sustainable functioning industry. Mushroom leather is the talk in recent times. Three years in the making, MycoWorks developed a way to process Mycelium, a network of fibre in fungus, in a way that is similar to traditional leather. This process forms an interlocking cellular structure which allegedly gives the material strength and durability paralleled to cow skin. Similar to traditional leather, it is waterproof and durable.
An additional feature that Mycelium has is that Mycoworks could customise the piece of mushroom leather to the personal liking of the brand including textures, shape and size. The possibilities that have opened up with this new alternative leather have recently drawn big labels in the fashion world.
Hermès has already been from the get-go, partnering with MycoWorks to manufacture their bags. This is a huge leap for a storied brand like Hermès, which have a long heritage of producing leather goods and reducing textile waste. The shift that could potentially help with this issue is that luxury fashion houses could adopt vegan leather in their products and still provide the luxury of their heritage in craftsmanship.
Apart from Stella McCartney, Adidas and LuluLemon, which have adopted mushroom leather in their products, Hermès could be the key player in the shift to alternative leather production. Stella McCartney in this aspect has held her brand as a sustainable brand without the use of animal skins and the use of vegan leather is a natural adoption, whereas a big name such as French Maison, Hermès could certainly be influential for a positive change towards luxury.
The adoption of vegan leather equips fashion Maisons with the ability to lead the way for newer technological advancements to reduce waste. Mushroom leather is 100 per cent biodegradable and uses less water to produce. A benefit that the fashion world could rely on.
In fact, the drive and desire for sustainable fashion could very much be the next industry standard of what high fashion might be if more brands start to adopt eco-friendly ways of production. Vegan alternatives to animal skins and fibres are only getting more popular at the high end of fashion surely, it evidently paves the way for fashion to adopt a more environmentally responsible stance.
However, it begets the question if vegan leather will inevitably quench the thirst of a crowd who have already been primed to equate scarcity with luxury. The ease of production coupled with the lower purchasing cost might potentially turn away the uber-luxury buying group who use their material purchases as a form of status symbol.
In this case, the business has to weigh the importance of the needs of a niche group with the needs of Earth-loving people, and the wide profit margins of a scarce leather product versus the high volume of an affordable vegan leather product.
For more fashion reads, click here.
---