---
Style / Fashion
Dolce & Gabbana Headline Muslim Fashion Makeover
Dolce & Gabbana claimed the first fashion headline story of the year this week with its launch of a collection of hijabs and abayas.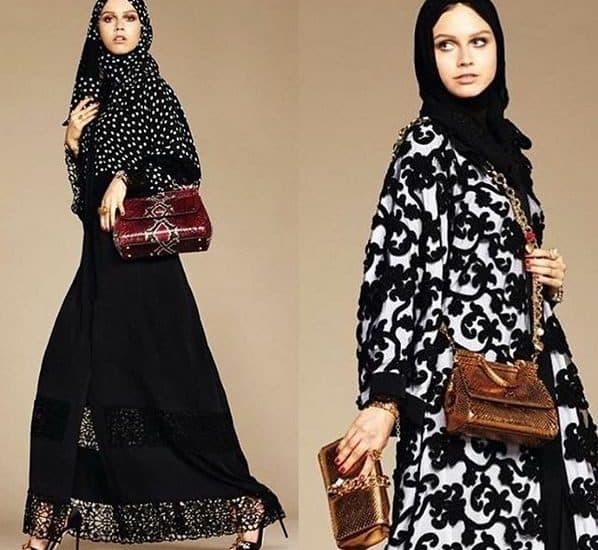 We first noticed this development on our social media feeds and we think it deserves consideration, especially in Asia. Dolce & Gabbana, never a fashion house to shy away from bold statements, claimed the first fashion headline story of the year this week with its launch of a collection of hijabs and abayas. It will surely spark question about inclusiveness in fashion as well as perhaps cultural appropriation.
The 'Abaya Collection', aimed at clients in the Middle East, features the Italian house's signature loud prints, centered around daisies and polka dots that contrast starkly against a black background. Lace-trimmed hemlines, cut-out overlays and a dash of jeweled embellishment ensure that the lightweight pieces radiate glamour while remaining conservative in structure.
Stefano Gabbana unveiled the collection on Instagram, where it can be seen styled with the house's blinged-up accessories to consolidate its fashion gravitas.
The news signals a change of direction for Dolce & Gabbana, which is known for its loud, lusty and occasionally exhibitionist approach to fashion but the house is not the only one to have woken up to the needs of the booming Muslim market recently.
In 2014, DKNY unveiled a surprise capsule collection in the Middle East, timed to coincide with the pre-Ramadan spending spree, featuring conservative trousers, separates and dresses. Fellow US label Tommy Hilfiger followed suit in June 2015 with a limited-edition selection of cute party dresses for girls and full-length, long-sleeved dresses and flowing maxi skirts for women in soft shades of white, black and teal. Not to be outdone, luxury site Net-a-Porter.com also got on board with its own 'Ramadan Edit' in a direct attempt to target Muslim shoppers.
Dolce & Gabbana's collection is less cynical in its timing, and the news is being heralded as the label's smartest business move for some time. As Muslim fashion figures are gaining influence by becoming increasingly integrated into the industry – last July Uniqlo teamed up with teen blogger Hana Tajima on an Islam-appropriate fashion line and in September H&M released its first-ever ad featuring hijab-wearing Muslim model Mariah Idrissi – it is clear that the worlds of Western and Middle Eastern style are beginning to find middle ground. Dolce & Gabbana's move will surely catalyze the movement. So could 2016 be the year that fashion finally begins to cater for all?
---