---
Style / Fashion
Chanel Opens Saint-Tropez Summer Store
Experience summer the Chanel way when you step inside this exquisite mansion.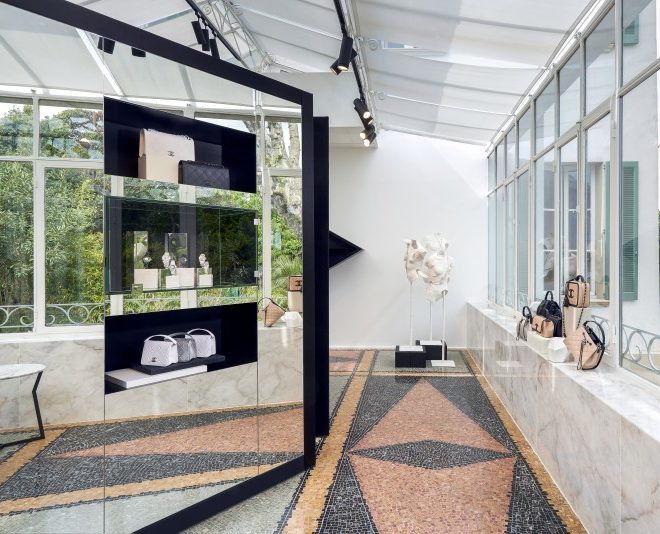 You know summer is truly here when French fashion icon Chanel takes up its summer residence at the private mansion La Mistralée in beautiful Saint-Tropez. This year, the Kaiser works his magic (together with his very talented team of interior designers) to transform the pop-up store.
The love affair between Chanel and Saint-Tropez began when the Mademoiselle herself used to sojourn there every summer. Karl Lagerfeld then picked the city as the venue for the house's cruise collection for 2011, and has returned annually ever since.
Inside, the boutique is an exquisite representation of the revered fashion house. Swathed in the Maison's iconic shades of black, white, beige and gold, the boutique opens to an entrance hall with wooden panels that swivel to reveal bottles of the iconic Chanel No5 perfume. Monochromatic walls are punctuated by splashes of gold. Clothes and handbags are presented on two rails that run across the room, its minimalist charm a juxtaposition to the avant-garde sculptures and vintage chandelier that lights up the orderly space. The troves of display units and alcoves are now home to the new J12 Mirror and the other watch models.
Outside, the La Mistralée pool shimmers with the light, its golden mosaic tiles reflecting the sun with an intensity that highlights the season's shoes – the highlight of the pool house.
The Chanel Saint-Tropez boutique will open from 23 April – 5 October 2016.
---