---
Style / Fashion
5 Top Menswear Trends Paris Fashion Week
Bigger, better and more blurred genders – the cream of the crop from Paris Fashion Week.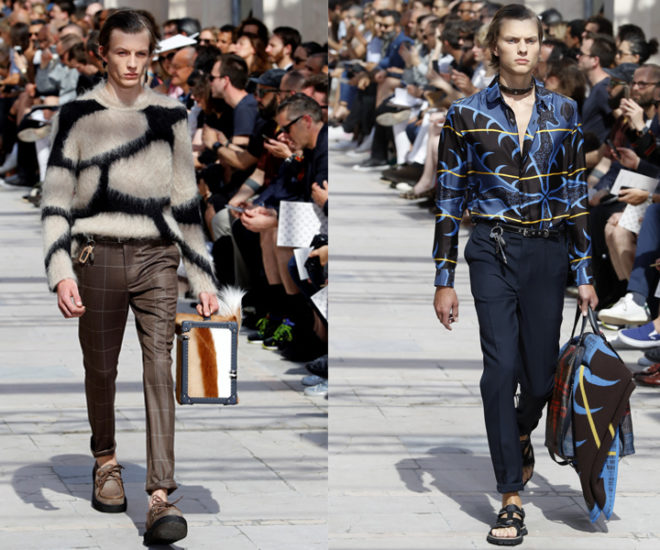 All good things must come to an end. While Paris Men's Fashion Week came to a close over the weekend, the hype is far from over. We round up the five top trends from the runways of Paris to relive the excitement.
Gorilla Sleeves 
Go big or go home. Forget bell sleeves, the real masters take it a notch further – quite literally. Think super long sleeves that dangle to the knees, as Rick Owens and Korean label Juun.J have exemplified, with the latter extending its influence by adding trailing cords. While brought to global attention by Demna Gvasalia's own brand Vetements, Gvasalia however has resisted the reiteration of his own trope for Balenciaga. An intelligent move to distinguish the two brands, perhaps, but this does not prevent many others from adopting his creative genius. And of course, one look at the trend may call to question its practicality. These sleeves are most obviously not a continuation of the ongoing debate between function and style, but who says fashion can't just be all about art?
Boys Will Be Girls
No longer a fresh concept, and this season reiterates androgyny's relevance on today's runway. This week sees a blurring of gender binaries, with women decked in menswear, and men similarly adorned in miniskirts and trailing ribbons, à la Maison Margiela and Walter Van Beirendonck.
Djellabas 
Perhaps an echo of the ongoing Ramadan, it is undeniable that some looks were injected with an Islamic air. Lemaire, for example, featured four djellabas alone, although designer Christophe Lemaire denied the conscious creation of a specific Muslim-influenced style; "I was picking up influences from people I live around in Paris." Issey Miyake similarly got in on the act with sublime kameez tunics and blanket shawls.
Boiler Suits 
Menswear has often been associated with workwear, but this season, it's the boiler suits that reign. One need only look to Andrew Crews, who has deconstructed the one-piece overall and reassembled it into a whole wardrobe, from biker suits to dungarees. Other designers similarly ride on this trend with their own twists, where Junya Watanabe matched boiler suits with pork pie hats, and Lemaire adopts influences from the battledress of peshmerga Kurdish fighters.
Tartan
Tartan has almost been immortalised as a classic, and this season rehashes them on the runways, albeit in sparing proportions. Brands like Louis Vuitton to Japanese labels Kolor and Facetasm jump on the checkered bandwagon, while OAMC gives live to the print where Trainspotting meets the Edinburgh tattoo with check Crombie-style coats and trousers.
---